Philippine Central Bank Chief Brushes Off Credit Growth Concerns
This article by Karl Lester M. Yap for Bloomberg may be of interest to subscribers. Here it is in full:
Philippine central bank Governor Nestor Espenilla downplayed risks of surging credit growth, saying the trend is consistent with the fast pace of economic expansion.

"From a micro level, loans are being very carefully managed from a risk perspective," Espenilla said in an interview with Bloomberg TV's David Ingles and Haidi Lun on Friday. "At the macro level, the 20 percent growth is relatively consistent with the rapid growth of the economy."

An economic boom accompanied by surging credit growth has fueled speculation that Bangko Sentral ng Pilipinas may raise interest rates as early as the fourth quarter. That would be a divergence from other central banks in Southeast Asia, like Indonesia and Vietnam, that have eased policy this year. The Philippines kept its benchmark interest rate unchanged at a record low of 3 percent on Thursday.

Commercial bank loans have risen quickly this year, with mortgages surging more than 20 percent in June. Bangko Sentral has adopted measures in the past to cool the property sector, including capping the value of real estate that can be used as loan collateral.

Domestic credit to the private sector in the Philippines stood at 45 percent of gross domestic product in 2016, according to data from the World Bank. The ratio exceeded 100 percent in Malaysia, Thailand, and China.

"The Philippines is basically in catch up mode right now," Espenilla said, referring to the credit expansion.

The Philippine economy is headed for a sixth year of growth exceeding 6 percent, among the world's fastest. That hasn't yet translated into an inflation problem, with the central bank maintaining its forecast for this year and next year at 3.2 percent. The bank's goal is to keep inflation within a range of 2 percent to 4 percent until 2020.

"We are on track with meeting our inflation target which is the main driver for our policy decision," Espenilla said. "Our assessment is inflation remains firmly under control."
The Philippines has mostly made headlines for the aggressive pace of Rodrigo Duterte's campaign against drug traffickers and others deemed to be malcontents. However, what has often gone unnoticed is this activity has not arrested the pace of economic growth.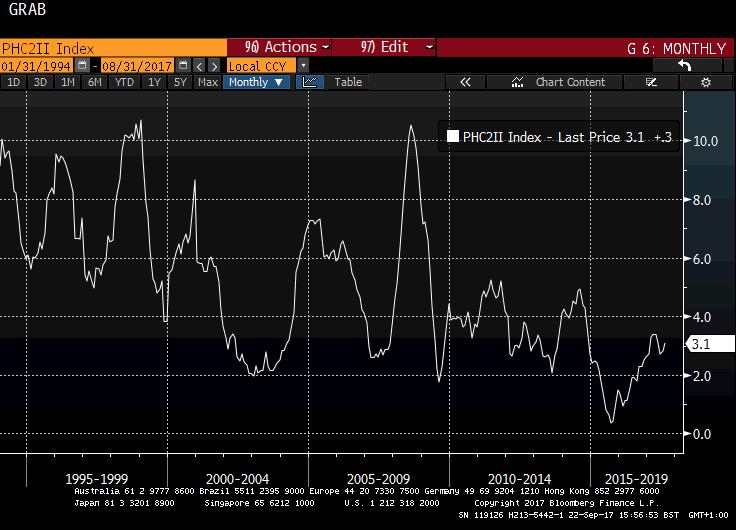 This long-term chart of Filipino inflation exhibits a highly volatile downtrend which from the perspective of a foreign investors might be seen as a sign the country is gradually coming to terms with its legacy of mismanagement.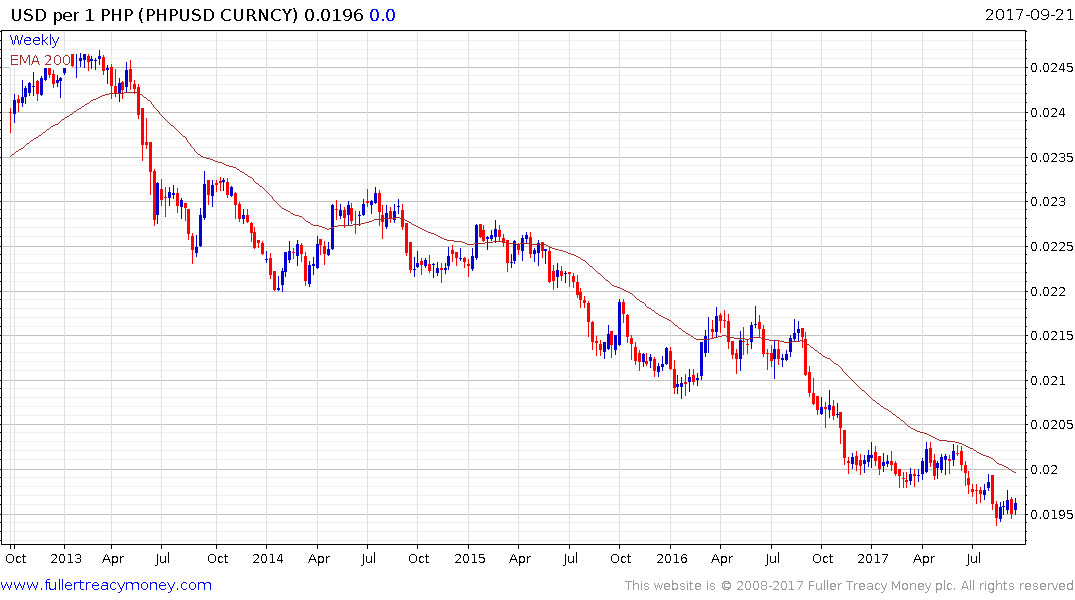 The Peso has been trending lower for almost five years and is currently unwinding an oversold condition relative to the trend mean. A sustained move above 20¢ would signal a change to the medium-term trend.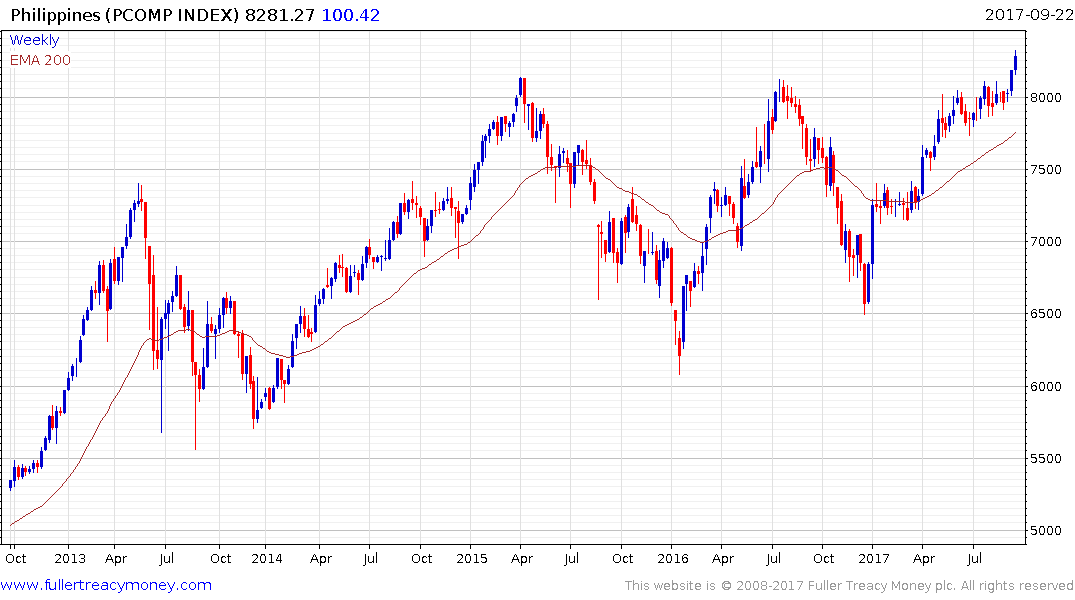 The Philippines Composite Index broke successfully out of a more than two-year range last week and improved on that performance this week.

From a broader perspective. Some of the best performing stock markets this year have been Turkey and Mexico where reversals of deep oversold conditions in their currencies stoked international investor interest. The Philippines has the potential to achieve similar interest if the Peso's long downtrend is broken.
Back to top