Pfizer Boosts Forecast for Vaccine Sales to $33.5 Billion
This article from Bloomberg may be of interest to subscribers. Here is a section:


A resurgence of virus infections thanks to the delta variant is likely to mean sustained demand for vaccines around the world. Further, it is widely expected that many people could require booster shoots to bolster the immunity gained in the initial round of immunizations.

Pfizer said in a presentation accompanying its earnings release that emerging real-world data "suggests immunity against infection and symptomatic disease may wane," underscoring the need for boosters.

The company said regulators will determine "whether, and which, populations to recommend booster," and that they will likely first focus on those with compromised immune systems and older adults.
The ideal business model for any pharmaceutical company is to develop a treatment for an unmet but dire chronic condition. Diabetes is the perfect example. There is no cure and treatments are both necessary and tend to increase in magnitude as the disease progresses. Each patient represents a growing cashflow for as long as they live following a diagnosis. Viagra was also a blockbuster because it catered to an unmet need but did not cure it.
Vaccines are generally a one-and-done experience. Today there is the prospect of COVID requiring annual jabs which will require more urgency than the annual flu jab. That's a potential money spinner for vaccine providers. Meanwhile BioNTech is moving on to trying to deploy its MRNA technology to tackle malaria.
The greatest potential benefit for investors is the efficacy data gained from the global roll out of MRNA vaccines will enable quicker drug discovery and, more importantly, a potentially quicker clinical trials process. If that comes to pass it will represent a significant bonus for the biotechnology sector and would revolutionise the development of new drugs.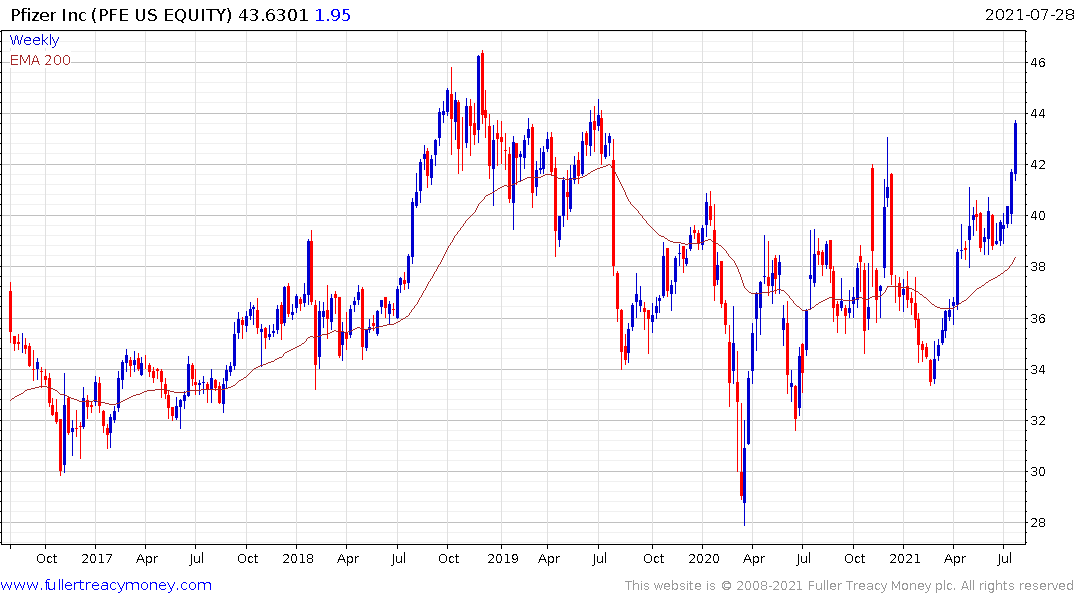 Pfizer rallied impressively this week to retest the late 2018 peaks and a clear downward dynamic would be required to check potential for additional upside.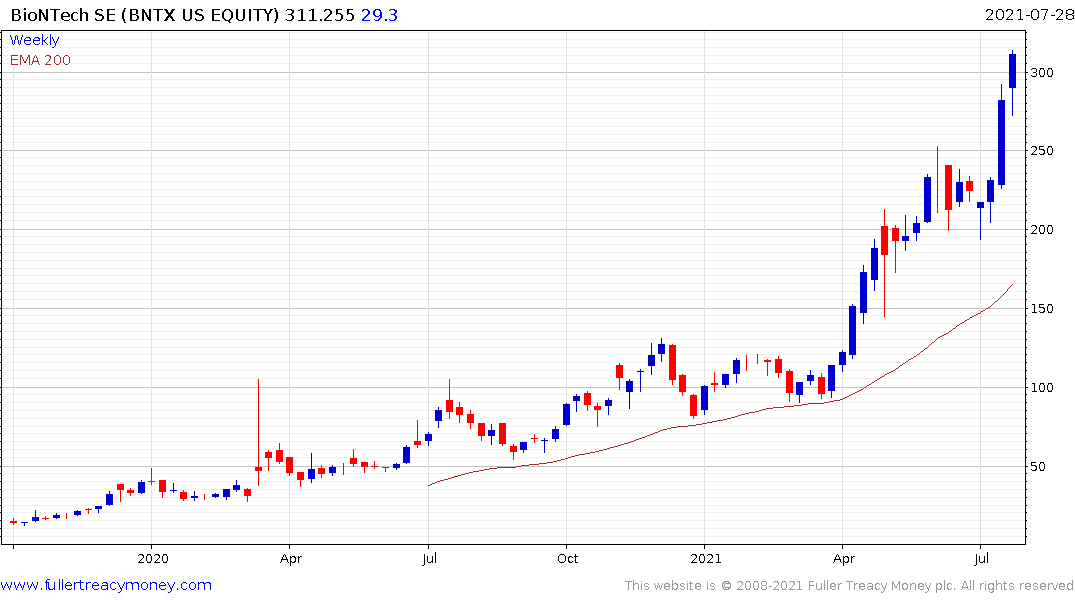 BioNTech remains in a steep but consistent uptrend.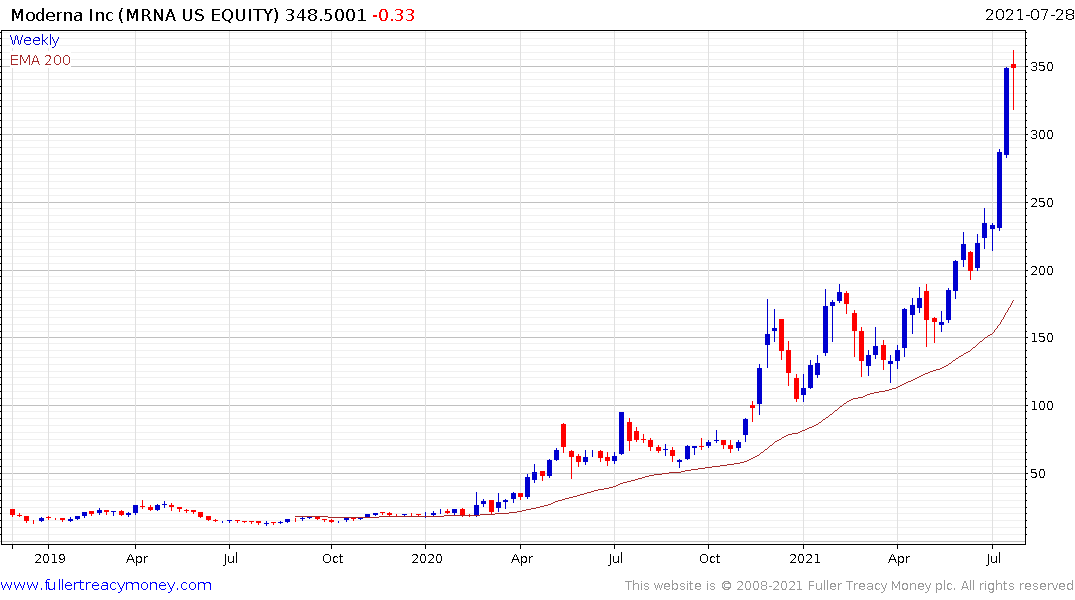 Moderna is short-term overextended but a clear downward dynamic will be required to check momentum.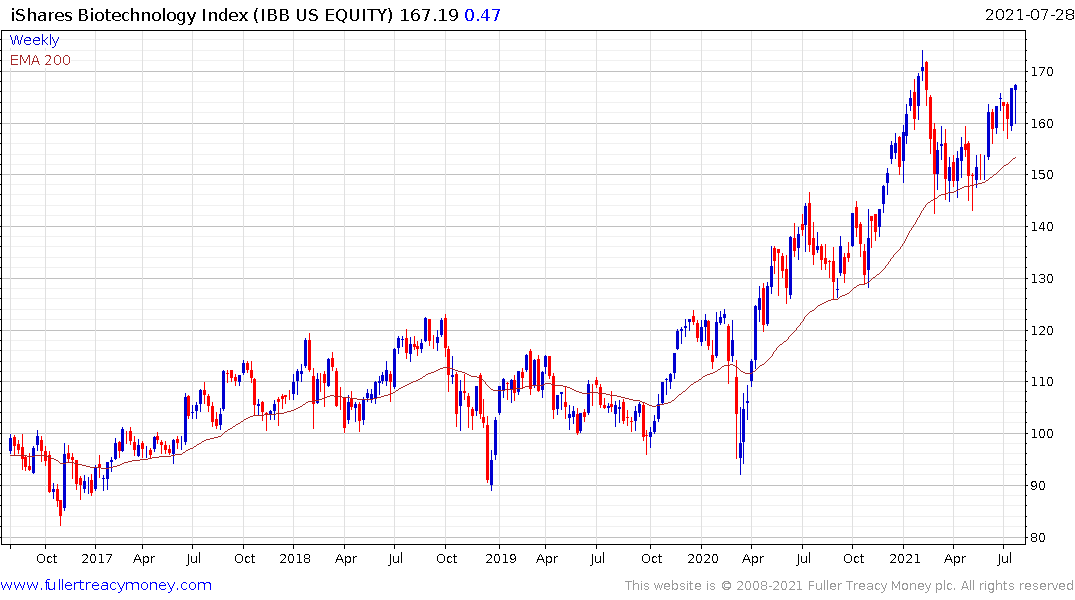 The Nasdaq Biotech Index continues to firm within its range.
Back to top