Peloton Deepens IPO Slump in 3rd-Worst Unicorn Debut Since '08
This article by Crystal Tse and Hailey Waller for Bloomberg may be of interest to subscribers. Here is a section:
Peloton Interactive Inc. fell as much as 9.5% Thursday after raising $1.16 billion in its U.S. initial public offering, becoming the latest unprofitable startup to fail to win over investors in its trading debut.

Peloton's shares opened at $27 and were down 7.2% to $26.90 at 12:38 p.m. in New York trading, giving the company a value $7.5 billion. The fitness startup sold 40 million shares for $29 each on Wednesday, after marketing them for $26 to $29.

It marks the third-worst trading debut in 10 years in the U.S. for companies that have raised at least $1 billion, according to data compiled by Bloomberg. The IPO also comes as investors have been rattled by the sudden disintegration of WeWork's plan to go public in September.

Peloton Chief Executive Officer John Foley said in an interview with Bloomberg Television that he had "some disappointment" about the reception but was confident in his company's prospects.
The one point that seemed to get very little commentary in the lead up to this IPO was just how fad-prone the fitness industry is. Soul Cycle and spinning are all the rage at the moment. I personally go to at least two, if not three, hybrid cycling and toning classes a week. After 18 months of these classes I am starting to find them monotonous and that is a big challenge for a company that is trying to sell a range of workouts via phone or its enormously overpriced pieces of equipment. I just can't see why someone would pay $40 to Peloton for online classes when they can pay the same or less at an LAFitness without the capital expense and space requirement of the exercise equipment.
While companies like Peloton, WeWork and Beyond Meat are garnering attention, the increase in Saudi Aramco's ambition to secure a $2 trillion valuation is truly newsworthy. They had originally looked for that valuation but were informed by investors it was too high. The return of the $2 billion valuation and desire to siphon $100 billion from the market is a signal the IPO is closer to reality from a Saudi perspective.
They plan is to get it done within the month, with an anticipated domestic listing on October 20th. The coincidence of the attack on its most important refinery and export facility is an obvious reason for the urgency. Meanwhile Tesla's announcement of a battery that can last for a 1 million miles without losing charging capacity and the evolving trend of greater energy efficiency and less energy reliance in the global economy are the additional reasons for the sale. That is even before the desire to build a war chest for either a war with Iran and/or to develop the domestic economy.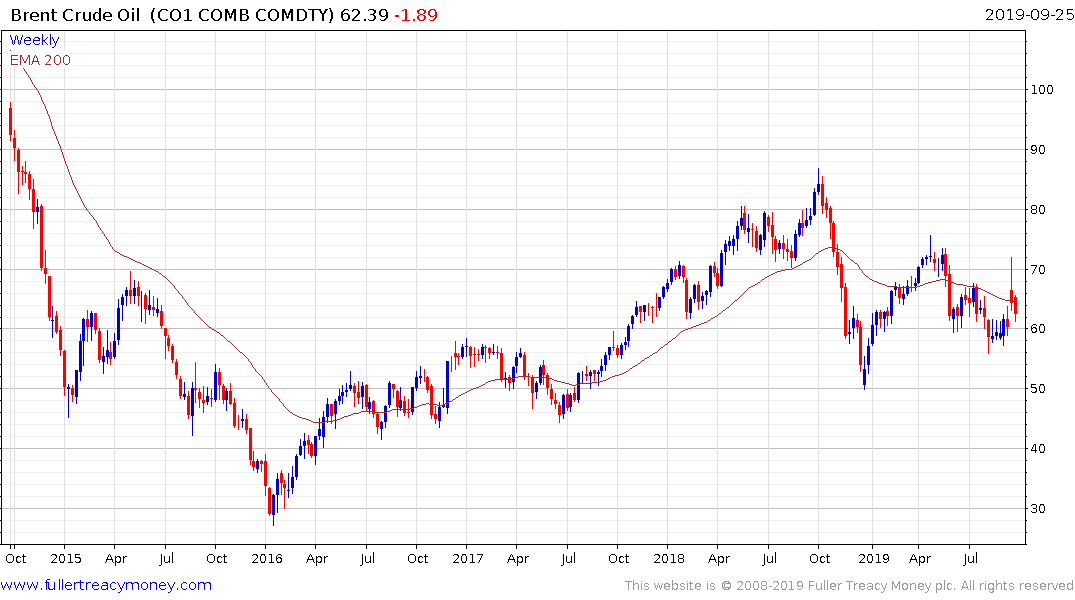 Crude Oil just about unwound the pop on the upside following the attack and is steadying in the region of $60. An additional geopolitical catalyst or surprisingly positive global economic news will probably be needed to revitalise investor interest.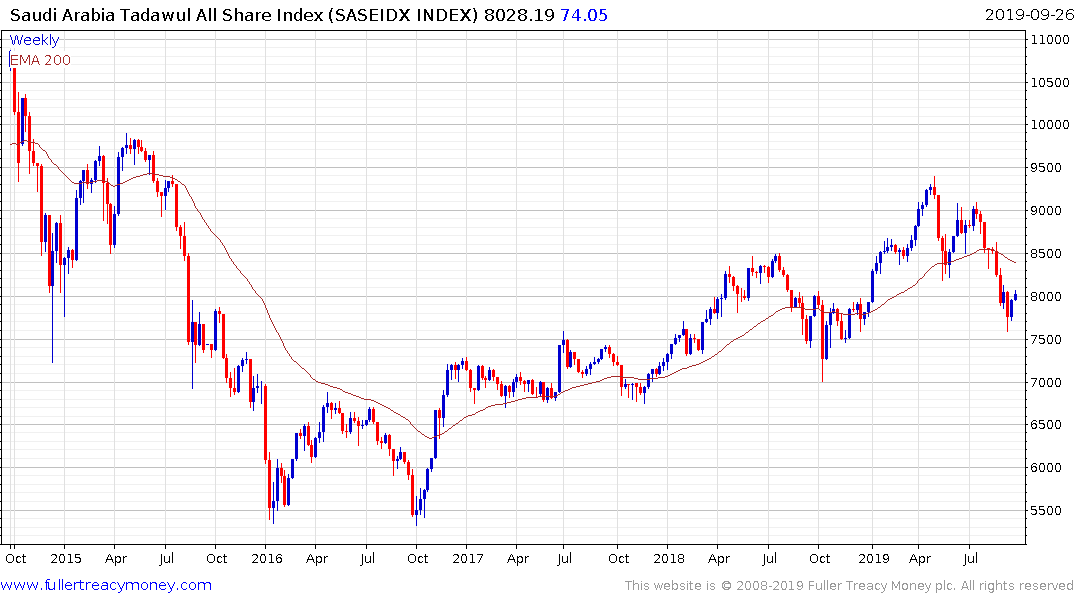 The Tadawul Index is about to host the shares of the most valuable company in the world. That is going to force Index trackers to sell the shares of incumbents to provide cash to buy the new entrant. The Index is currently unwinding a short-term oversold condition but will need to hold last week's low if the medium-term uptrend is to be given the benefit of the doubt.
Back to top