Palladium hit by 'Barrage of Selling'
This note by Justina Vasquez for Bloomberg may be of interest to subscribers. Here it is in full:
The rally in the U.S. dollar triggered an investor exodus from precious metals on Wednesday. Spot palladium led declines as mounting concerns over global growth threaten the outlook for demand for the commodity used mostly in auto catalysts. The slump accelerated as the price of the least-liquid asset among its peers broke below the $1,500-an-ounce level, triggering "a barrage of selling," Miguel Perez-Santalla, a sales and marketing manager at refiner Heraeus Metals New York LLC, said.
Palladium has been both the clearest beneficiary of the diesel cheating scandal as well as the best performer above the precious metals. Back in the late 1990s Russia restricted supply of the metal and the price surged from $100 to over $1000 between 1996 and 2001 before collapsing as new supply hit the market.
On this occasion the price had been ranging below mostly around $900 between 2011 and 2017, when it first punched through the psychological $1000 level. It then found support near $900 and rallied all the way through 2018 and the first few months of this year to test the psychological $1500 level.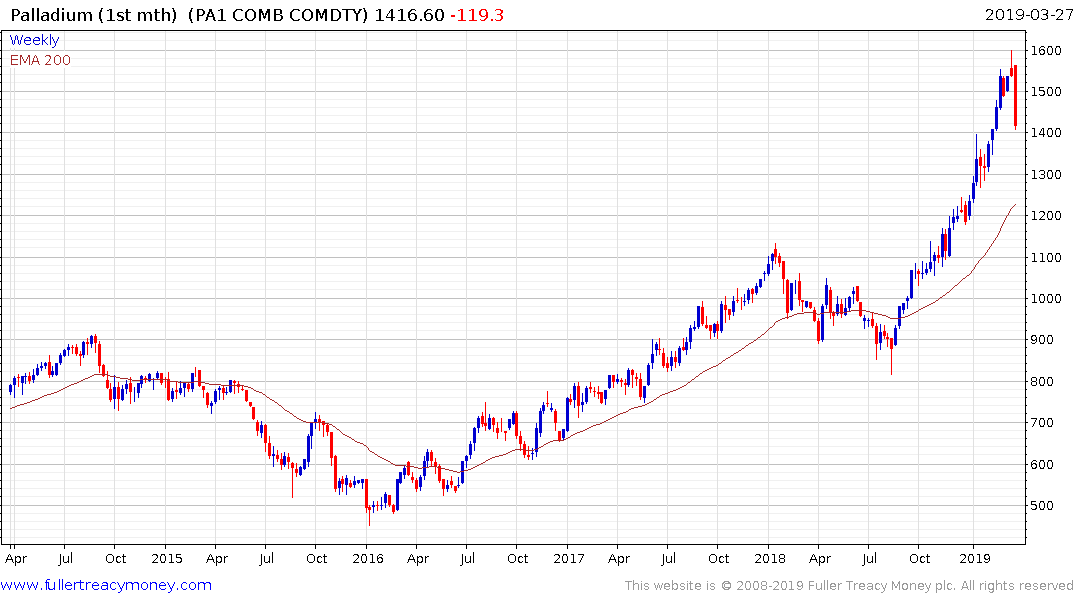 Today's clear downward dynamic breaks the sequence of higher reaction lows and confirms a peak of least near-term significance which greatly increases the potential for a reversion towards the mean.
The broader picture is the bullish rationale has been based on demand for internal combustion vehicles. A deteriorating global growth outlook and the rise of the electric vehicle market represent significant challenges to that hypothesis the higher prices moved.
Back to top