Palladium ETPS See Surging Inflows On Concerns Of Russia Export Restrictions
Thanks to a subscriber for this interesting report from ETF Securities. Here is a section
ETFS Physical Palladium (PHPD) receives the biggest inflows in almost a year, totalling US$68mn, on supply restriction fears. Russia is the world's biggest producer of palladium, with 42% of supply coming from the country. Any restrictions on Russian palladium exports would exacerbate what is already expected to be a large palladium deficit in 2014. At the same time, South African strikes are entering their 9th week and no industrywide resolution has been found yet. While Amplats signed an agreement with the National Union of Metalworkers of South Africa (NUMSA) on Thursday, the Association of Mineworkers and Construction Union (AMCU), by far the largest union at Amplats' operations, is still on strike. South Africa is the 2nd biggest producer of palladium with 37% of global production and the largest producer of platinum.
An additional bullish catalyst for palladium is reflected in the release of two physically backed palladium ETFs in South Africa which will further remove supply from what is already a tight market.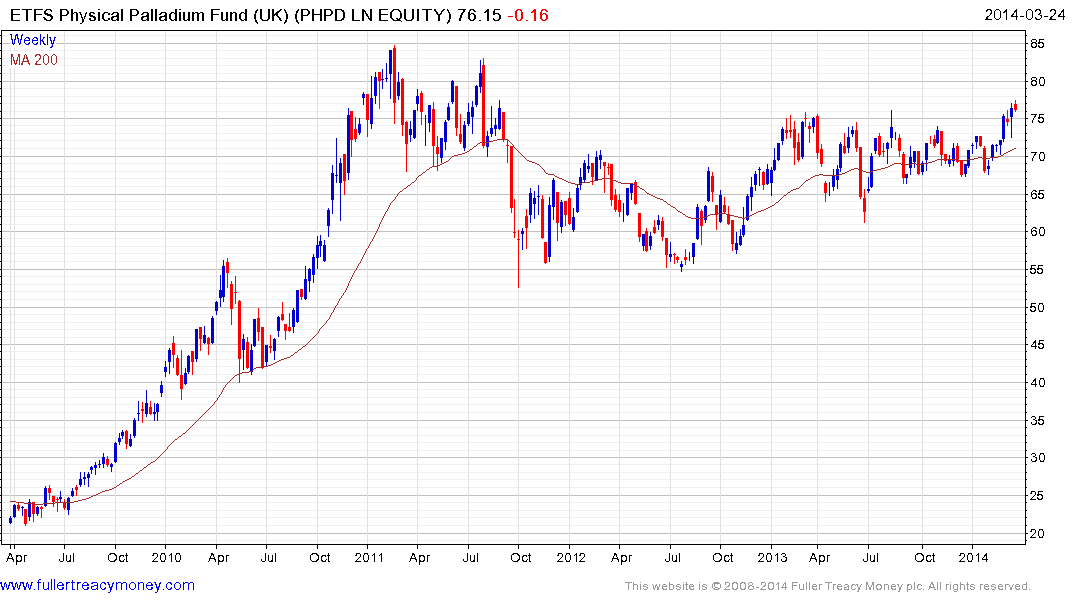 The London listed ETFS Physical Palladium found support last week in the region of $72 and a sustained move below that level would be required to question medium-term scope for additional upside.
Back to top