One in ten Tokyoites in their 20s are now foreigners
Thanks to a subscriber for this article by Kanako Watabe for Nikkei Asian Review. Here is a section:
Among 20-somethings living in Japan's capital, one out of 10 are foreign-born, reflecting the rapidly shifting profile of the country's working population.

Throughout Japan, foreigners in their 20s numbered 748,000 at the beginning of the year, or 5.8% of the total, the government reported Wednesday. The figures exclude foreign nationals that are here for short stays, and typically include those with residency credentials staying for over three months.

In all, the country's population of non-Japanese residents grew 7.5% to a record 2,497,000 people. Many of them live in Tokyo, with the largest portion -- around 42,000 -- housed in the city's Shinjuku ward.

At 3 p.m. on weekdays, Shinjuku's government offices are jam-packed with people filling out moving notices and other forms. Over half of those waiting in line are young people of non-Japanese descent, and a mixture of English, Chinese and other languages fills the air. More than 40% of the foreigners are 20 years old.

While Shinjuku's native-born residents in their 20s shrank 7% over five years, the number of foreigners in the ward soared by 48%. One convenience store near JR Shinjuku Station has hired a 31-year-old Chinese woman. "The store wouldn't run if I'm away from my shift," she said.
One of the most widely repeated objections to Japan's ability to reform and growth is its reluctance to absorb young immigrants who have been engines for demand elsewhere.

On two trips to Japan in the last 18 months I was enthused to find foreign workers everywhere I went because it was so contrary to the "received wisdom" of the financial markets.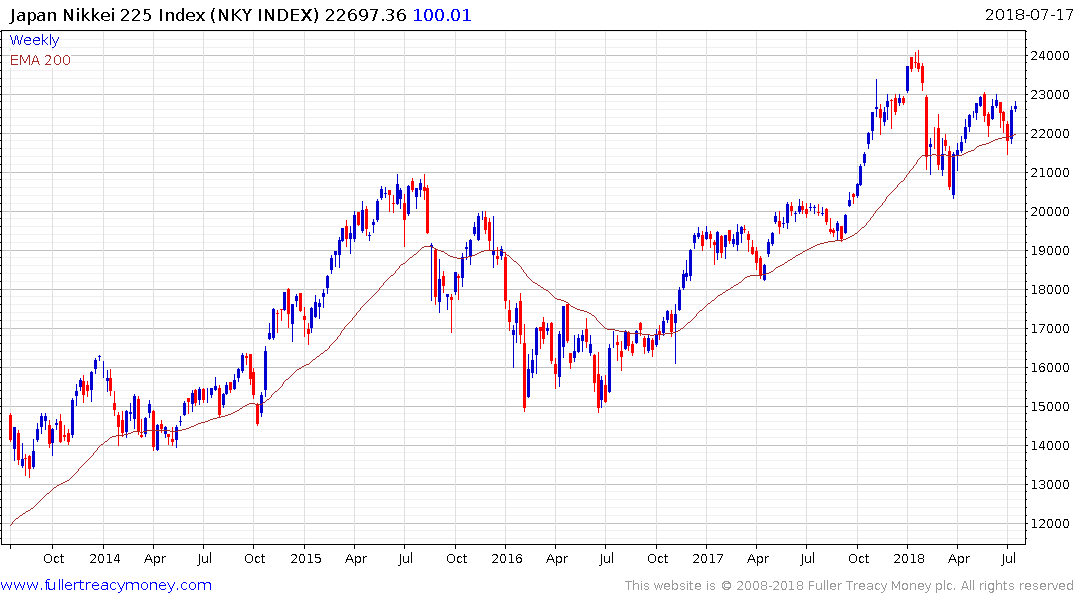 The Nikkei-225 continues to hold the break above 20000 and as long as that remains the case we can conclude Japan is in a new secular uptrend.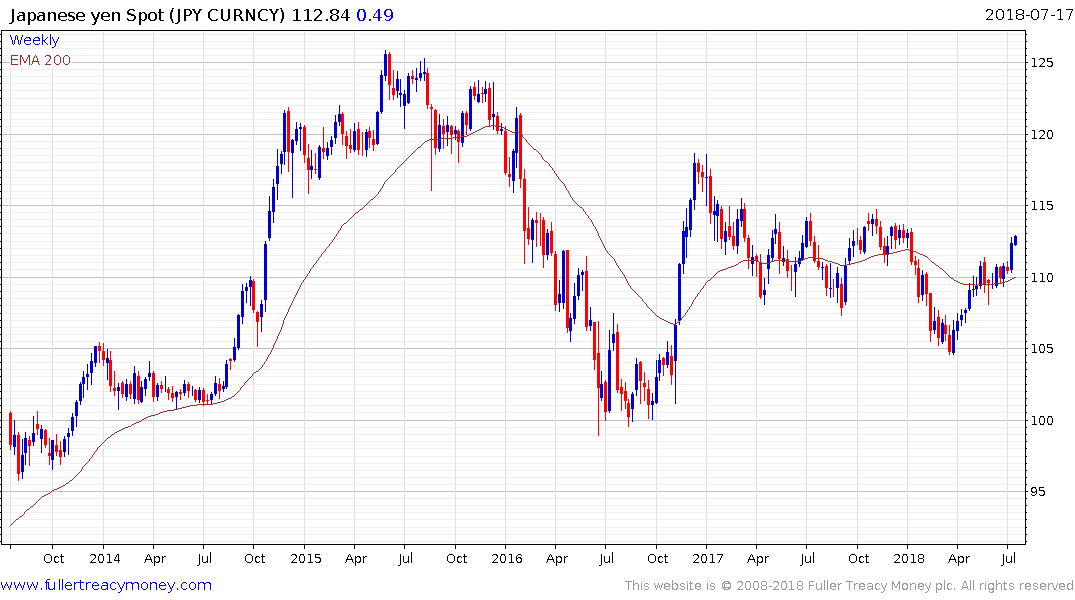 The floods in Western Japan recently have represented a headwind to the Yen and increase the potential for further monetary largesse. The Dollar continues to extend its move above 110 and is now testing the medium-term progression of lower rally highs. A sustained move above ¥115 would confirm a return to medium-term demand dominance.
Back to top