On Target on diabetes
Thanks to Martin Spring for this edition of his ever topical report. Here is a section on diabetes:


Unless the condition is controlled, the consequences are very unpleasant. Complications include problems with the eyes, kidneys, cardio-vascular system and the nervous system. The mortality rate for sufferers under 60 averages 28 per cent in Europe, 38 per cent in North America and the Caribbean.

The root cause is well known. Most people who develop the more common form of diabetes, type 2, are eating more calories than their bodies are using.

According to the US Centers for Disease Control, diet and exercise changes can more than halve the risk of pre-diabetic conditions such as elevated blood sugar content developing into diabetes type 2.

Diabetes cannot be cured, but it can be controlled through weight loss, low-carb diets, exercise, and a range of medical treatments.

The most important drug is synthetic insulin, which is injected into the bloodstream to compensate for the shortage of the pancreatic hormone.
Diabetes is a global epidemic, particularly for people whose ancestors subsisted on a scarcity of calories. This is particularly poignant for India and China where rising incomes are fuelling growth in snack foods with high sugar content. Since the disease is a chronic condition rather than something that can be cured, it can also be considered a growth industry, regardless of how personally distasteful that way of viewing the world might be.
Danish listed Novo Nordisk is an S&P350 Dividend Aristocrat. Following an impressive advance from the 2009 lows, the share has been ranging mostly below DKK1000 for more than a year in what has been a marked loss of momentum. A sustained move above DKK1000 would be required to reaffirm medium-term demand dominance.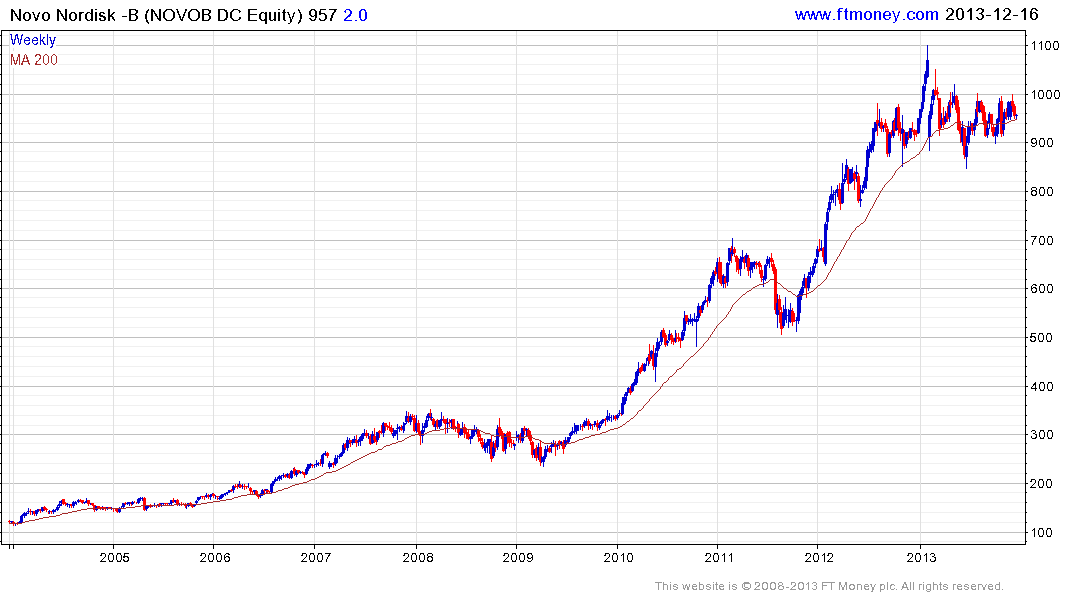 France listed Sanofi has been ranging in the region of the 200-day MA since August and found support today in the region of the lower side. It will need to continue to hold above €70 if medium-term potential for additional upside is to continue to be given the benefit of the doubt.
US listed Merck has held a progression of higher major reaction lows for more than two years. However, it failed to sustain the break above $50 earlier this month and has pulled back into the range. It will need to hold above $45 if the medium-term uptrend is to remain reasonably consistent.
Back to top