On Target November 2017
Thanks to Martin Spring for this edition of his letter. Here is a section Japan:
"The MSCI Japan Index now trades on 15.1x 12-month forward earnings, or an 18 per cent discount to the MSCI USA Index's 18.4x," Wood reports. "It is also a major structural positive that earnings growth is increasingly coming from domestic-focused [rather than export-focused] corporates." That means shares generally are less dependent on favourable moves in the yen-dollar exchange rate.

​The worsening labour shortage should lead sooner or later to accelerating wages, boosting consumption.
"This dynamic has already been evident for some time in the case of temporary workers. But to the longstanding frustration of both the Abe government and the Bank of Japan, wage rises for permanent employees have remained minimal, primarily because the trade unions have been more concerned about keeping their employees "permanent", since such permanent full-time staff, on average, still earn 1.8 [times] the hourly wage for part-time workers."

Companies have been keeping a tight grip on pay increases – one reason why listed firms are enjoying record profits and sitting on record amounts of cash, even allowing for the effect of increasing share buybacks.

There is a long-term trend for Japanese companies to be more generous with their dividend payouts to shareholders. Back in 2004 the payout ratio (dividends as a proportion of earnings) for the Topix index was only 17 per cent. Now it's up to 30 per cent.
Here is a link to the full report.

Japan's economy is recovering momentum and the uptick in performance by domestic companies has been readily observable in the performance of the Topix 2nd Section Index. This revolution has been enabled both by the Bank of Japan's quantitative easing program and that government's willingness to run simultaneous fiscal stimulus.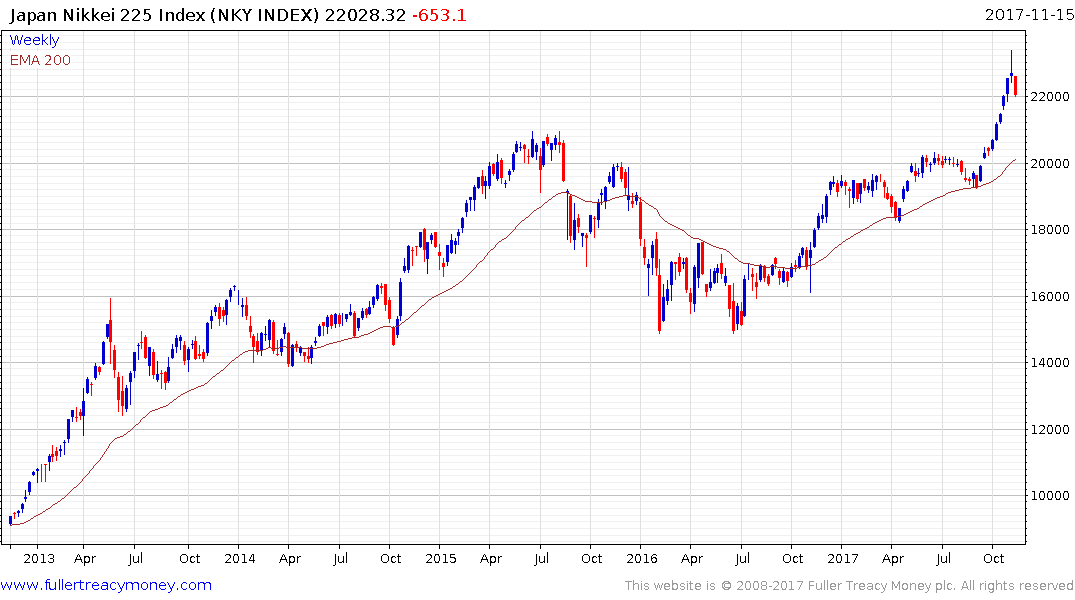 This article, kindly forward by a subscriber, also highlights the fact that the Bank of Japan is also buying stocks as part of its stimulus program. That should help to provide a cushion as the current consolidation of recent impressive gains runs its course.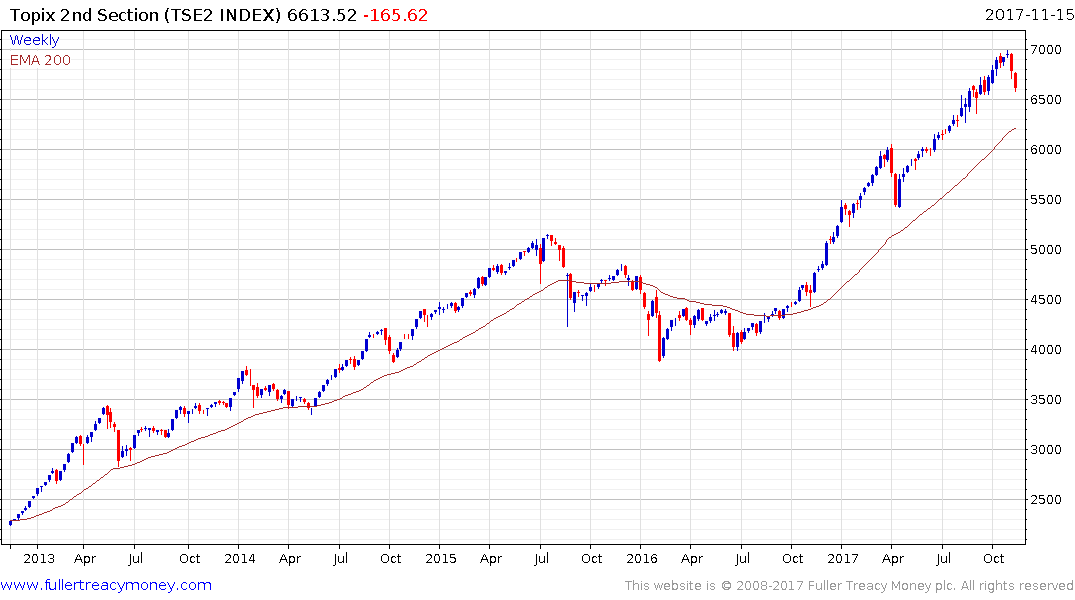 The Topix 2nd Section Index has paused at 5000, 6000 and now 7000. It has been a reliable lead indicator for the wider market for more than a decade so when it demonstrates that support has been found it will likely signal the Nikkei's pullback is also coming to an end.
Back to top