On Target June 26th 2017
Thanks to Martin Spring for his topical newsletter. Here is a section on the potential for a military strike against North Korea:
The diplomatic route that is being pursued by Donald Trump, as it was by his presidential predecessors, is not going to work. China is never going to take actions tough enough to force Pyongyang to give a "victory" to the US-led coalition.

Secondly, because the consequences of another war in Korea, even if brief and limited, would not be catastrophic for Americans... only for Koreans, and perhaps Japanese.

Thirdly, US willingness to act so decisively would convey the strongest possible message to a potentially much more dangerous would-be nuclear power, Iran, to forget the whole idea and behave.

Fourthly, foreign adventures are a classical method for national leaders to divert attention from political difficulties at home. "Trump, facing ever-expanding scandals, continually-low polling numbers, and even potential impeachment proceedings, may decide that a pre-emptive strike on North Korea is worth the costs and consequences," Micah Zenko writes in Foreign Policy.

Much-respected analyst George Friedman of Geopolitical Futures concludes that the US continues to be "on the path to war."

The US is not likely to unleash an attack until it has a casus belli, or a challenge from North Korea that it can point to as a defensible cause for going to war.

That hasn't happened yet. But the situation could change very quickly if the US becomes convinced that the North has developed intercontinental ballistic missiles. Sudden falls in the South Korean and Japanese stock-markets would be an early warning of pending military conflict.
Here is a link to the full report.

North Korea currently has three US hostages which it is undoubtedly hoping will be a deterrent to a US military strike. That may prove to be a vain hope if it persists in pursuing development of an intercontinental ballistic missile. US officials will then have to decide where the lives of millions of possible US casualties outweigh the near certain death of three.

However I agree that the South Korean and Japanese stock markets are likely to offer short-term lead indicators of a military escalation and right now there is little sign of hedging activity taking precedence over buying.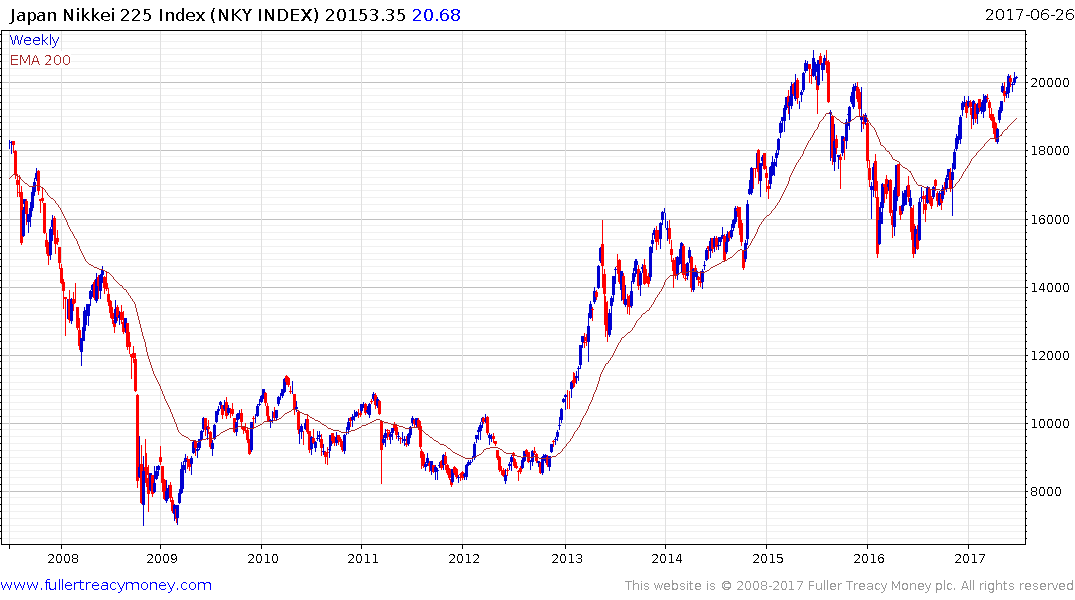 The Nikkei-225 continues to hold above the psychological 20,000 level and a sustained move below the trend mean would be required to question medium-term scope for additional upside.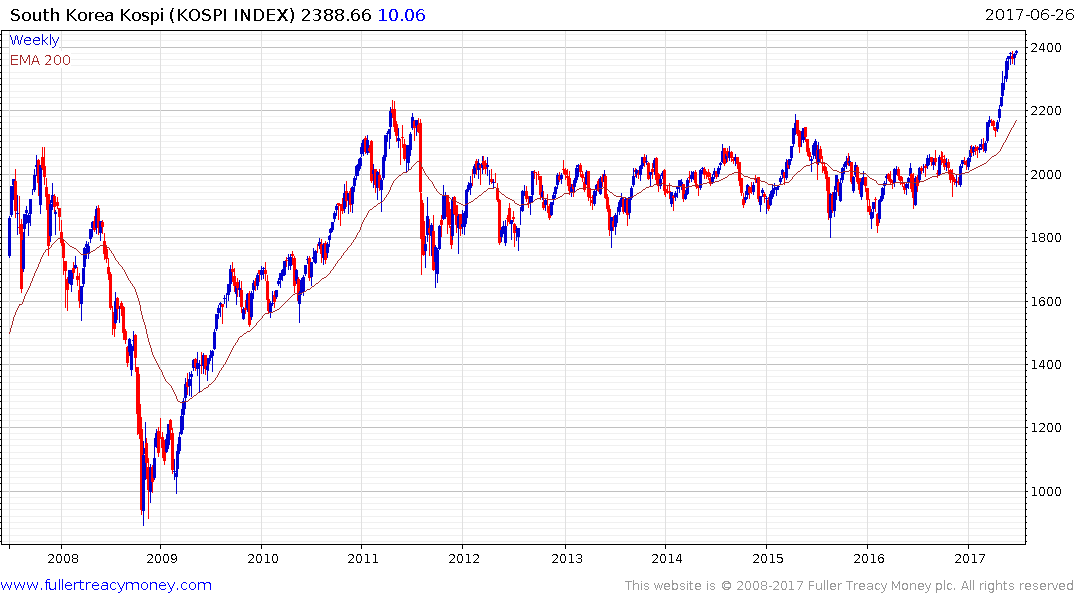 The Kospi index completed a six-year range in April and hit a new high today.
Back to top