On Target June 11th 2019
Thanks to Martin Spring for this edition of his ever-interesting report. Here is a section on China's tech ambitions:
The FT reports that the US ban on infotech trade with China could be a problem for Google as its Android system is "central to the smartphone market in China, which is bigger than Europe and the US combined, due to its use by Huawei and other [Chinese] phonemakers include Oppo and Xiaomi."

Chinese president Xi Jinping has spoken openly about his plans for China to gain global dominance in future high technologies in just SIX years' time. Their foundation will be China's capacity to design and manufacture cutting-edge semiconductor chips. $150 billion is being poured into achieving that. However, so far subsidies and tax breaks have only lifted China's self-reliance in low-value chips.

The Americans are clearly using the current "trade war" to hinder Xi's ambitious plans by demanding that the Chinese cease their theft of intellectual property, and of using their negotiating power to force technology transfers as part of the price of allowing joint ventures to operate in their huge domestic market. 20 per cent of European companies doing business in China, for example, say they are compelled to hand over technology to Chinese partners.

It's unlikely the Americans will succeed in getting the Chinese to play fair. Agreeing to trade-balancing deals would be one thing. Agreeing to stop their massive co-ordinated attack on the heights of leading-edge industries would be something else. It's certain they'll renege on any promises about that they have to give.

Ironically, cutting Chinese access to American components and technology, or merely threatening to do so, is the strongest incentive of all to stimulate Chinese development of high-tech sectors.

Investors have generally taken the view that the ugly contest between Trump and Xi will be resolved in a "deal" that the American president can claim to be a victory, but Xi can present as a fair agreement. That still seems to be the likely outcome.

As for the arms race… that still has much further to run. It will be a key part of the long-term strategic contest between the hegemon and its fast-growing global challenger.
The challenge in competing with the West is less in developing hardware, which can be copied at will, but in developing the software to function across platforms, communicate between devices and provide both back and front-end support. It is no mistake that the majority of the companies which have attained mega-cap status are software driven and outsource manufacturing of their hardware. There is no doubt China is capable of creating its own software systems, but it is not an easy process and will take time even with an army of programmers.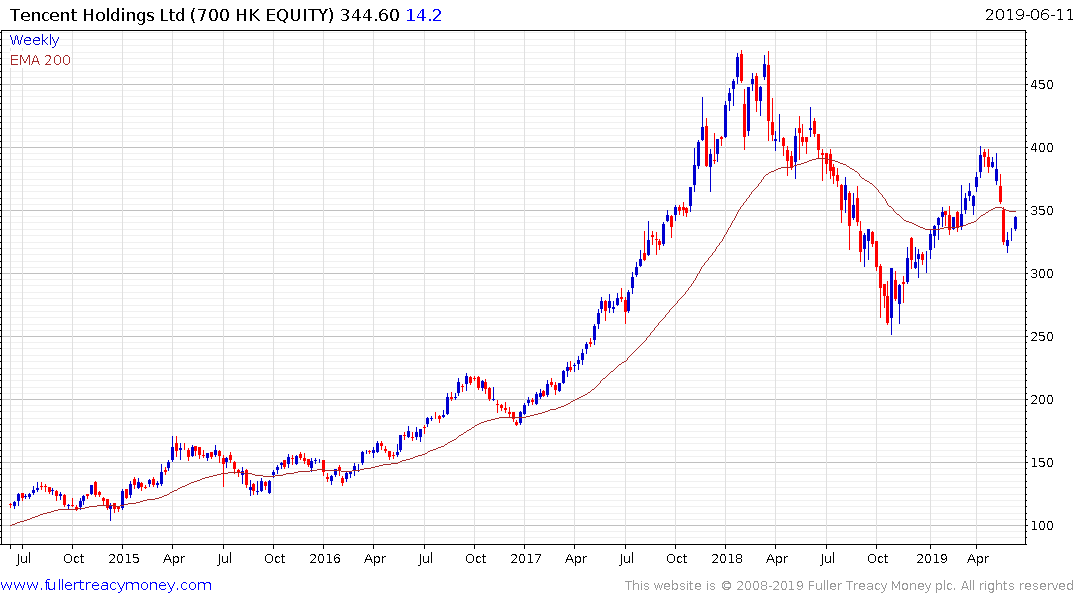 Tencent has steadied following the sharp pullback in May but needs to hold the recent low near
HK$315 if the benefit of the doubt is to be given to higher to lateral ranging. The share has become a lot more volatile over the last 18 months. That is damaging to investor sentiment and suggests it would be unwise to expect a return to a medium-term consistent trending environment.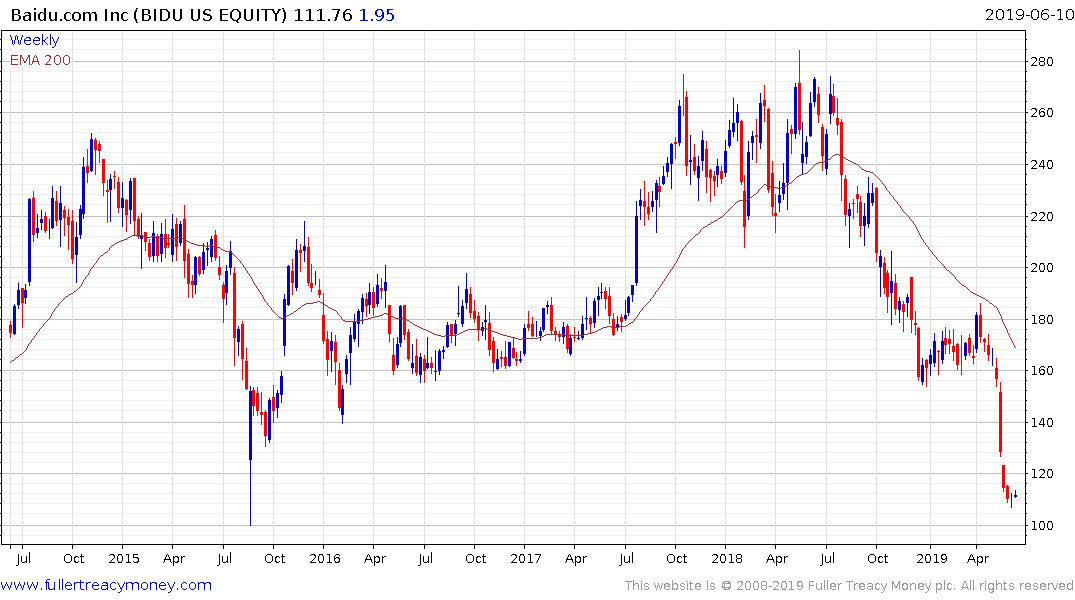 Baidu has made a one-way on artificial intelligence and will need to deliver if investors are to give the recovery case some credence. The share is now back testing the region of the spike lows in 2015 and the 2013 lows. A deep short-term oversold condition is evident but a significant period of support building is likely required before we can conclude demand is returning to dominance beyond the short term.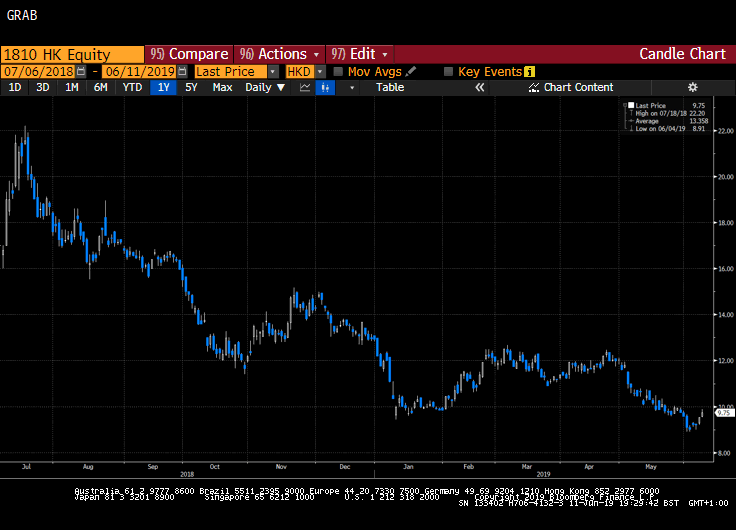 Xiaomi has bene trending lower since its IPO almost a year ago.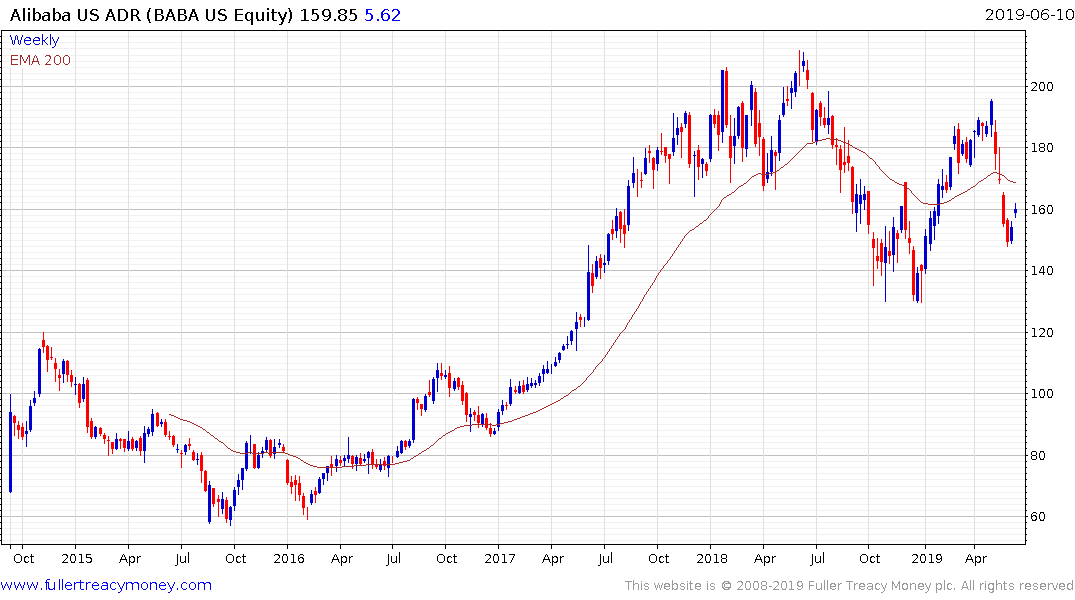 Alibaba has partially unwound is oversold condition but will need to hold the low near $150 to confirm a higher low and a return to demand dominance.
Back to top