On Target April 3rd 2018
Thanks to Martin Spring for this edition of his letter which reproduces my answer to the question of differences in standards of governance between China and India. Here is a section on North Korea:
Here is a link to the full report and here is a section from it:

Quite contrary to what you might expect from what passes for reportage and analysis in all the mainstream media, things may be moving towards a reconciliation between the US and North Korea that would amount to victory for the Kim Jong-un regime.
That is not as unlikely as you might think. Remember that the US was unable to win the Korean War – it ended in a draw – and later was eventually defeated in Vietnam.
The Americans could be moving towards abandoning hope of achieving North Korea's nuclear disarmament and switching to more realistic objectives. For example, getting North Korea to commit not to sell nuclear weaponry to terrorist groups or other nations, in exchange for a lifting of sanctions, or even an aid programme.
CLSA's Christopher Wood says Kim continues to ―play a blinder‖ after successfully exploiting the public relations opportunity provided by the Winter Olympics in Pyeongchang, by getting the Americans to agree to a Kim/Trump summit in May.
"There has been more dialogue between America and North Korea… than what has been admitted to in public," Wood reports. The path is being cleared ―for America to accept longstanding reality – which means formally accepting in public that North Korea is a nuclear power.
"Once that happens, the way is open for negotiations to be held over ending the Korean War (North Korea and America are technically still at war." What does that mean for investors? CLSA's Korean head of research Paul Choi suggests there would be a potentially huge positive catalyst should Kim decide, "once a peace treaty is concluded and his regime's stability ensured, to open up the economy to foreign' investment… most particularly from South Korea."
"That "possibility", even "probability," would offer huge opportunities for South Korean companies.
Kim's trip to China last week was no doubt aimed at squaring any plans he has for talks with South Korea and the USA with China. There is no chance that China would tolerate a reunification of the peninsula on the USA's terms so the best case scenario for the talks is for a normalisation of relations between North Korea and the USA and that would represent a significant victory for both Kim and Trump.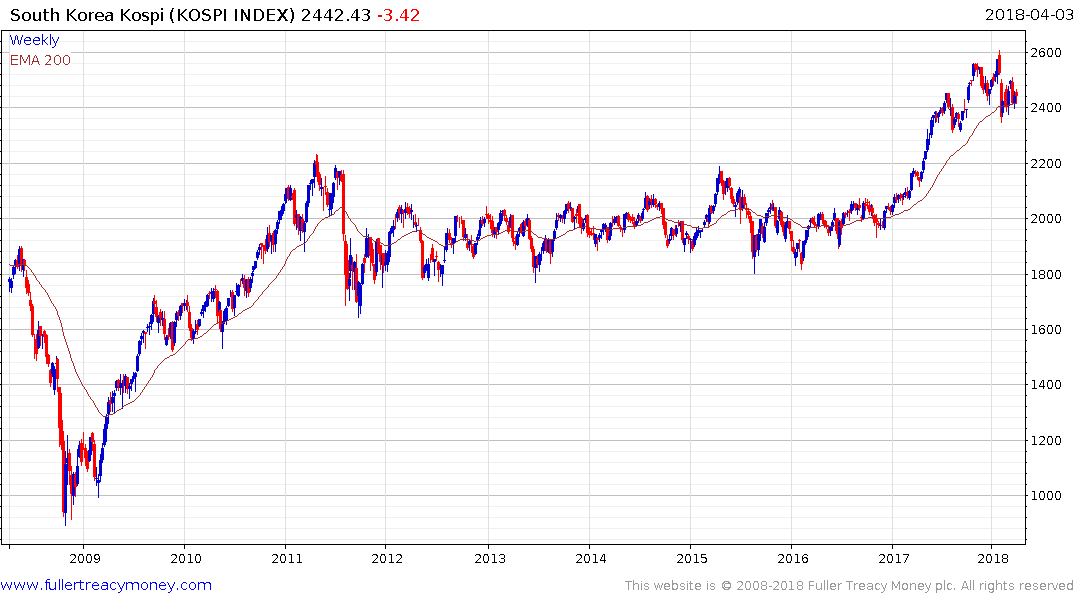 The Kospi Index experienced a massive reaction against the prevailing trend in 2011 and spent the next five years ranging before breaking out last year. It has not been spared following the uptick in volatility on global markets but a sustained move below 2300 would be required to question medium-term scope for additional upside.
Back to top