Obama administration looks to chop back market exclusivity for biologics
This article from Fierce Biotech dated March 6th may be of interest to subscribers. Here is a section:
But the Obama administration never favored that portion of the law, which was backed by a bipartisan coalition of lawmakers in Congress. And once again the administration is proposing to greatly scale down the exclusivity period, chopping the protection period from 12 years to 7 years.

The administration tackles the provision on page 64 of its summary version of the fiscal 2015 budget, noting that it will once again try to scale back exclusivity while preventing any extensions based on formulation changes. And if they succeed, the administration is claiming that they can carve $4 billion out of the Medicare budget over 10 years.
Gilead Sciences was today asked to explain its $84,000 price tag for Hepatitis-C medication which might be construed as an escalation of the government's efforts to reduce the costs in its medical programs. Biotech has been among the better performing segments of the health sector over the last three years not least as grounding breaking research has reached commercial viability.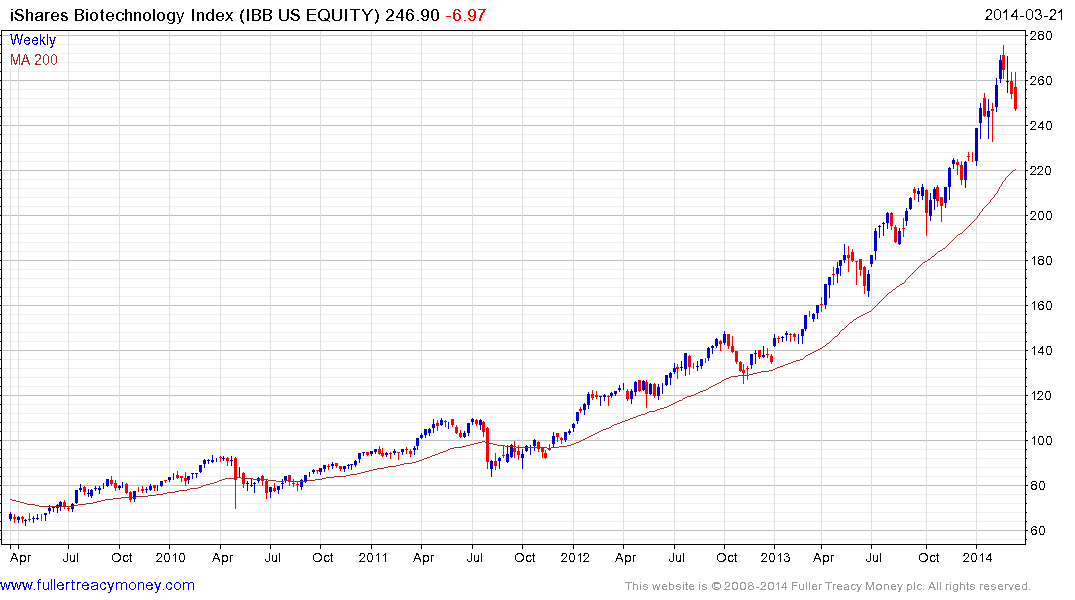 Biotech shares represented 7 of the 10 biggest losers on the Nasdaq 100 today. The iShares Nasdaq Biotech ETF's uptrend has taken on parabolic proportions over the last 18-months. Its reaction to date is similar to that posted a year ago but is occurring from a much larger overextension relative to the 200-day MA suggesting that the advance is in a mature phase and that the risk of a reversion to the mean outweighs potential for a sustained move to new highs.
Back to top