Novartis Therapy Seen as Cost-Effective at Up to $1.5 Million
This article by James Paton for Bloomberg may be of interest to subscribers. Here is a section:
The experimental treatment, which could be launched in the first half of 2019, would be an alternative to Biogen Inc.'s Spinraza, a treatment given in regular doses that patients must take for the rest of their lives. Spinraza costs $750,000 in the U.S. for the first year and $375,000 a year thereafter.

Switzerland-based Novartis is now wrestling with the question of how to price a potential cure. As a number of drugmakers advance into gene therapy in a bid to fix potentially lethal DNA flaws, governments, insurers and other payers are trying to figure out how to pay for the revolutionary treatments meant to be given to patients a single time.
Genetic sequencing, editing and synthetic biology represent some of the most profound innovations for the healthcare sector in generations because they hold out the increasingly likely possibility of delivering cures. That's terrible news for the conventional pharmaceutical industry which has historically depended on treating the symptoms of chronic conditions.
A diabetes patient represents a multi-decade cashflow for a pharmaceutical company that represents millions in income over the life of the patient. That will disappear when a one-shot genetic solution is developed. The same is true of cancer, arthritis, asthma, COPD, Crohn disease, cystic fibrosis etc. These diseases represent massive sources of income for conventional pharmaceuticals.
Today we are talking about the cost of one-shot solutions that are in the millions not because that is what the ultimate cost of care is but because of the lost revenue that patient represents. Vaccines start out as very expensive but ultimately become very cheap. It will not be very long after cures are developed that people will feel victimised for their genetic abnormalities and will start voting for lower cost cures.
That is a clear reason why the pace of M&A activity is going to pick back up in the biotech sector. Roche's decision to pay a 138% premium for Spark Therapeutics today is one example but there will certainly be more.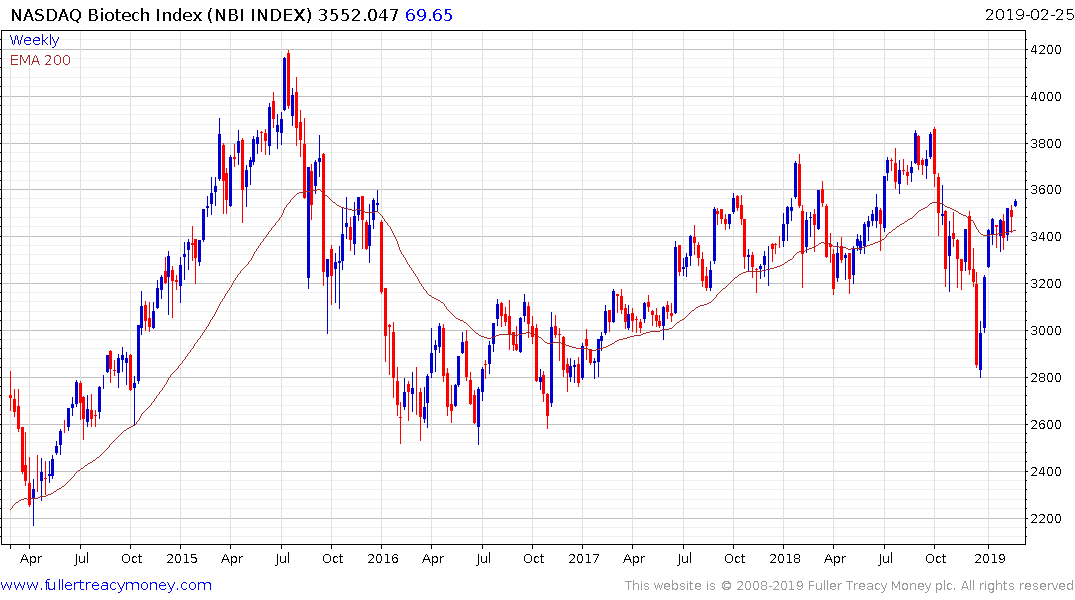 The Nasdaq Biotech Index has rebounded impressively from the December low and a sustained move below 3250 would be required to question potential for additional upside.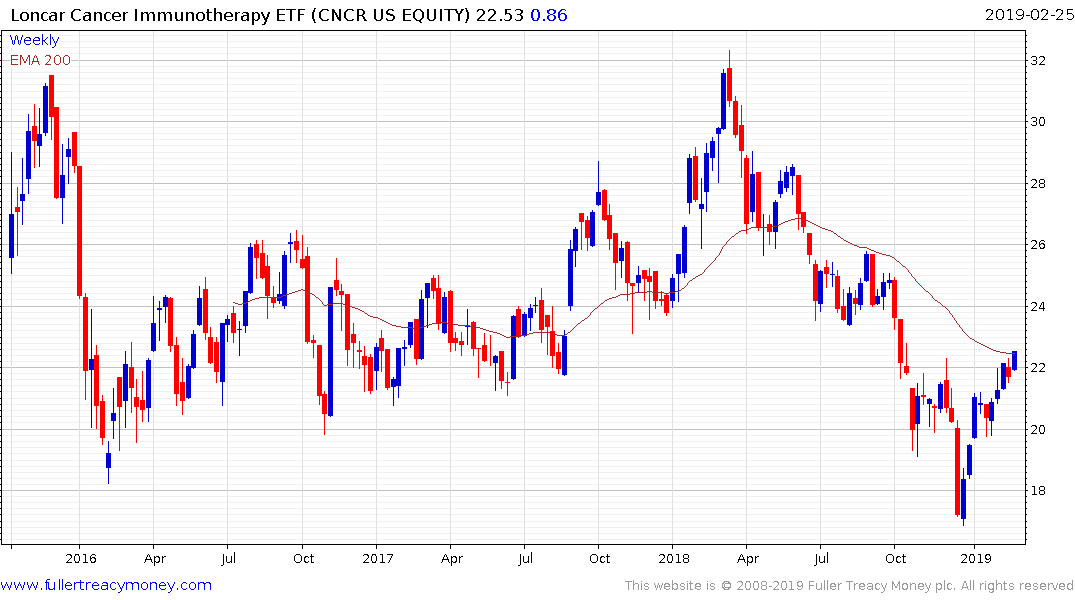 The Loncar Cancer Immunotherapy ETF rallied today to break its almost yearlong sequence of lower rally highs.
Back to top