Not the usual drill on Vietnam
This article from the Economist may be of interest to subscribers. Here is a section:
This latest stand-off seems more serious than most for a number of reasons.

First, although there have been frequent squabbles around the Paracels over the activities of fishing and oil-survey vessels, this is believed to be the first time China has actually drilled for oil in waters claimed by Vietnam.

Second, it is reported to have sent as many as 40 ships, including some from the navy, to protect the rig.

Third, Vietnam will find it very hard not to respond in some way to what it sees as an entirely illegal sea-grab. Public opinion in the country is sensitive to Chinese slights, and to the failure of the government to do enough about them.

Finally, this flare-up comes just after Barack Obama's four-country tour of Asia, one aim of which was to reassure America's friends in the region about the sincerity of its commitment to a strategic "pivot" to Asia.

Mr Obama reassured Japan that the islands it is quarrelling over with China are covered by America's security guarantee. And his visit was marked by the beefing-up of security ties with the Philippines, another treaty ally (though not by an explicit commitment over its disputes in the South China Sea).

Vietnam is not an American ally, though relations have been warming in recent years, partly because of the Vietnamese fear of China's rise. And if America proves impotent in the face of this Chinese "provocation", it may help undo whatever progress Mr Obama made on the reassurance front.
The evolving geopolitical situation in Ukraine has been a media spectacle. It has prompted numerous articles where historical precedent, individual psychology, geography, ethnicity, language and economics have all been relied upon to draw conclusions about what Russia will do next. However from the perspective of an external observer the most obvious conclusion is that the Western "powers" have no appetite for increased geopolitical tensions and therefore prospective targets might be softer than previously imagined.

China has invested heavily in modernising its military and building a credible naval presence. It needs energy and has so far relied on investing in foreign countries to secure supply contracts. Vietnam is in China's backyard. It is in no way prepared for potentially unfriendly overtures from its large neighbour. If Ukraine is an example, Vietnam cannot rely on assistance from other countries.

The Vietnam Index has pulled back to the region of the 200-day MA over the last week and will need to find support in this area if medium-term recovery potential is to continue to be given the benefit of the doubt.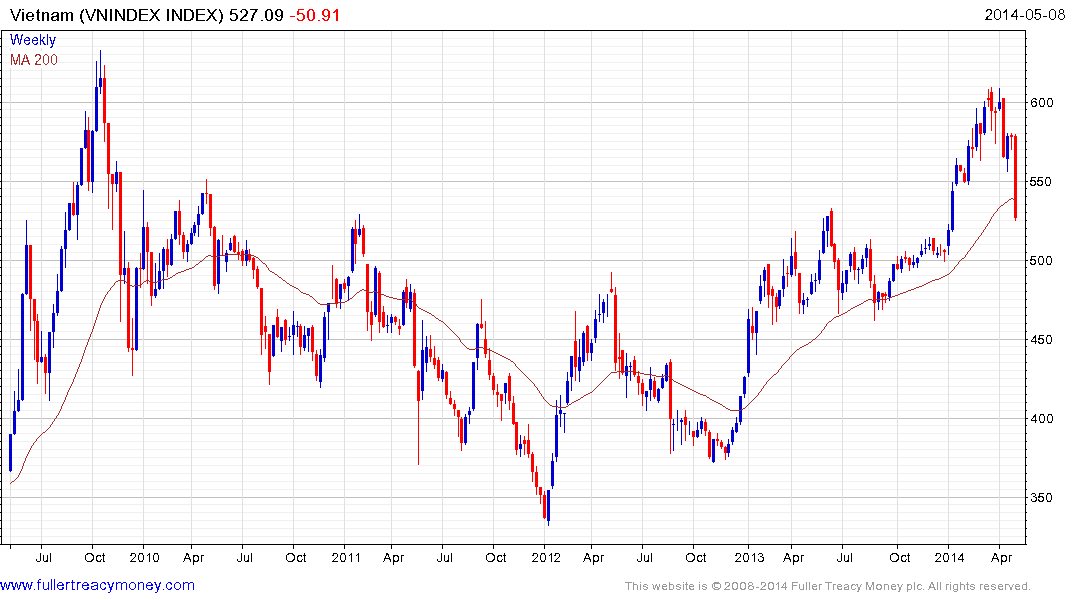 Back to top