Norway's Krone Hits Weakest on Record Amid Trade Turmoil
This article by Sveinung Sleire for Bloomberg may be of interest to subscribers.
Norway's krone hit the weakest on record against the euro, surpassing the previous record set during the 2008 financial crisis.

The krone touched 10.1641 per euro at 2:45 pm in Oslo, according to Bloomberg data, amid pressure from global tensions and weakening oil prices.

Norway is Western Europe's biggest producer of petroleum products and gets almost half its goods exports from oil and natural gas.

Norges Bank has been puzzled by the weakening currency, a move that has allowed it to raise interest rates four times since September 2018. The central bank has increased its estimate on the currency's equilibrium exchange rate, meaning that it now sees the weakening currency as a structural shift.
Crude oil prices are close to breakeven levels for shale drillers, are challenging the profitability of newer offshore sites and are well below the fiscal breakevens for much of OPEC. That is putting downward pressure on the currencies of oil producers.
OPEC and Russia have been curtailing supply. US onshore shale production is still high but drilling is falling because future cannot be hedged at profitable levels. That is contributing to the backwardation in crude oil prices. If supply is expected to contract then the question which is most pressing for this cohort is the outlook for demand.
That's more about the outlook for global growth and particularly in major consuming areas like China, India and Europe. The trade war, China's reluctance to step on the monetary accelerator and the strength of the Dollar are all weighing on sentiment towards global growth. The potential for a truce in the trade war is one of the most significant factors in the outlook for global growth but the Dollar's relative strength will need to reverse in order to support commodities and commodity currencies.
What I found particularly interesting about the above article is the willingness of Norway to accept oil's role in the global economy is experience a structural shift. Saudi Arabia's IPO of Saudi Aramco suggests they have reached the same conclusion. The moderation in oil price volatility, which I continue to believe is secular in nature has generally coincided with secular bull markets in stock markets. That is one of the most important points to remember from the perspective of an unleveraged long-term investor.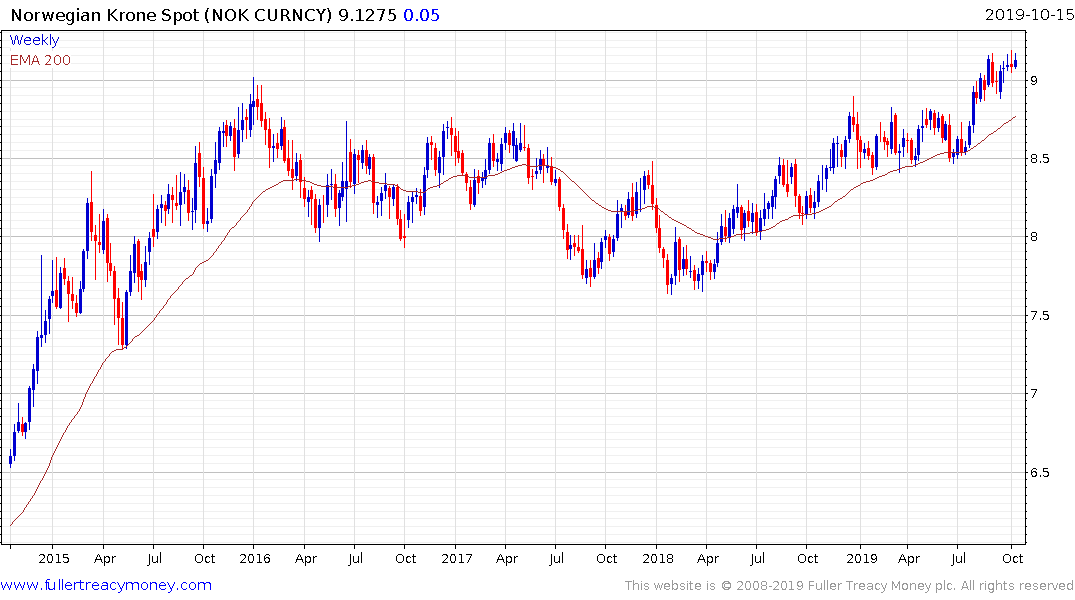 The Norwegian Krone hit a new low against the Euro and continues to extend it breakdown against the Dollar. (show inversely above)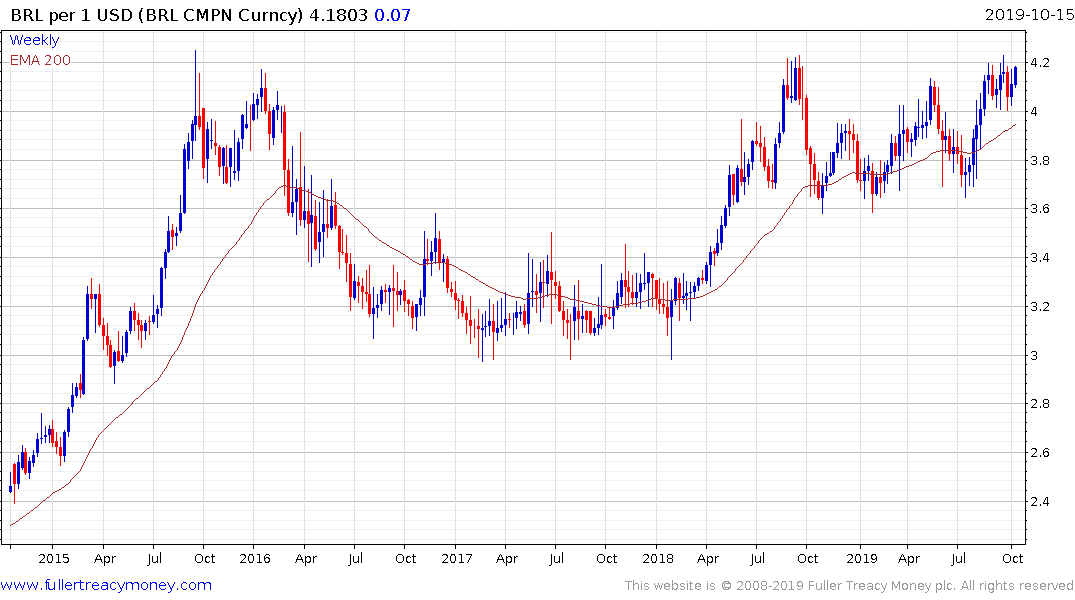 The Brazilian Real continues to test its lows.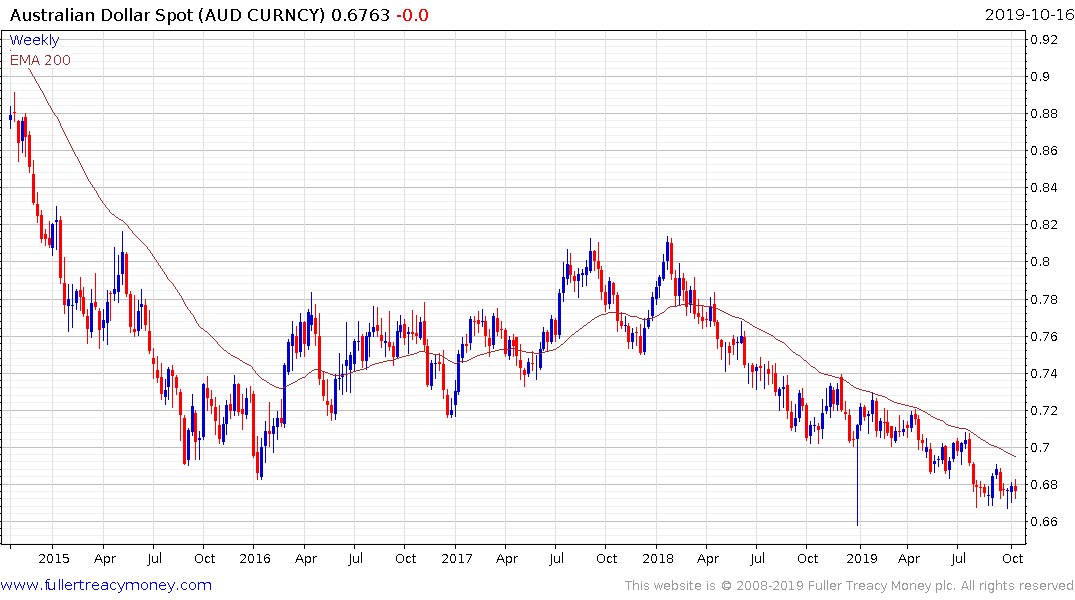 The Australian Dollar has been stable over the last 10 weeks but has a lot of work to do to check the medium-term downtrend.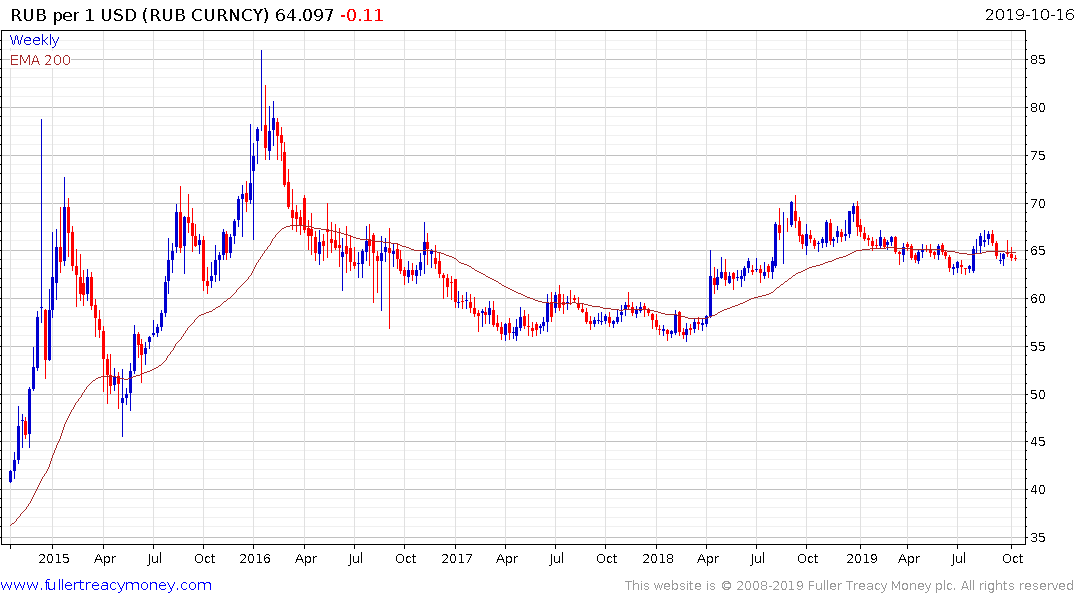 The Russian Ruble is increasingly supported by gold and is bucking the trend of commodity currency underperformance.
Back to top