Nordstrom, Macy's Suffer as Americans Skip Trip to the Mall
This article by Lindsey Rupp for Bloomberg may be of interest to subscribers. Here is a section:
The problem? Department stores aren't drawing the same foot traffic. Though the job market is improving and the U.S. economy is chugging along, Americans would rather spend their money elsewhere. Nordstrom's results sent its shares down as much as 22 percent in early trading on Friday, following a similar swoon for Macy's after it released weak earnings earlier this week.

"It's kind of bizarre," said Dorothy Lakner, an analyst at Topeka Capital Markets in New York. "People have money. The economy isn't bad, but they're not spending on apparel."

Nordstrom's stock tumbled as low as $49.75 in premarket trading in New York. The shares had already slid 20 percent this year through the close of regular trading Thursday.

Cautious Outlook
Even J.C. Penney Inc., which beat sales estimates in the third quarter, is approaching the holiday cautiously. The retailer didn't raise its annual guidance despite posting a same-store sales gain of 6.4 percent last quarter. That exceeded the 4.5 percent increase analysts expected.

J.C. Penney shares fell as much as 11 percent to $7.82 in early trading on Friday. The company, benefiting from a turnaround plan, had gained 36 percent this year through Thursday.

Retailers and clothing suppliers have struggled to pare down excess inventories, forcing them to rely more on discounts.

Nordstrom's results reflected softer sales "across channels and merchandise categories," the Seattle-based company said.

"It's just a traffic problem," James Nordstrom, president of stores, said on a conference call. "We've got less people buying clothes this quarter than we expected.
Wal-Mart, Macy's and Nordstrom have come through with earnings that took analysts by surprise and their respective shares have experienced sharp declines as a result. TJX and Ross Stores have also been affected as pessimism about their earnings announcements next week increases.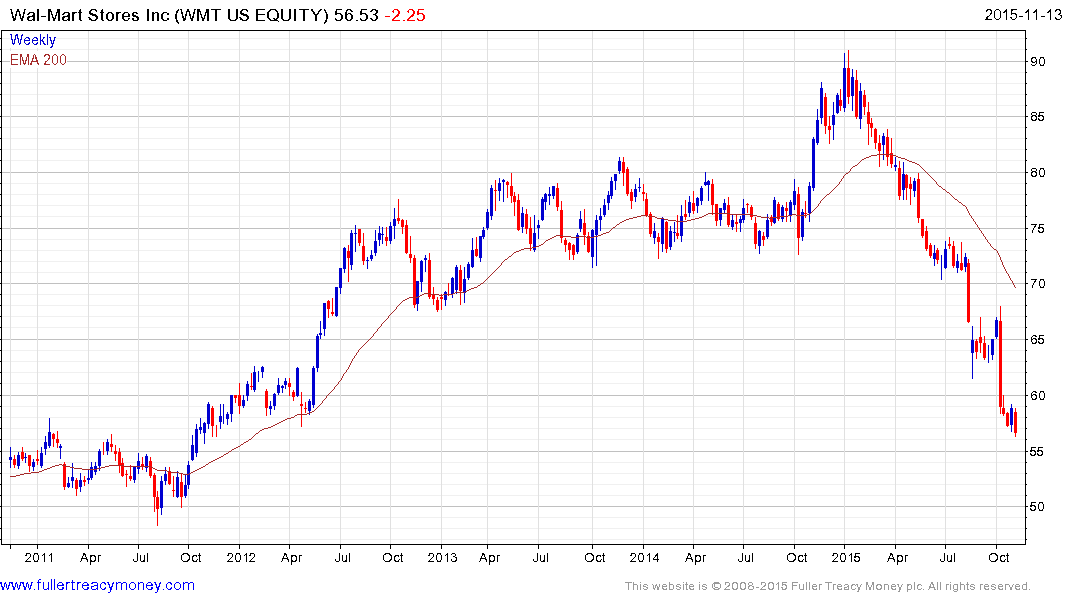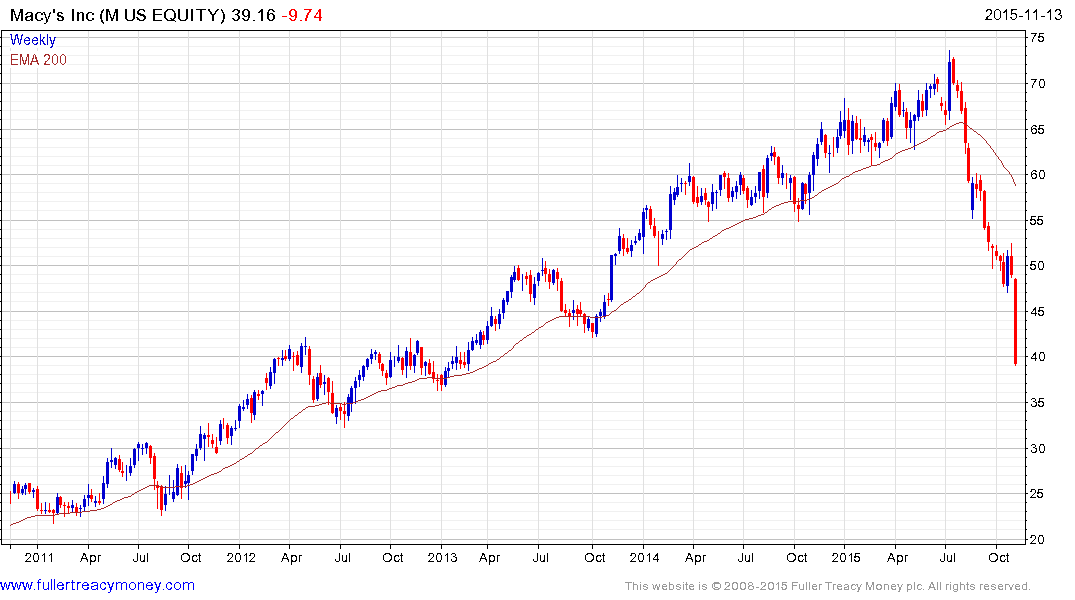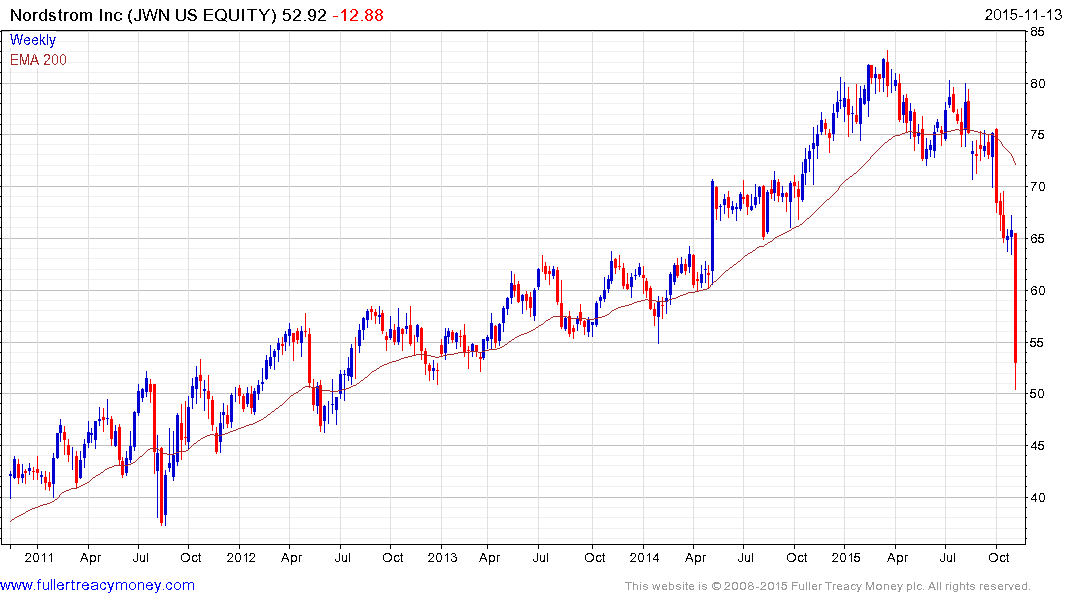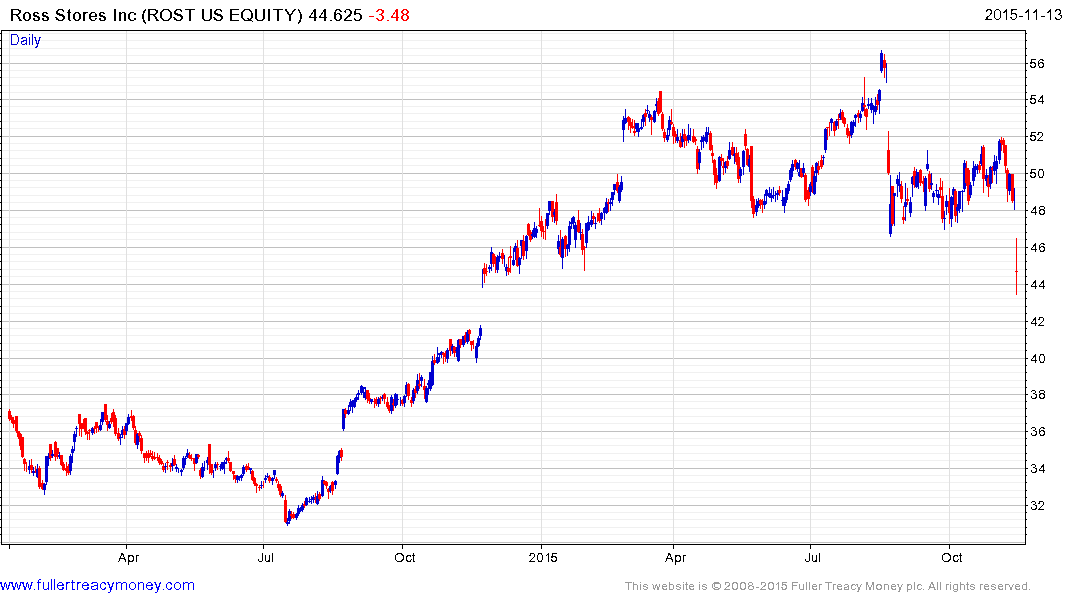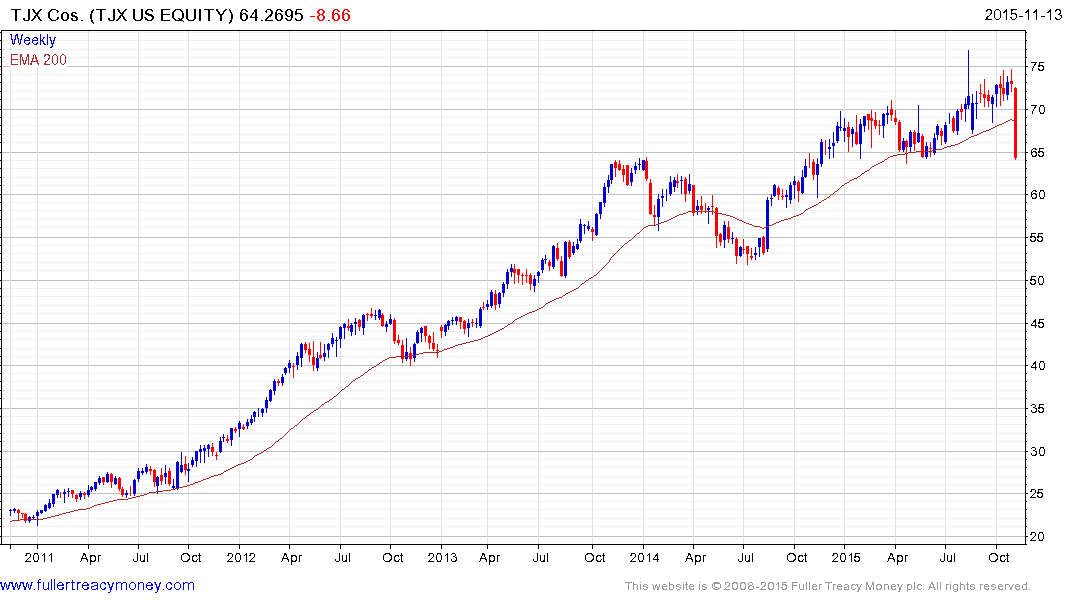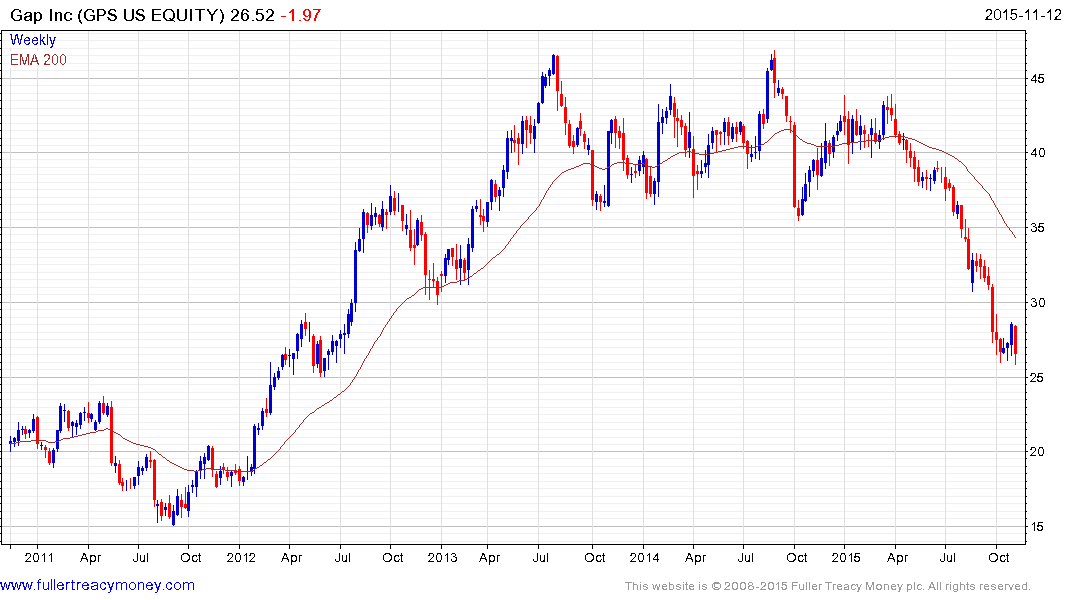 These declines are raising big questions. Are retailers suffering because they were overenthusiastic and built up inventory to unsustainable levels? Is it because shoppers are not spending due to insufficient funds or are they choosing to purchase elsewhere? Has online grown to such an extent that shopping at department stores is passé? Are consumers already pricing in the potential impact of a Fed rate hike? Considering how accustomed consumers are to being offered deals are they simply waiting for better prices ahead of the holiday season?

Single day declines of 20% or more in a share price are when emergency meetings are called and the commonality evident across the sector is not a positive sign. Nevertheless, short-term oversold conditions are evident so there is room for some steadying. However they will need to break medium-term progressions of lower rally highs to question supply dominance.

Personally, I will probably do 75% of my Christmas shopping on Amazon and I don't think I'm alone in that. I know what Mrs. Treacy wants for Christmas and that will require a trip to a store. Of course men and women shop differently. If Mrs. Treacy's browsing history and record are any guide she will peruse the websites of major department stores rather than visit them and will make her purchase from those with the best price and customer service. Unfortunately, the above retailers do not disclose what percentage of sales come from their ecommerce divisions. The last time Gap Inc. reported that figure was in 2013 at 12%.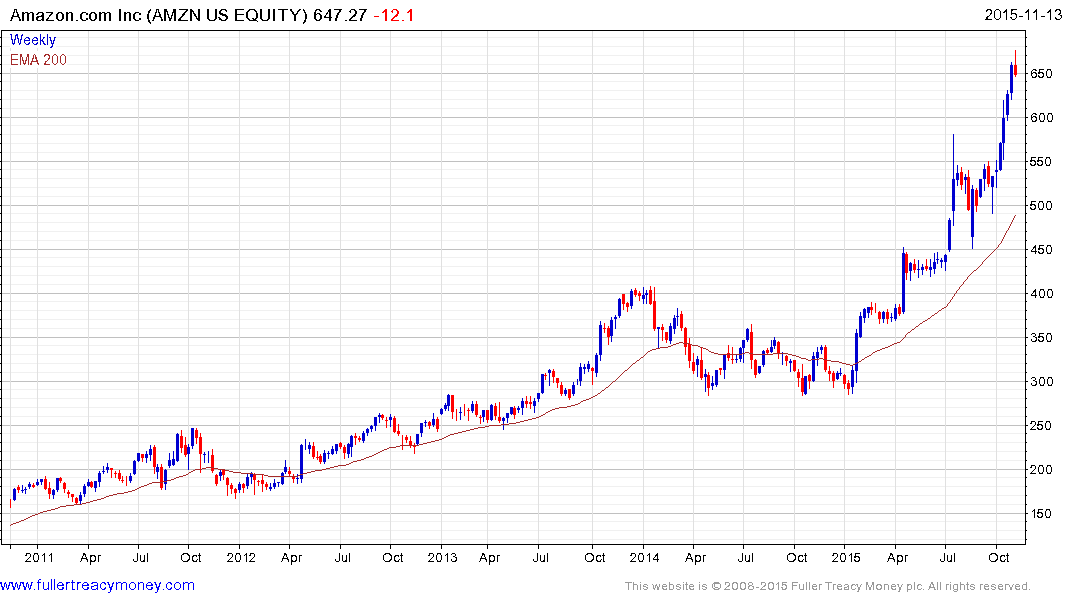 Amazon is more overextended relative to the trend mean than at any time in the last five years so some consolidation of recent powerful gains is now looking more likely than not.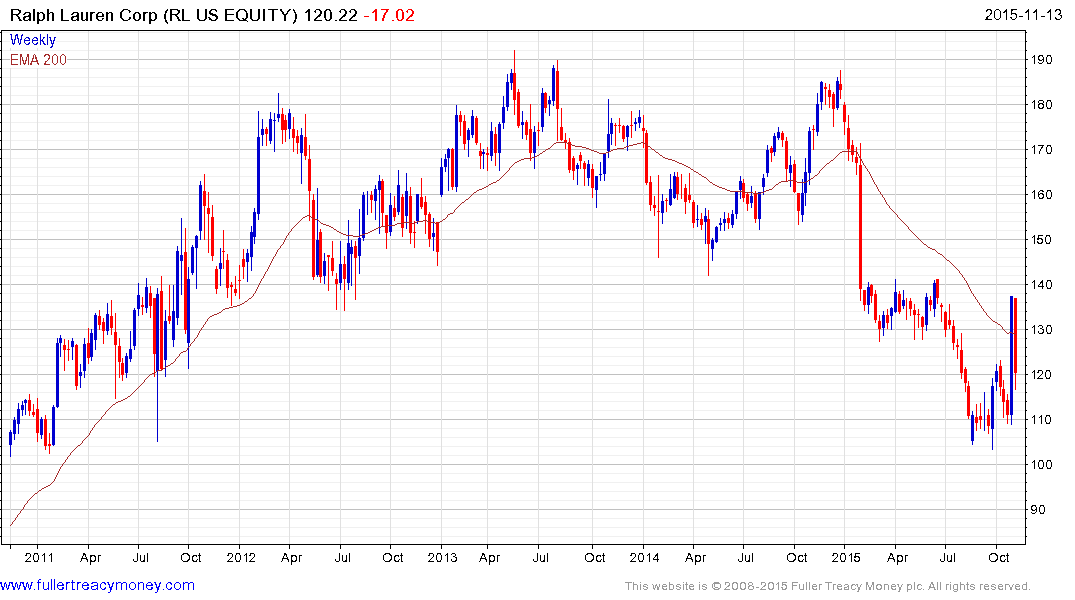 Ralph Lauren bucked the trend somewhat last week by announcing a better than anticipated quarter and reorganisation. The share will need to hold the low near $110 during the current pullback if medium-term recovery potential is to be given the benefit of the doubt.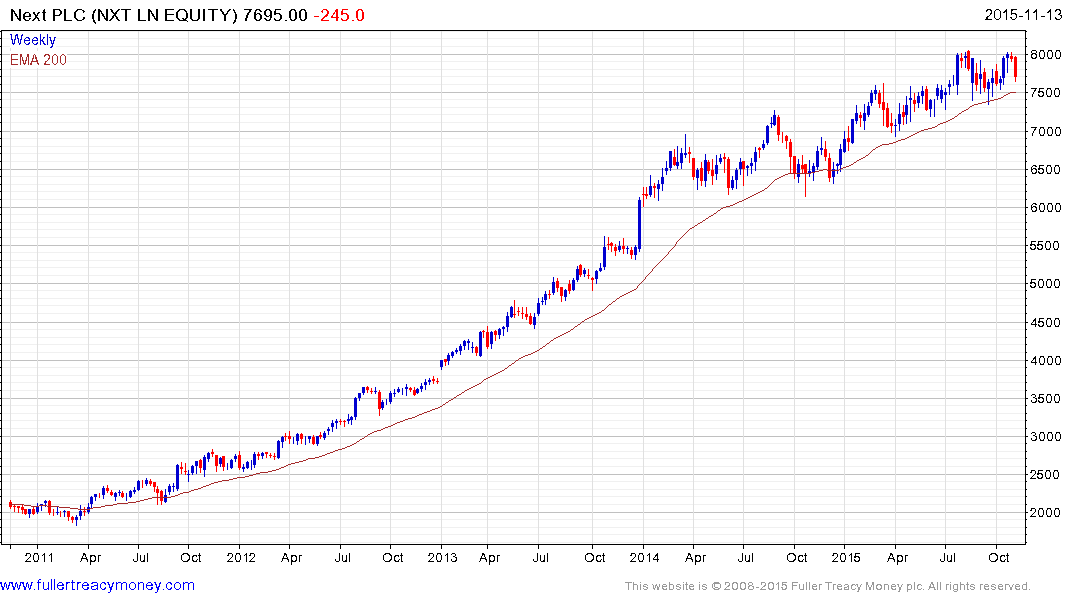 In the UK Next Plc has been trending consistently higher since 2008 and has paused in the region of 8000p over last few months. It will need to hold the region of the 200-day MA on the current pullback if medium-term demand dominance is to continue to be given the benefit of the doubt.
Back to top