Nike, Adidas Output Snarled as Covid Wave Shuts Asian Factories
This article by Michelle Jamrisko for Bloomberg may be of interest. Here is a section:
"It's going to be worse before it gets better," with shutdowns and staff disruptions increasing in Asia, said Deborah Elms, executive director of the Singapore-based Asian Trade Centre. "Places like Vietnam that largely avoided locking down cannot maintain an open posture. With vaccinations painfully slow, I assume more shutdowns in factories, with the ripple effects felt elsewhere."

Trade in goods has been a rare buffer for the Covid-ravaged global economy -- especially for export-heavy Asian countries -- but the latest reports show cracks in this growth pillar. The delta variant-driven surge has hit Southeast Asia especially hard, underscoring the delicate choices for policy makers who are balancing vaccination drives and mobility restrictions while trying to keep their economies afloat.

The manufacturing pain is especially acute in Vietnam, where officials have taken drastic steps to ensure factories can continue operating. In some instances, electronics and tech companies have had workers sleep overnight on-site.

The garment industry, with lower profits and more workers, hasn't been able to replicate that effort. Feng Tay Enterprise Co., Pou Chen Corp. and Sports Gear Co. are among manufacturers that have suspended some operations in Vietnam.
My 13-year-old informed Mrs. Treacy yesterday last night that they had to go to the Nike store because the shoes she wants for school were sold out online. Her rationale was most people begin shopping for school in August so now was the time to make the purchase. They dutifully made the journey and secured the shoes while witnessing numerous kids making Snapchat videos with their purchases.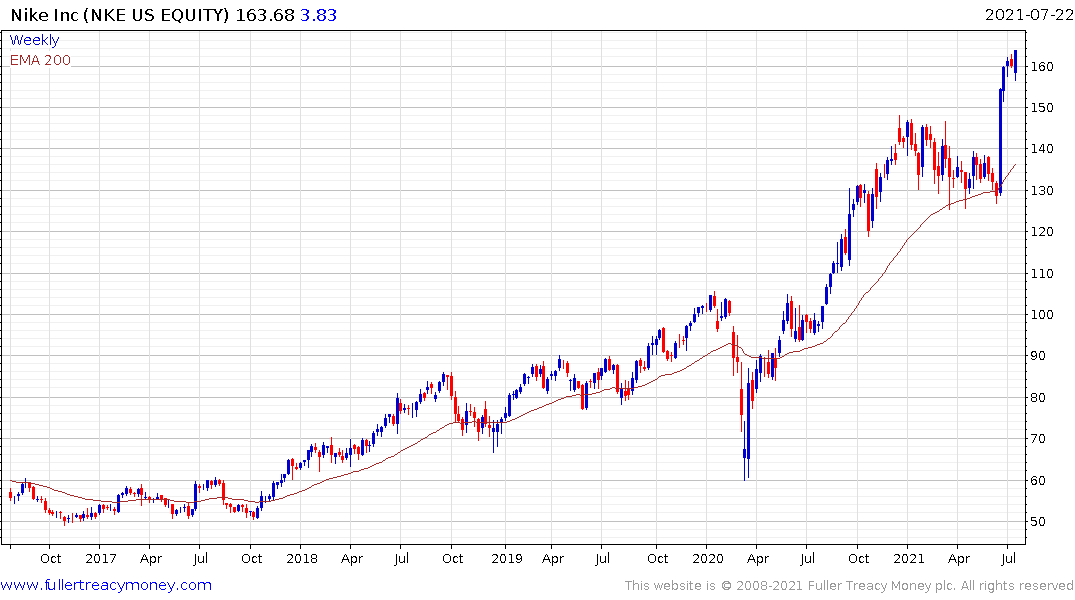 Three things spring to mind. The first is Nike remains highly adept at fostering demand for its products through social media. My daughter didn't want just any shoes, she knew exactly what model she wanted because they are on trend at present. Nike broke emphatically higher on strong earnings last month and the upward momentum continues.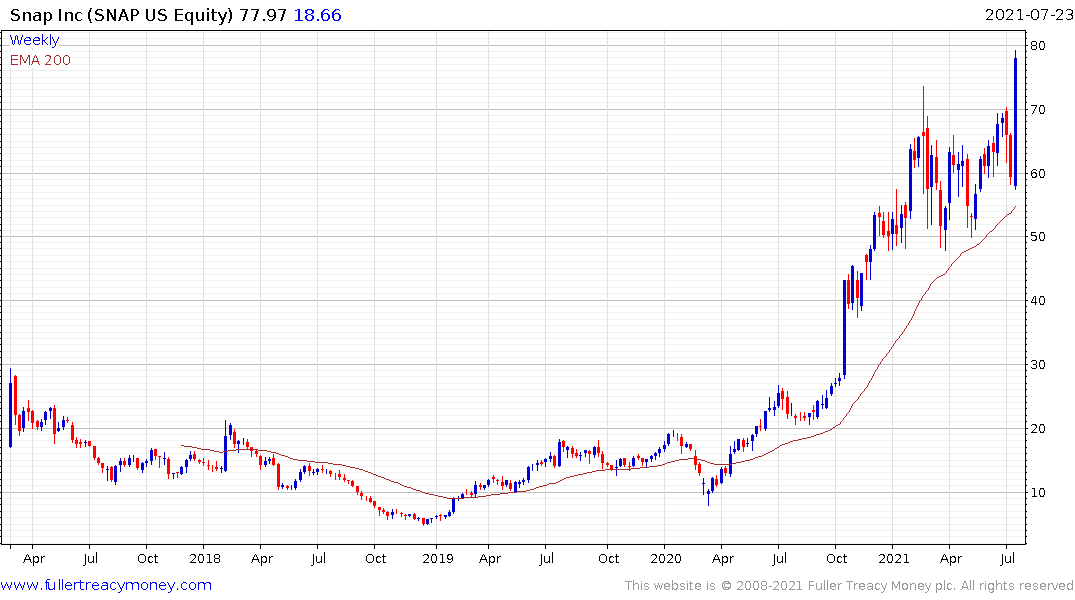 The second is Snapchat was the first company to create filters for videos. While those fun filters have been copied by Instagram and Ticktok, Snapchat remains popular. The share surged higher today on strong ad revenue growth. The share spent most of this year unwinding the overextension relative to the trend mean and today's action reasserts the medium-term uptrend.
The third is China maintained manufacturing output during last year's strict lockdowns by quarantining workers inside factory dormitories. By limiting access, factories were able to sustain production and that helped to boost exports and to meet demand from the rest of the world.
The success of quarantines across most of Asia's manufacturing centres ensures the supply of goods for the rest of the world despite lockdowns. That was particularly relevant for Vietnam, Thailand, Singapore, etc. Now that the delta variant is spreading rather rapidly in these countries there is potential that the global supply chain will be further impacted. This time around it may be less about semiconductors and more about fast moving goods like clothing and widgets.
The Vietnamese stock market bounced earlier this week from the region of the trend mean and the previous peak. It will need to hold the 1200 area if the breakout is to be given the benefit of the doubt.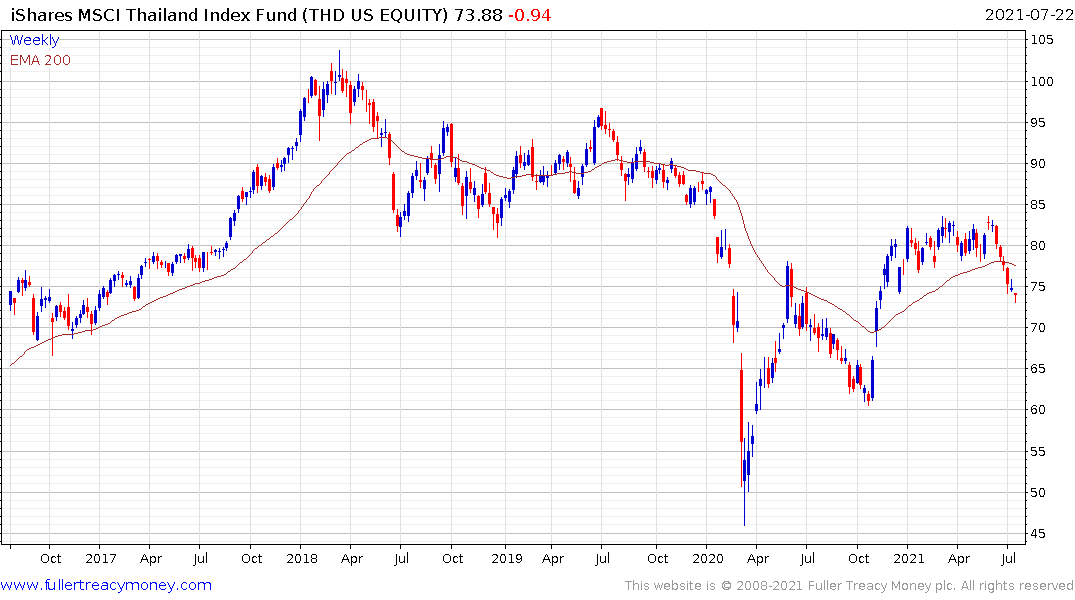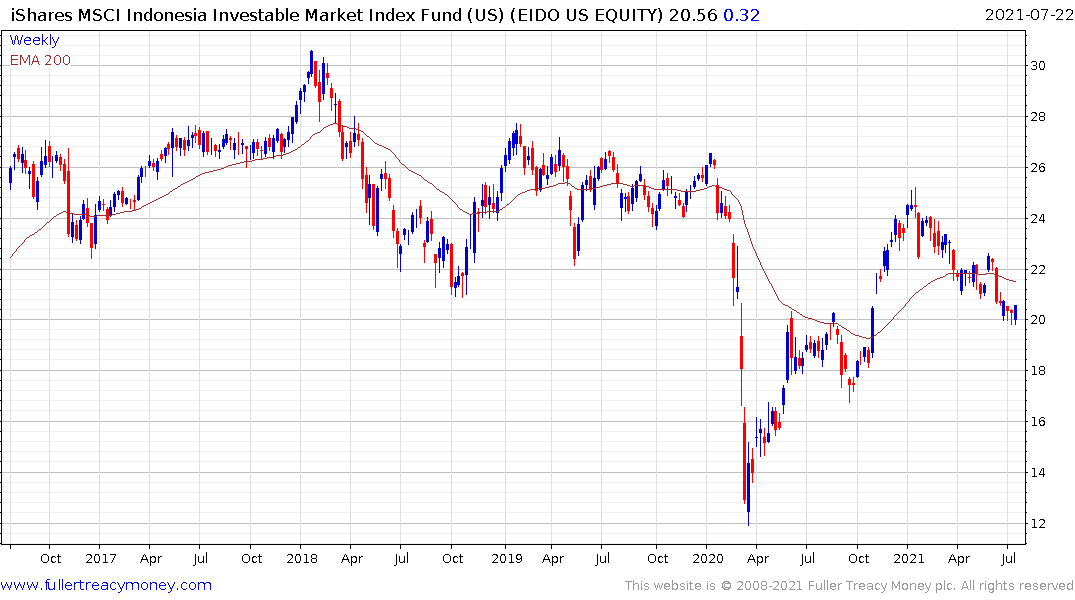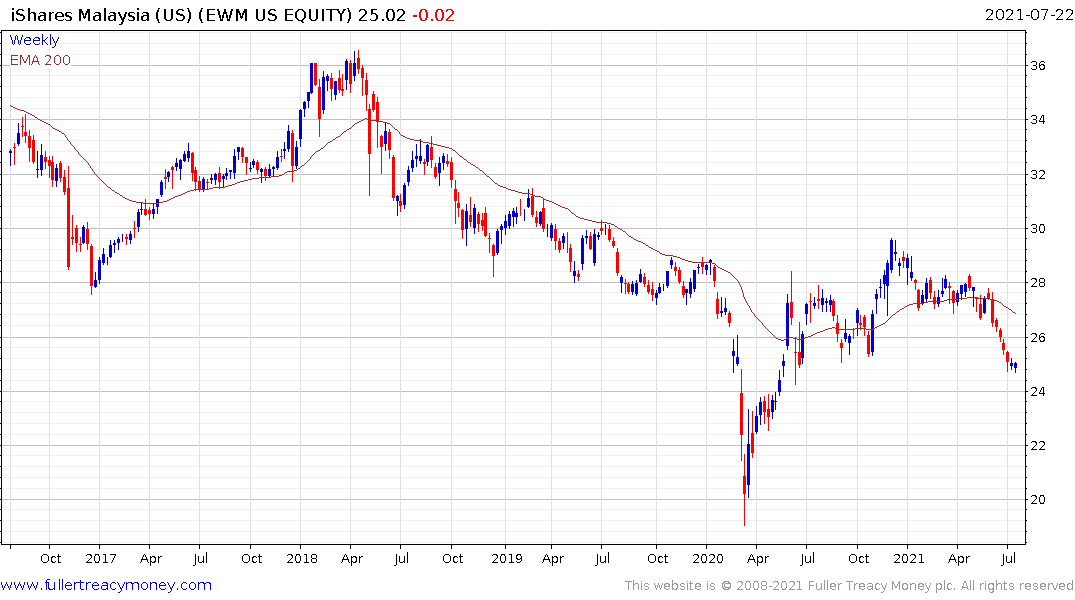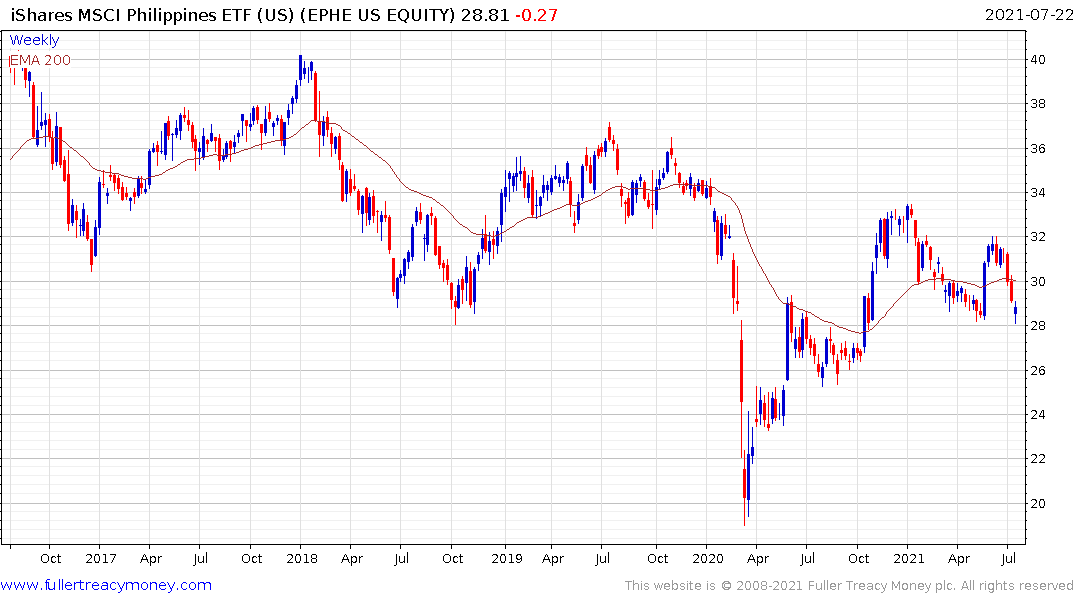 The Thai, Indonesian, Malaysian and Philippines ETFs have all rolled over suggesting this is where the greatest pressure from the spread of the delta variant is focused. Even here, the numbers of cases are probably peaking so the outlook for high yield spreads is probably a more important factor.
Back to top