Newmont's Goldcorp Gamble May Need "Drastic Surgery" to Pay Off
This article by Danielle Bochove, Caleb Mutua and Marvin G. Perez for Bloomberg may be of interest to subscribers. Here is a section:
The cost to create the world's largest gold company: A 17 percent premium for a $10 billion all-shares acquisition that faces some big-time challenges down the line.

Newmont Mining Corp.'s deal for Goldcorp Inc. stands in stark contrast to the recent zero-premium merger between Barrick Gold Corp. and Randgold Resources. The key question: Why? In October, Goldcorp shares fell to their lowest since 2002 after the miner reported lower output and higher costs than expected.

Since then the stock improved only marginally before today. The merged company will have the world's largest production and reserve base, and the kind of liquidity and diversified assets required to attract institutional investors. At the same time, "Newmont has some difficult times ahead with drastic surgery needed at Goldcorp," according to John Ing, an analyst at Maison Placements Canada.

"In the short term and medium term, the deal is not good for Newmont," Ing said in an interview with Bloomberg News on Monday.
When the price of both the acquirer and the target fall following an M&A announcement, that is generally a sign investors are not all that happy with the price being paid and/or the prospects for the merged entity. The market's conclusion therefore is that shareholders are on the hook for the cost of the merger.
When we talk about miners, these mergers of major producers whether the recent announcement of Barrick and Randgold Resources or Newmont and Goldcorp, consolidation after a long decline generally signals we are in the latter stages of the bear market.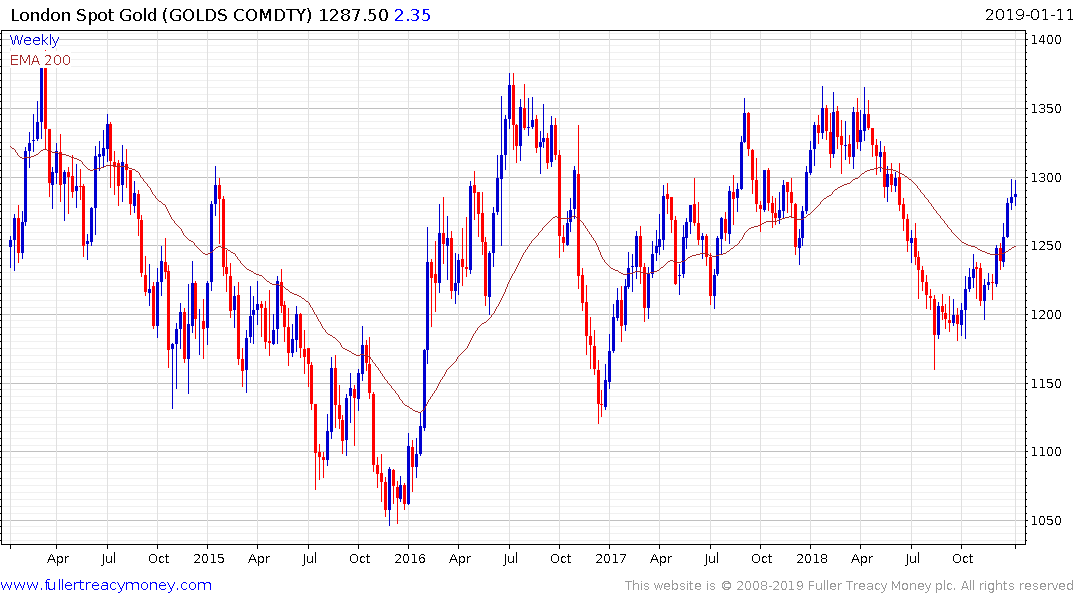 The gold mining sector used the decade-long bull market to spend recklessly on new projects in an effort to improve ore grades following a secular bear market in investments in new projects. The decline in prices punctured any hope the aggressive prices paid for properties could be justified and it has resulted in large numbers of projects being cancelled. That removal of supply from the market is a necessary part of any bottoming process.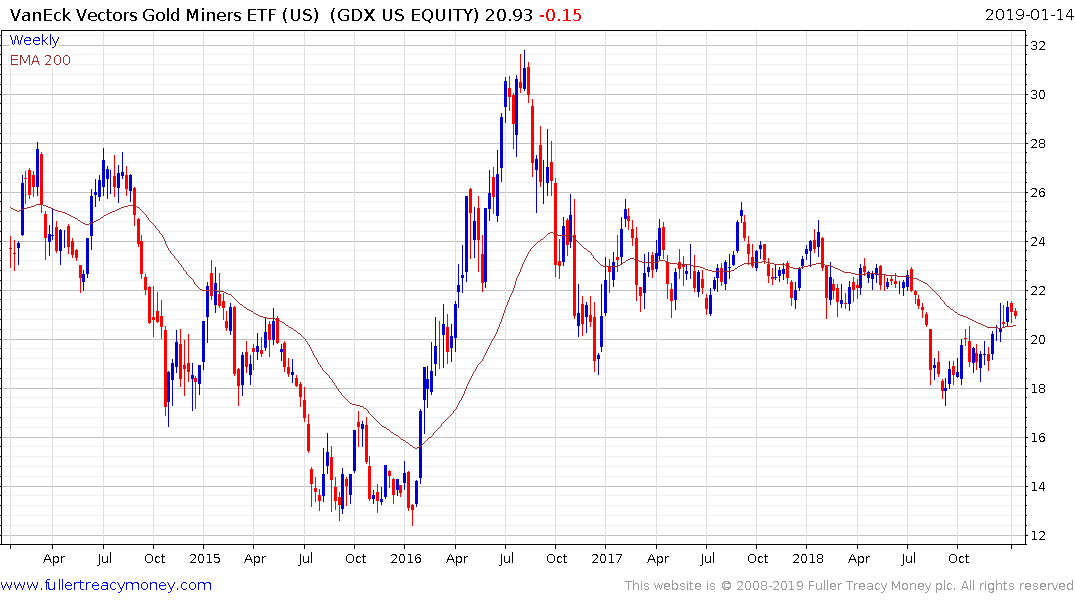 The VanEck Vectors Gold Miners ETF is trading back above the trend mean but needs to break the more than two-year progression of lower rally highs to signal a return to medium-term demand dominance.
Back to top