New Saudi King to Keep Al-Naimi as Oil Policy Seen Unchanged
This article by Maher Chmaytelli for Bloomberg may be of interest to subscribers. Here is a section:
King Salman, Saudi Arabia's new ruler, will keep Oil Minister Ali Al-Naimi in his post, bolstering expectations that he will continue the policy of maintaining crude output to preserve market share even as prices have plunged.

?Salman, 79, issued a royal decree to retain current ministers, according to the official Saudi Press Agency. Al- Naimi led OPEC's Nov. 27 decision to maintain its crude production even as shale supplies spurred U.S. output to the highest in three decades. Salman said on Saudi national television that he will maintain the policies of his predecessor.

With production of 9.5 million barrels a day and exports of 7 million, Saudi Arabia accounts for more than a 10th of global supply and a fifth of crude sold internationally. The country's refusal to surrender market share to rising U.S. output has contributed to the worst slump in prices since the global credit crisis of 2008.

"The Saudi leadership has already taken the tough decision to live with lower oil prices," Florence Eid-Oakden, chief economist at London-based consultants Arabia Monitor, said by phone. "Naimi is well established, he is respected and there shouldn't be a change as long as the current cabinet is in place."
I posted Allen Brooks' prescient commentary on the likely path of accession to the Saudi throne on January 13th. Here is a link to the report includes a particularly interesting family tree along with positions held.
This additional article by Middle East veteran Robert Fisk for the Independent highlights just how much of a challenge the Saudi administration faces with civil wars in a handful of neighbouring countries. The vast majority of people have difficulty with the Catholic/Protestant/Republican/Loyalist distinctions in Northern Ireland. The additional challenge of understanding the enmity between various Sunni and Shia sects, often but not exclusively influenced by historical rivalry and tribal priorities represents a daunting task. So far the Saudi administration has succeeded in ensuring fighting has occurred outside its borders. Viewed in this respect, the policy of maintaining crude oil output in order to maintain market share can also be seen as reducing a source of income for its enemies.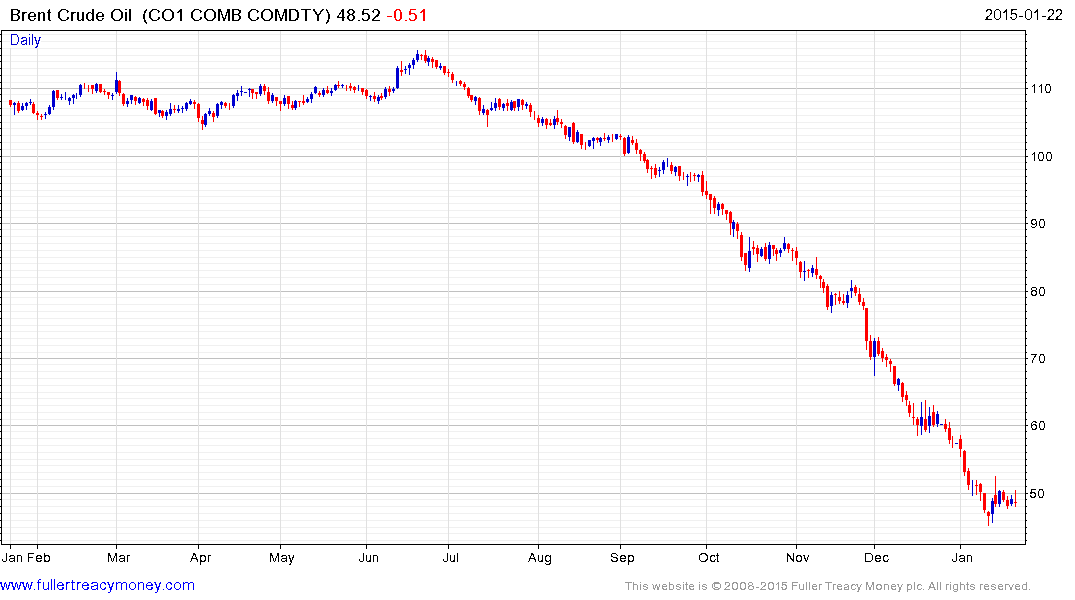 Crude oil prices rallied briefly on the news of King Abdullah's death but the consistency of the downtrend remains intact. Since late June Brent Crude has failed to hold a rally of more than $5. After a fall of 50% a $5 rally represents a more than 10% advance in absolute terms before we can conclude that the consistency has changed. This is a big number but represents reality in what has been an incredibly orderly decline to date. While prices have been relatively inert over the last six sessions, a sustained move above $51 will be required to begin to signal short covering and a low of more than short-term significance.
Back to top