New malaria vaccine reports milestone 77 percent efficacy
This article from NewAtlas may be of interest to subscribers. Here is a section:
There is still a long road ahead before this new vaccine comes close to large-scale use. A phase 3 trial is commencing now, spanning four African countries and enrolling close to 5,000 children.

However, the importance of developing an effective malaria vaccine cannot be understated. Over 400,000 people still die from malaria every year. Lynsey Bilsand, from vaccine research charity Wellcome, calls this new breakthrough "significant and exciting" in the ongoing battle against this major global health problem.

'Despite global efforts against malaria, too many lives are still lost to this disease, especially babies and young children," says Bilsand. "Vaccines could change this. This is an extremely promising result showing high efficacy of a safe, low-cost, scalable vaccine designed to reach the huge numbers of children who are most at risk of the devastating impact of Malaria."
Malaria represents both a human tragedy and massive tax on productivity in tropical and many sub-tropical areas. The death rate is bad enough but knocking people out of the workforce and making them a burden on their families is one of the primary reasons economic compounding does not result in better outcomes in Africa. It is therefore reasonable to conclude that the introduction of a vaccine would have a massive impact on long-term growth potential for the SubSaharan African region.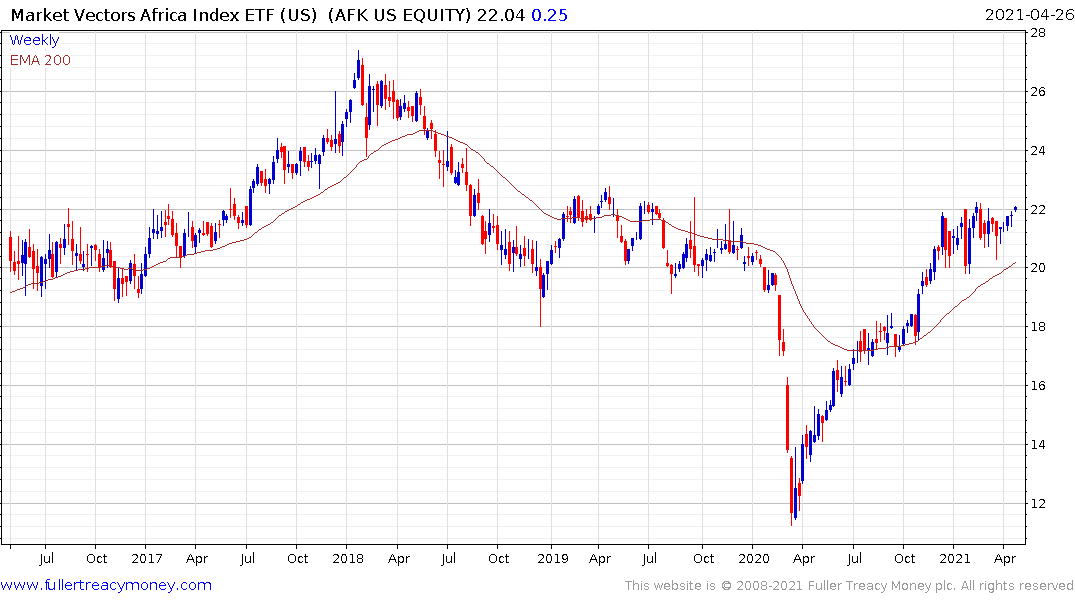 As a major commodity exporting region with a large number of illiquid stocks African investments tend to do best when liquidity is abundant and commodities are strong. The VanEck Vectors Africa ETF continues to firm from the region of the trend mean.
Back to top