New China swine fever strains point to unlicensed vaccines
This article by Dominique Patton for Bloomberg may be of interest to subscribers. Here is a section:
Yan said he believes that people have replicated the sequences of virus strains being studied, which have been published in scientific literature, and that pigs injected with illicit vaccines based on them could be infecting others.

"It's definitely man-made; this is not a natural strain," he said.

Neither Johnson nor Yan have fully sequenced the new swine fever strains. Beijing strictly controls who is allowed to work with the virus, which can only be handled in laboratories with high biosecurity designations.

But several private companies have developed test kits that can check for specific genes.

GM Biotech, based in China's central Hunan province, said in an online post last week it had developed a test that identifies whether the pathogen is a virulent strain, a single-gene deleted attenuated strain, or a double-gene deleted attenuated strain.

The test helps pig producers because the new strains are "very difficult to detect at the initial stage of infection and have a longer incubation period after infection," the company said.

The government has not said how widely used illicit vaccines are or who has produced them. But a "vast amount" of pigs in China have nonetheless been vaccinated, Johnson said, a sentiment echoed by many other experts.

In 2004-5, when the H5 bird flu strains were spreading across Asia, Chinese laboratories produced several unauthorised live bird flu vaccines, said Mo Salman, a professor of veterinary medicine at Colorado State University, who has worked on animal health in Asia, raising fears that they could produce dangerous new variants.

"The current ASF unlawful vaccine(s) in China is repeating history," Salman said
Governance is Everything but that is particularly true for the healthcare sector. The challenge for all of us is that China has very little regulation of the pharmaceuticals industry. That's true of both the human and animal sectors. It leaves open the potential for significant issues to arise in the food supply pipeline as untested remedies proliferate.
The origin of a genetically altered, manmade vaccine raises important questions. Genetic labs are not exactly common and the government controls most of them. I wonder would the vaccine still be considered illegal if it were successful, since it was most likely created in a government lab.
This article from the head of the WHO and Mike Bloomberg talks about how to prepare for the next human plague but does not mention China. Any talk of global cooperation in identifying risks is nonsense without transparency from China and that is in very short supply.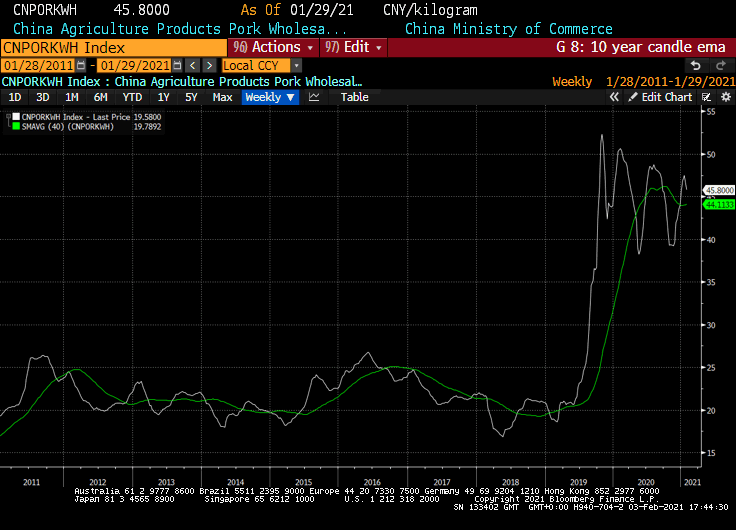 Pork prices in China have doubled in the last year. The price appreciation has been constrained of late by government efforts to release supply from stockpiles. If history is a guide, the CNY40 area may now represent a new floor. That suggests additional imports will be necessary to ensure adequate supply of what is a meat staple in China.
Lean Hogs Futures are back testing the upper side of a six-year base formation but a sustained move above $80 would be required to signal a return to medium-term demand dominance.
Back to top