New Bitcoin ETFs May Ease Pressure on ProShares as Limit Looms
This note from Bloomberg may be of interest to subscribers. Here is a section:
Four Bitcoin futures ETFs are set to launch in the U.S. in the next week, which could ease demand for the ProShares Bitcoin Strategy ETF (BITO) as it nears November contract limits and annualized roll costs hover around 11%. With more than 30 crypto ETFs still awaiting SEC approval, we expect an Ethereum futures product in 1H, well before a spot Bitcoin ETF. (11/02/21)

1. BITO Already Near Limit on November Contracts

The CME increased position limits for front-month Bitcoin futures contracts to 4,000 from 2,000 for November, but ProShares' BITO is already at 3,885 and has even bought some December futures. BITO's success at attracting assets will likely hinder its correlation to spot Bitcoin by forcing it to buy more contracts for December or further out on the curve. BITO switched early from October futures due to intense demand but was close to the planned roll date anyway. In November, it's being pushed down the curve just one trading day into the month.

ProShares may get an exemption to increase position limits to maintain exposure. We also expect multiple new ETFs to ease demand for BITO.
Open interest on bitcoin futures totals 13,106 contracts for maturities stretching between now and December 2022. That's more than double the number of outstanding contracts at the end of September. 9,452 are in the front month. That suggests the BITO ETF has a dominant position. If they are permitted to hold 4,000 contracts it would represent a virtual cornering of the market in bitcoin futures as the market currently stands.
There will inevitably be some arbitrage trading between the various bitcoin funds as one or the other bumps up against position limits. However, the bigger point is the size of the futures market is quite small at only about $4 billion versus a total value for bitcoin of about $1 trillion. Most of the bitcoin tokens in existence don't trade or have been lost. The futures market tends to have an outsized influence on the price. However, it is the expectation that the futures market will grow to exceed the value of outstanding bitcoin that is helping to fuel the current advance in the bitcoin price.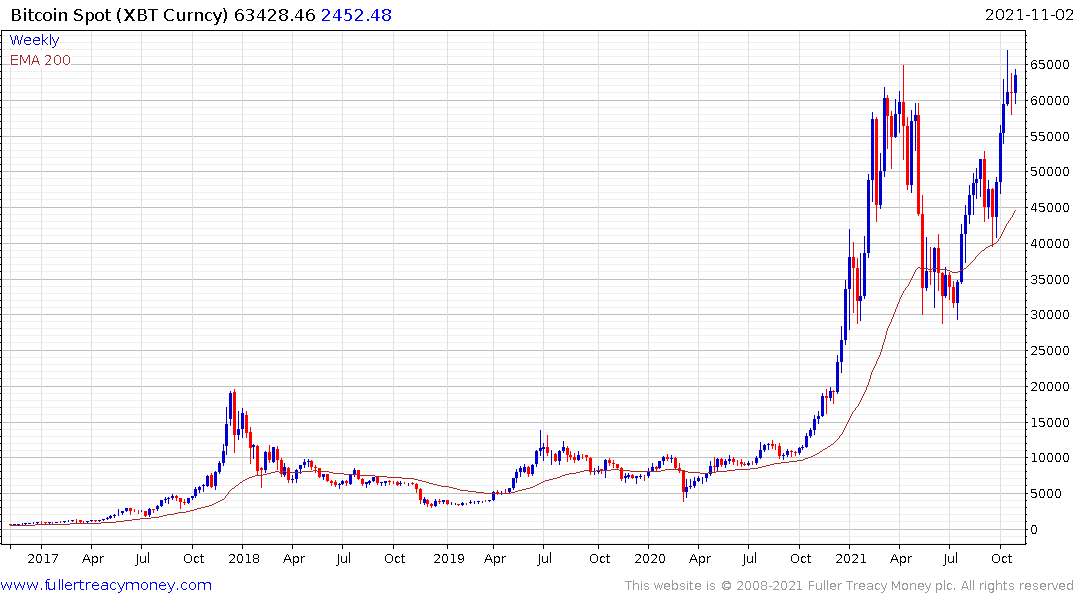 The price continues to consolidate in the region of the April peak and a sustained move below last week's low near $57500 would be required to question current scope for additional upside.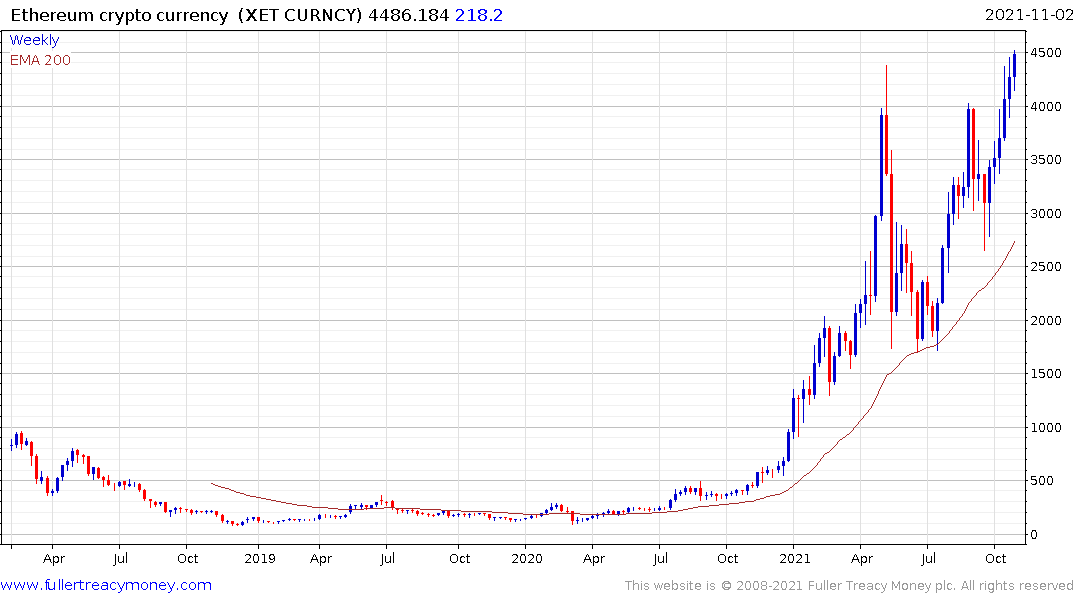 The ethereum price is in the process of breaking out to new high ground.
Back to top