Netflix's Decline Emphasizes Limited Value of Users Overseas
This article by Joe Easton, Kit Rees and Kamaron Leach for Bloomberg may be of interest to subscribers. Here is a section:
Netflix Inc.'s latest earnings report spurred mixed feelings across Wall Street as growth overseas was offset by a slowdown in the U.S. amid rising competition from Walt Disney Co., Apple Inc. and more forthcoming launches. Needham Co. believes the spike in streaming rivals will increase Netflix's churn and customer acquisition costs, most likely lowering the lifetime value per subscriber as growth overseas isn't equivalent to that domestically. Netflix would need to "add four $3-per-month subscriptions in India to offset each U.S. subscriber lost," Laura Martin, TMT analyst at Needham, wrote in a note.
The clear conclusion from Netflix's earnings is it is still growing where it has little to no streaming competition. Where it has competition, it is losing market share. The big question then is how quickly its competitors are going to expand abroad or how long will it take alternative streaming services to arise in Europe and India. Either would be a significant challenge as it continues to pump out mediocre content.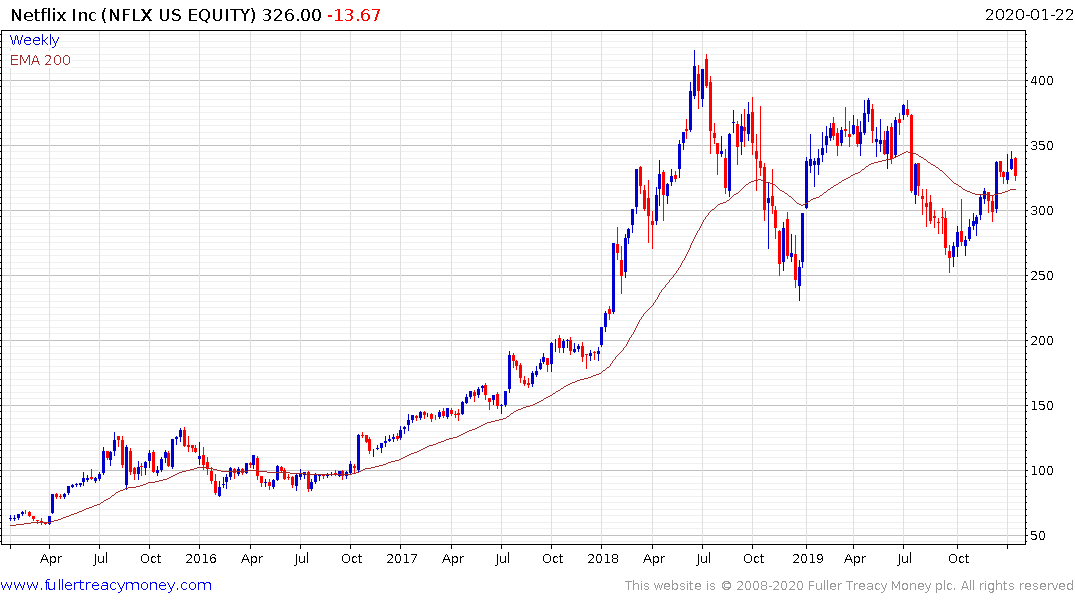 The company is a BB- credit but the yield on its debt has been contained by the wider big under high yield bonds. The share has been confined to a volatile range since the acceleration in 2018 which marked the peak of its dominance of the streaming market.
Back to top