Netflix Crowned New King of TV, Toppling HBO in Emmy Nominations
This article by Anousha Sakoui for Bloomberg may be of interest to subscribers. Here is a section:
Netflix's accolades follow a rapid ascent in the television world. After its start two decades ago as a DVD-by-mail operation, the company has become a Hollywood powerhouse, signing popular producers, comedians and actors for original content. The company spends about $8 billion a year on new shows and films, far exceeding HBO and other competitors.

"Netflix has proven to be a welcoming home to A-list talent," said Bloomberg Intelligence analyst Paul Sweeney. "And they have the checkbook to back it up."

Other streaming services are getting more Emmy recognition, includingAmazon.com Inc. and Hulu. "The Handmaid's Tale" contributed to 27 nominations for Hulu, while "The Marvelous Mrs. Maisel" helped Amazon collect 22.
Netflix is another company that has gone for scale ahead of profitability in the hope that it will be able to garner critical mass and market share before its competitors in the legacy sector of cable and theatres sector have time to catch up. So far, the strategy has worked and many people, myself included, have traded their cable/satellite TV for the convenience of Netflix.
The company is a B+ rated credit whose 10-year debt yields 3.64% but it has yet to turn a profit. Netflix is another example of a company that has benefitted enormously from access to cheap abundant credit. The big questions will arise when the market eventually demands profitability. One of the reasons Netflix is outperforming Tesla is because it only has about $6.8 billion of debt outstanding with the nearest maturity in 2021. With a price to book ratio of 44.5 all of the risk is in the stock price.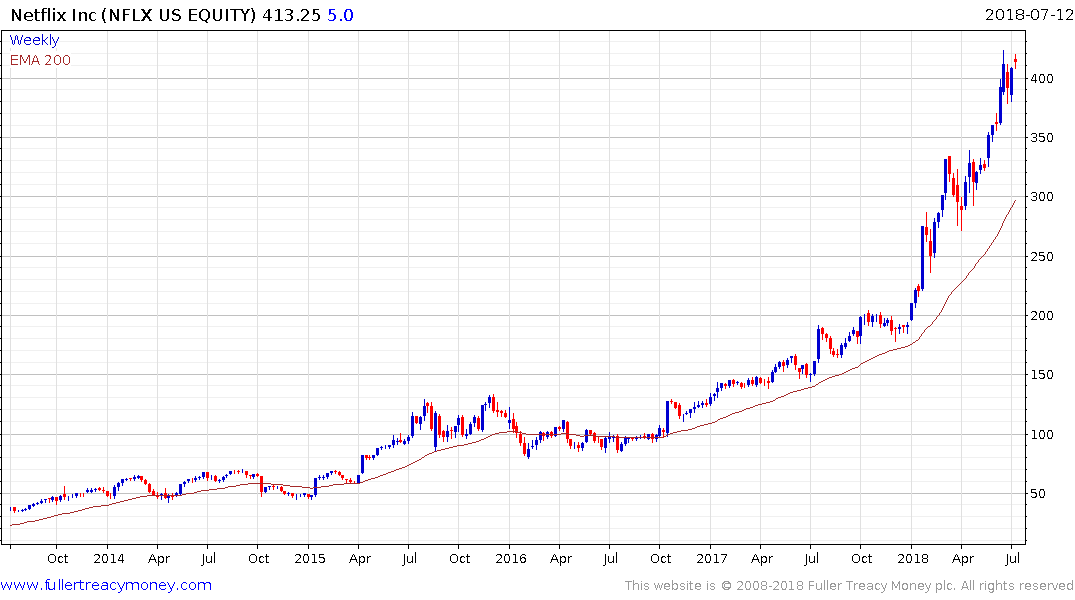 The share has doubled so far this year which is a clear acceleration of the medium-term trend.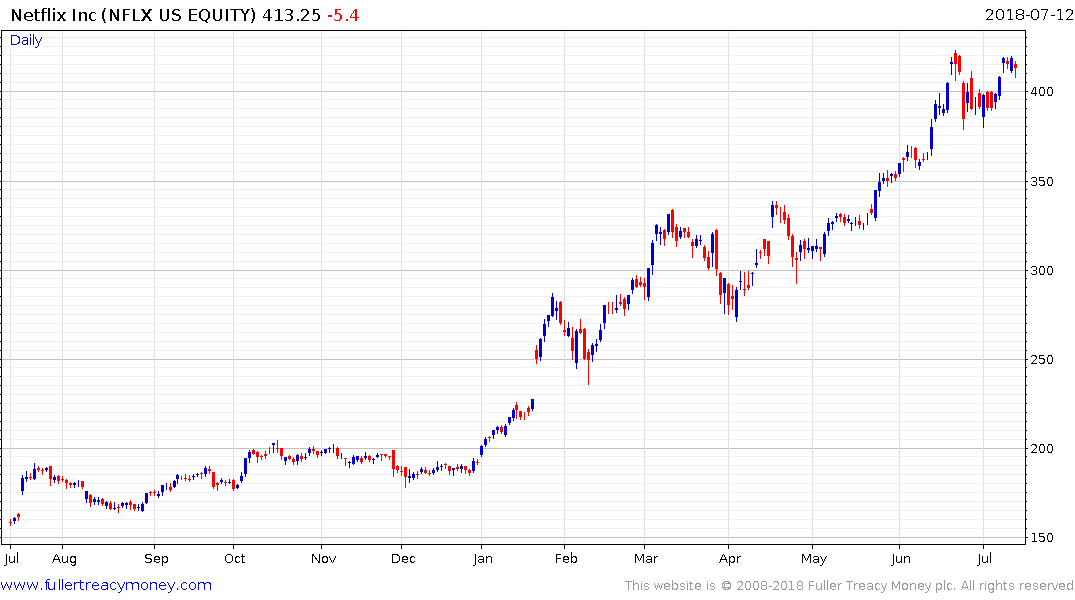 Zooming in on the last 12 months a sequence of ranges one above another is evident. It has paused around the psychological $400 level over the last month and a breakdown from that range would be required to signal more than a temporary peak.
Back to top