Navigating China's post-congress landscape
This article by Ryan Hass for Bloomberg may be of interest to subscribers. Here is a section:
Over the past five years, the Chinese leadership's top priorities have proven extremely consistent, reflecting a consensus on broad goals. The leadership has remained steadfastly focused on strengthening the Communist Party, safeguarding stability, and enhancing China's regional leadership and global standing. There have been changes to the manner in which Xi has centralized power and the party has headed off domestic and external challenges. But on the top priorities, the party has followed consistent north stars to guide policy.

To this end, the Chinese leadership will continue to emphasize financial and economic stability and guard against financial shocks. Particularly with the much-anticipated centenary of the founding of the Communist Party in 2021, Beijing will be determined to achieve its goal of becoming a "moderately well-off society," which in practical terms means doubling per capita income and national gross domestic product from 2010 levels.

Over the past five years, when confronted with choices between greater control and greater openness to innovation, China's leaders consistently have opted for the former. Expect economic policies to continue favoring state control and stability, even at the cost of some economic growth. This bias is likely to extend to policies related to the internet and social media, where heightened censorship over the past five years has demonstrated the leadership's wariness of losing control of information in the digital age.
Political machinations are going into overdrive to ensure stability in the Communist Party's handover of power to a new generation at the upcoming Congress. No fewer than five of the Standing Committee's members are to be replaced while 40% of the wider Politburo are retiring as well.

Xi is doing everything necessary to ensure no stress in the system so the status quo is sustained. That is helping to support asset prices and the currency ahead of the meeting but the impetus to lend support may be less following it.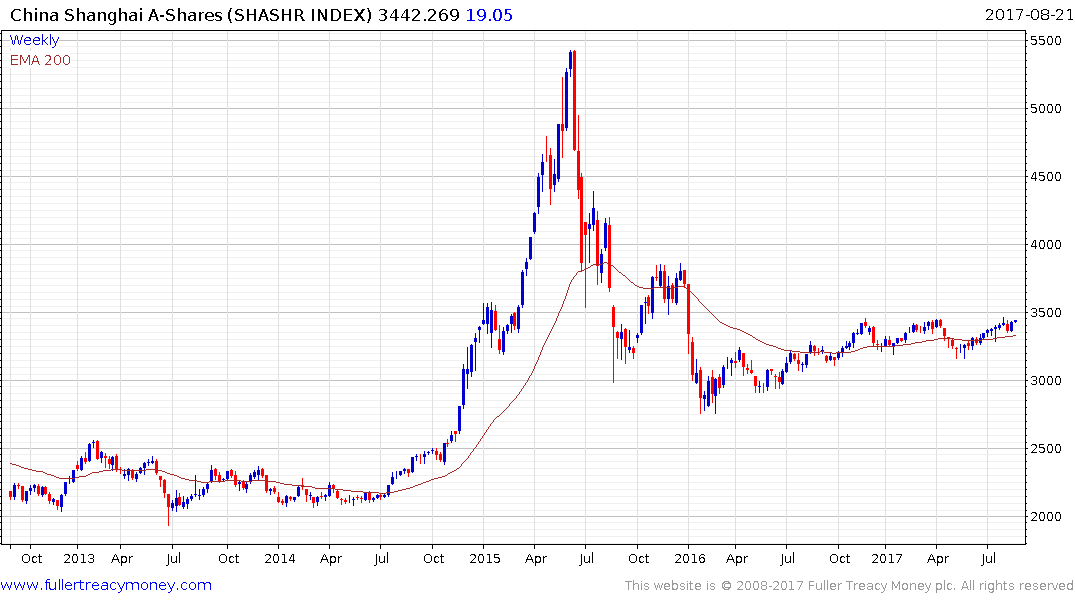 The Shanghai A-Share Index is back testing its November and April highs and a sustained move below 3350 would be required to question medium-term scope for additional upside.
Back to top