Naira Plunges as Nigeria Is Poised to Ease Currency Controls
This article from Bloomberg may be of interest. Here is a section:
"This is absolutely the right decision and a reality check that the country needs, highlighting how the new leadership means business," said Simon Quijano-Evans, chief economist at Gemcorp Capital Management in London.

Nigeria's government bonds extended gains, having already surged earlier this week after the surprise weekend ouster of central bank Governor Godwin Emefiele. Emefiele's removal was adding to signs that Tinubu is moving quickly to reset policies blamed for crippling the economy. The notes maturing in 2051 gained 2 cents on the dollar to 74, compared with around 70 last week.

Nigeria's benchmark stock index rallied more than 3%. The potential changes in economic policy should help boost output in the longer term by freeing up budgetary resources and making the economy run smoother, Quijano-Evans wrote in a note.

Black Market
"Mid-term, the increase in efficiency should also help revive growth if the government is able to tackle corruption," Quijano-Evans said.

Liberalization of the naira under a new presidential administration was expected, but the depth of the drop on Wednesday was surprising, said Mark Bohlund, a senior credit research analyst at REDD Intelligence.

"My expectation was for a smaller downward shift now and for the naira to end up closer to NGN750/USD by the end of the year," Bohlund said. "The devaluation will help the federal government to better balance its books as it is still highly dependent on USD-linked oil revenue while spending is in naira."
The jury is out on what Tinubu will do to improve standards of governance in Nigeria. For pessimists he is a political insider who made his fortune beyond the sight of the public or media. He was also accused of being complicit in trafficking heroin several years ago and had $460,000 confiscated by the US authorities.

For the optimists, he has received credit for developing Lagos into the major city it is today. The hope is that he will do what is necessary to improve infrastructure and to damp down inflationary pressures. The challenge in a country like Nigeria, where corruption is endemic, no senior politician is clean. The determination is whether the relative situation can improve.
Inflation is running at 22% and the overnight rate is 12.44%. That massive negative real rate will need to be addressed. On that front the devaluation of the Naira is a first step in facing economic reality. Higher realised prices for oil exports in naira will plug several holes in the budget and disincentivize imports.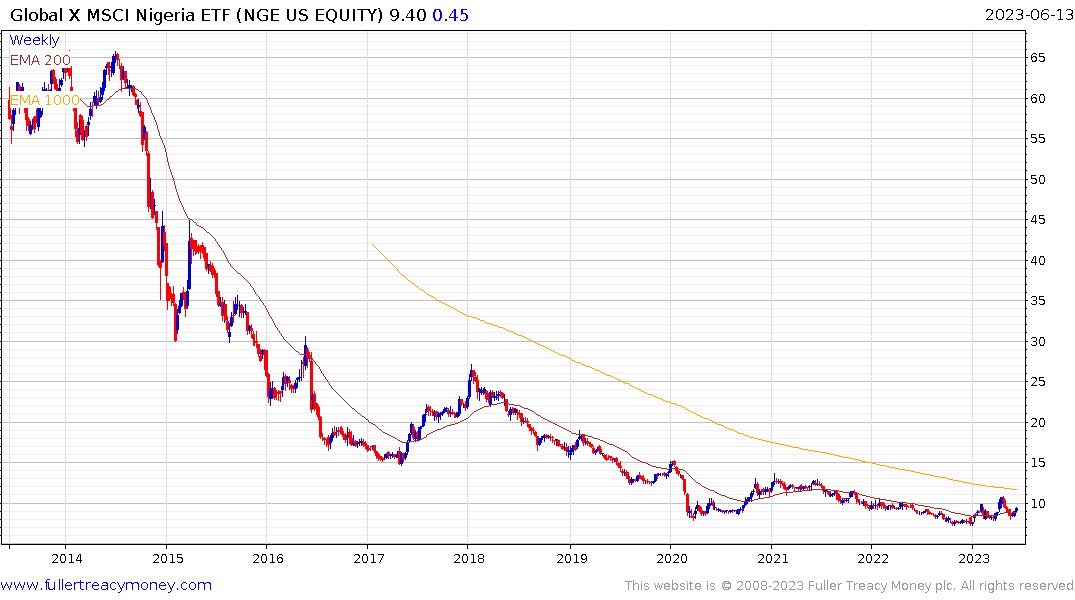 The Global X MSCI Nigeria ETF has held a succession of higher reaction lows since January and surged on today's news. Considering how low the price is and the potential for the downtrend to be broken, investors appear willing to speculate Tinubu will do more good than harm.
Back to top