Mylan CEO Blamed Obamacare for EpiPen Sticker Shock
This article by Jen Wieczner for Fortune.com may be of interest to subscribers. Here is a section:
Now Mylan appears to be learning the same hard lesson this week that Martin Shkreli and Valeant VRX -0.51% learned last year: Investors love when pharmaceutical companies raise drug prices—until everybody else gets really upset about it. Shares of Mylan MYL 1.66% have dropped more than 11% this week, down more than 5% on Wednesday alone.

And the EpiPen controversy is drawing comments from some high-profile figures, including Hillary Clinton and Martin Shkreli himself, who tweeted that he thought the EpiPen's price should even be higher. On Wednesday, Clinton said there was no justification for the price hikes. Her comments came shortly after the Senate Committee on Aging asked Mylan to provide information on the reasoning behind what it called the "drastic" price increase of EpiPen, and the American Medical Association "urge[d]" Mylan to "rein in these exorbitant costs."

The pricing scandal is happening at the worst possible time for Mylan. This is typically the company's biggest season, driven by EpiPen sales, which peak during back-to-school shopping as parents and schools equip for the coming year.
Biotechnology companies justify the high price of new drugs with the argument that it is the only way to recoup the cost of developing them. Without high prices there would be no incentive to invest in the uncertainty of R&D and lengthy clinical trials.

Unfortunately for smaller biotech companies the broader pharmaceutical sector employs the laws of supply and demand and takes particular financial advantage when they have a monopoly. That tends to result in positive cash flows for investors but doesn't generally make for great optics.

In an election year where all parties are appealing to disaffected, hard-pressed, middle-income voters the cost of healthcare is almost certainly going to become an even more emotive issue. This article from the Wall Street Journal today highlighting how the burden of supporting Obamacare is falling on the lower middle classes and how the cost of prescription medication has surged in the last decade is a case in point.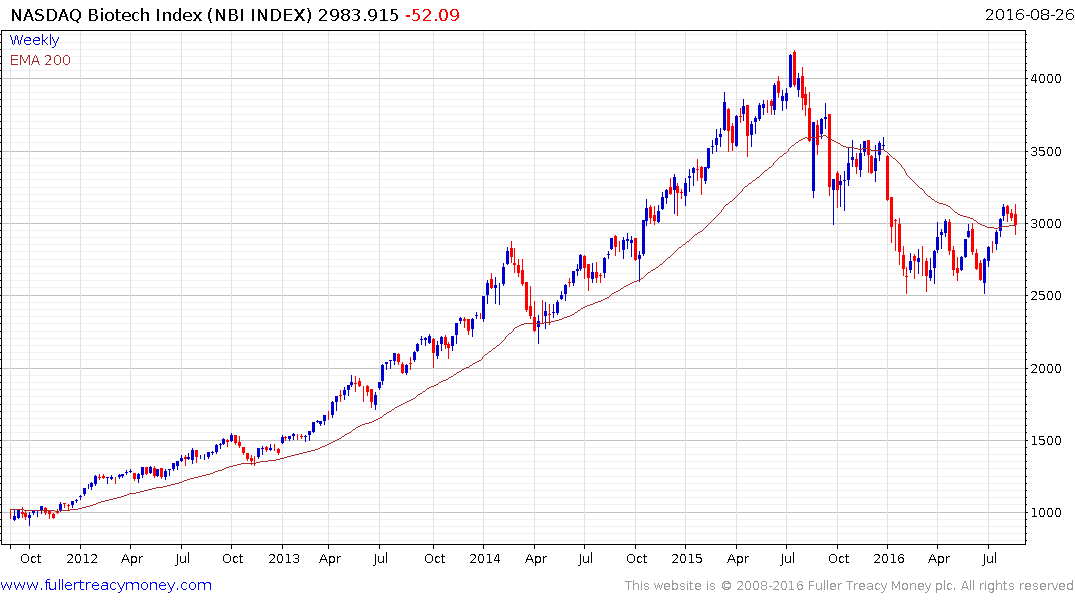 The Nasdaq Biotechnology Index bounced impressively from a retest of the 250 area in early July to close the overextension relative to the trend mean and post a new high for the year. Renewed political attacks on the pharmaceutical sector weighed on the Index this week and at least some consolidation of the earlier gain is now underway. Provided it can hold half the advance and find support above, or in the region of 275, medium-term recovery potential can continue to be given the benefit of the doubt.
Back to top