Musk Reopens Door to Tesla Capital Raise After Big Cash Setback
This article by Dana Hull and David Welch for Bloomberg may be of interest to subscribers. Here is a section:
The company is planning as much as $2.5 billion in capital expenditures this year as it develops new vehicles including the Model Y crossover and Semi truck. That's more than the $2.2 billion in cash and equivalents that were on the balance sheet at the end of March.


"$2.2 billion in cash is a lot of money, but not when you're making the kinds of investments Tesla is making," Rebecca Lindland, a longtime auto-industry analyst and founder of the car-review website RebeccaDrives.com, said on Bloomberg Television. "I'm definitely concerned about some of their
projections."

In addition to operating cash flow worsening relative to the previous quarter, a February debt payment -- the company's largest ever -- drained $920 million from its coffers. The company has another $566 million of convertible bonds coming due in November.

While the results were largely worse than anticipated, investors appeared to be split on what to make of them. The shares fell as much as 3.1 percent and rose as much as 2.8 percent in post-market trading before ending the session little changed. The stock was already down 22 percent this year.

The halving of a federal tax incentive for Tesla purchases starting in January dragged on U.S. demand in the quarter, and Tesla struggled to offset that drop by starting deliveries of the Model 3 in Europe and China.
Tesla is the most shorted stock in the market so it is safe to assume a lot of bad news is in the price. Tesla has at least demonstrated it is capable of reaching profitability for a couple of quarters which is a lot better than a good many other companies currently coming up for their IPOs. The big question outstanding is how well it can sustain profitability in the face of rising competition from other auto companies.
The first mover advantage Tesla enjoyed is being eroded by expiring subsidies and the announcements of a raft of electric vehicles due for release over coming years. The fact Tesla is one of the only companies with dedicated battery manufacturing capacity is a clear point in its favour, for at least the next couple of years.
Meanwhile the price is testing the region of the lower side of an 18-month range.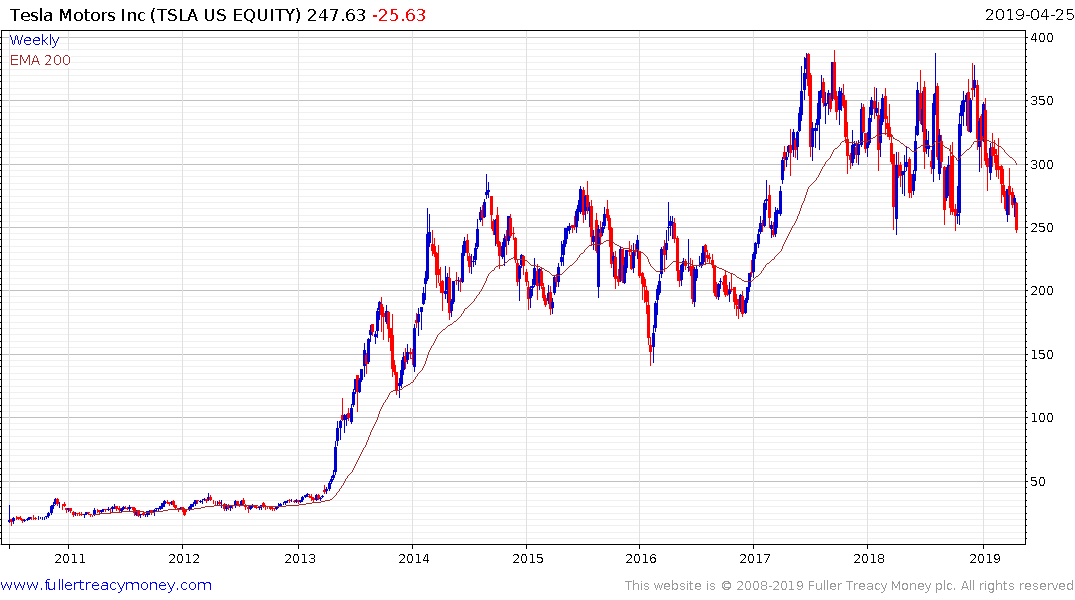 BYD is the only other company I know of with both battery and car manufacturing capacity. The share has been easing back from the upper side of its range this week.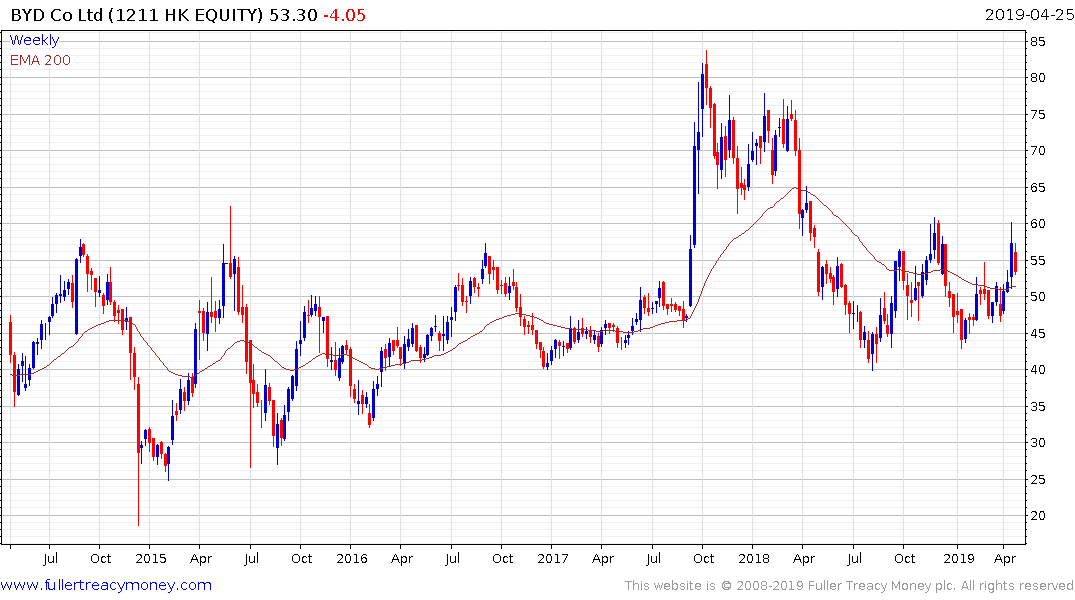 Back to top