Musings from the Oil Patch November 3rd 2015
Thanks to a subscriber for this edition of Allen Brooks' ever interesting report for PPHB which may be of interest to subscribers. Here is a section:
Self-driving vehicles may be the answer. Researchers at the University of Texas have conducted a realistic simulation of vehicle use in cities that took into account traffic congestion and rush-hour use. They found that if our vehicle fleet was fully autonomous, every shared autonomous vehicle could replace 11 conventional vehicles. As their study showed, the world would only need 800 million vehicles to supply transportation services for nine billion people, or 200 million fewer cars than what already exists in the global vehicle fleet. That doesn't sound like a bright future for either the automobile or petroleum industries.

The UT simulations showed that riders would wait for an average of 18 seconds for an autonomous vehicle to show up. Each vehicle would serve 31-41 travelers a day. Importantly, less than 0.5% of travelers waited for more than five minutes for an autonomous vehicle to arrive. Equally important, shared autonomous vehicles reduce the average cost of an individual's travel by as much as 75% versus a conventional driver-owned vehicle.

A global vehicle fleet of autonomous vehicles could easily be electrified since they would be able to go off to be recharged and cleaned during periods of low demand without sacrificing service quality for travelers. We know that one of the key objectives of autonomous vehicles is for them to be able to travel faster, in tighter spacing and in smaller-sized units. This means that we will need less material for constructing these vehicles with a favorable impact on overall energy and material needs besides less fuel. Here is another example of savings from fewer vehicles due to an autonomous vehicle fleet. We would also have fewer vehicles needing to be parked, which means that upwards of 20% of urban land currently devoted to parking could be transformed into close-in housing and businesses. Increased urban density could further reduce overall energy demand by boosting the use of mass transit.

While Dr. Smil is concerned about the increasing cost of extracting energy and materials due to their capital intensity, which could doom our economy by subjecting it to increasingly more expensive fossil fuels for decades into the future, what would happen if our energy future follows a deployment path similar to that of information technologies? Several decades ago, prognosticators did not foresee how the world would skip over the building of landline telephone infrastructure and go directly to cellular phones. In 2014, there were only 1.1 billion fixed telephone landlines worldwide compared to more than seven billion cellular phones. Equally as impressive is how much the cost to make these phones has declined during the transition.
Here is a link to the full report.

Let's consider how supply and demand impact the market for a new technology. I can own any number of cars I wish but I can only drive one at a time. Autonomous vehicles remove that limitation so I could send the car out to collect dinner while I go to the bank personally. Of course if Uber remains a viable business in a decade then I could simply have a roaming vehicle pick up my dry cleaning, have another pick up my lunch and another pick up my groceries. The car I choose to drive will be for comfort, style and cache while other vehicles will be the proverbial work horses.

Autonomous haulage vehicles need not be designed to carry people and can therefore be cheaper, smaller and lighter. With lower costs demand would increase so efficiency will be important. Innovation in batteries, electricity generation, optics and computing power will all be required to achieve these lofty goals. The question then is whether this is a 2020 or 2030 topic? It's an exciting sector and data is being collected all the time so it would not be surprising to see a product hit the market in the next decade.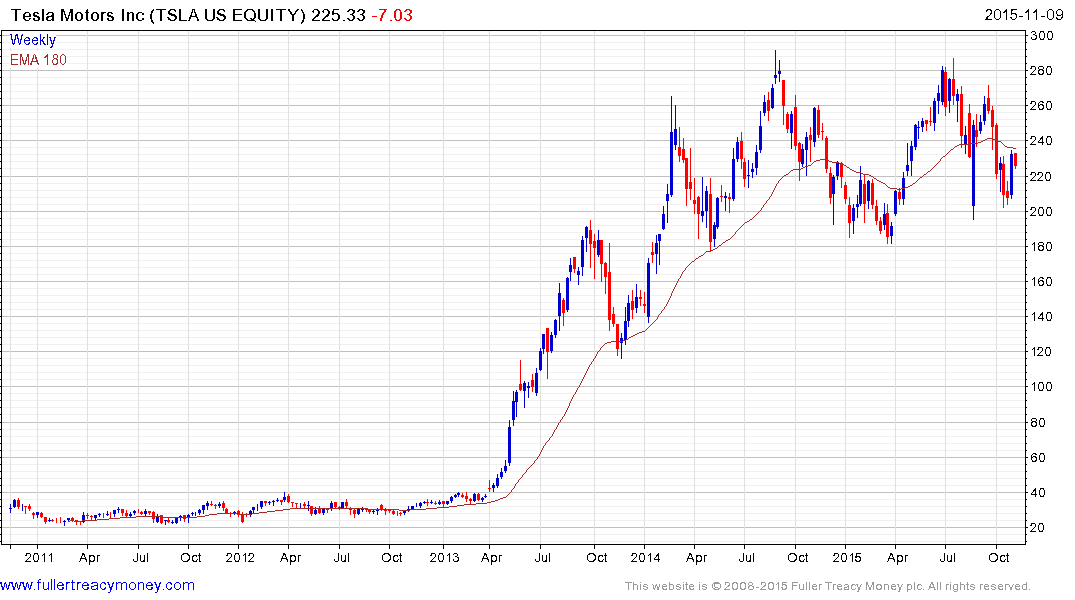 Tesla is focusing on batteries but Elon Musk is ambitious and may be also thinking about an autonomous vehicle. The factory the company is building in Nevada to mass produce batteries has been a headwind for the share which has been ranging for more than a year. It will need to hold the $180 level if medium-term demand dominance is to be given the benefit of the doubt.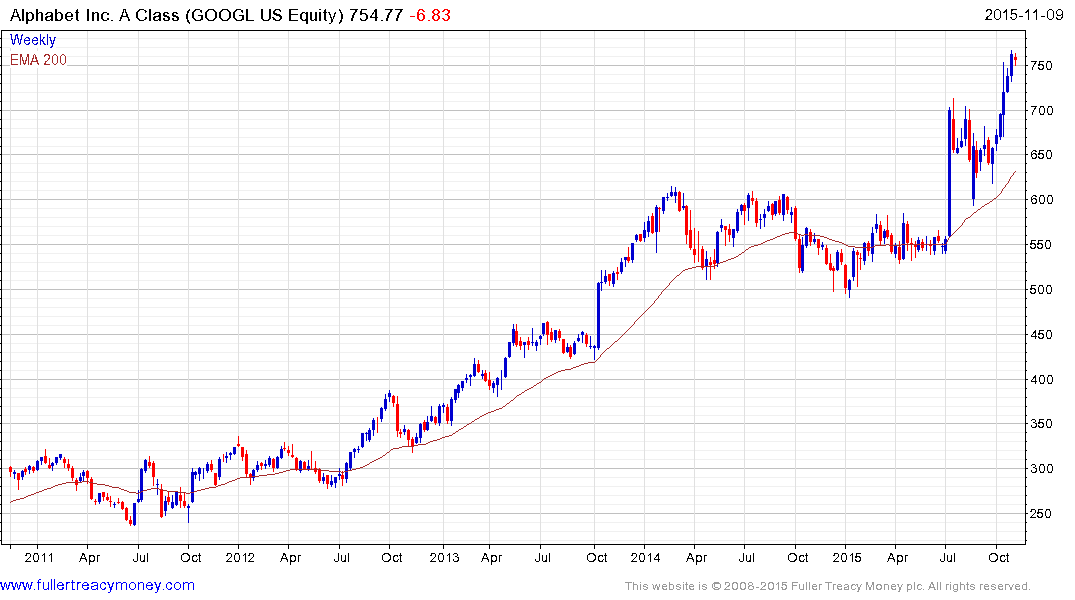 Google is well ahead of the game in developing test vehicles but it does not have a product on the market. Alphabet's share is currently overextended relative to the trend mean and susceptible to some consolidation of recent powerful gains but a sustained move below the trend mean would be required to question medium-term upside potential.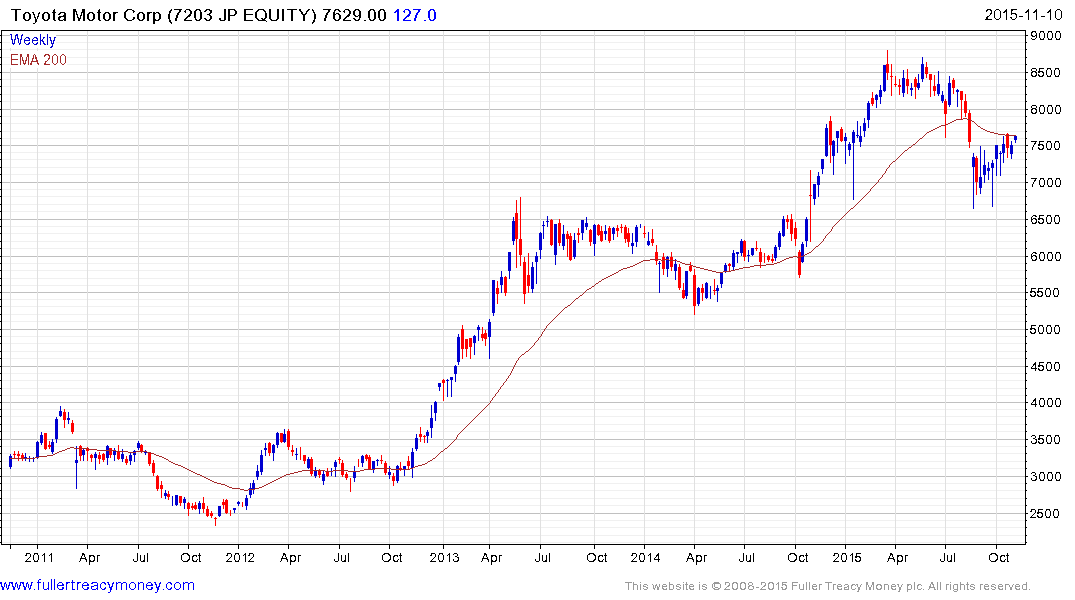 Toyota found support from late August and continues to hold a progression of higher reaction lows. It is currently testing the region of the 200-day MA but a clear downward dynamic would be required to question medium-term recovery potential.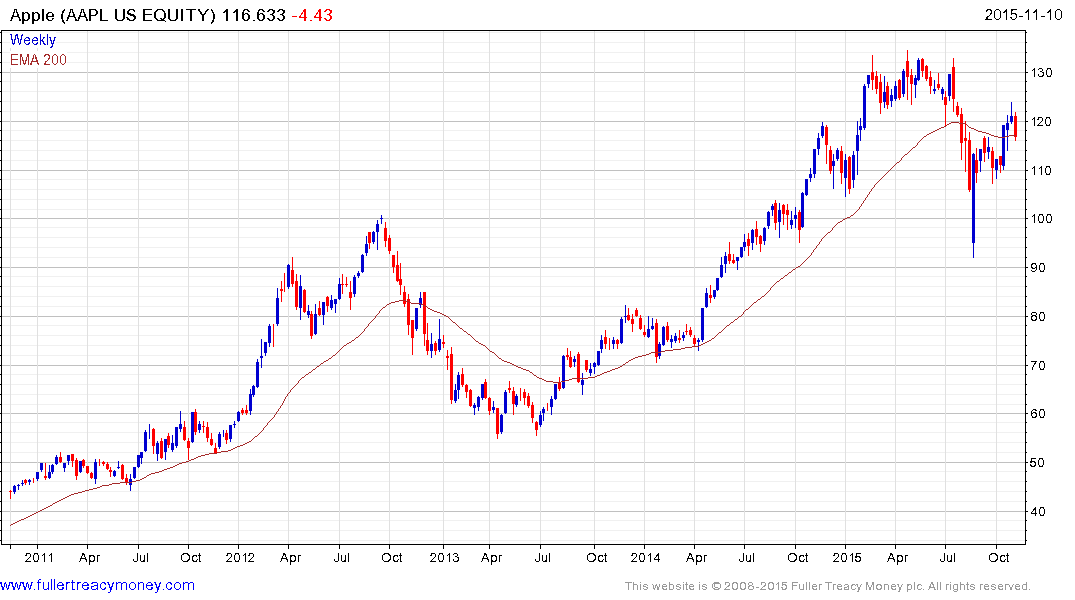 There have been rumours Apple is considering building a car but it is unlikely to be the first to market with such a product. The share has lagged the rebound in the wider technology sector and speculation it has cut back on orders from suppliers weighed on the share today. It will need to hold the $110 area if potential for continued higher to lateral ranging is to be given the benefit of the doubt.

Of the above companies Toyota is the only one with the necessary infrastructure to mass produce its own solution. Google and Apple would be more likely to go down the OEM route of manufacturing. This is something Sergio Marchionne has suggested for years for Fiat but the entry of technology companies to the sector could represent a true catalyst for the global automotive sector.
Back to top