Musings from the Oil Patch March 6th 2018
Thanks to a subscriber for this edition of Allen Brooks' ever interesting report for PPHB. Here is a section natural gas:
Here is a link to the full report.

Here is a section from the report:

What will it take to bring the natural gas market to life? Most likely, given the upturn in shale oil drilling and the growing volumes of associated natural gas output accompanying it, the gas market needs something on the demand side of the equation to improve pricing. As prospects for more extremely cold weather fade, the market will turn its attention to increased exports, either via pipelines to Mexico and/or Canada, or in liquified form. Neither of these export options offer much in the way of near-term hope for demand increases, even though the Cove Point, Maryland LNG export terminal is about to open, with a 5.25-million-tons per year of capacity, or about 1% of domestic production. No one knows if this capacity will be reached. As a result, domestic natural gas prices are likely stuck in a $2.50 - $3.00/Mcf range until the start of next winter. But we can always pray for a blistering hot summer, though global warming doesn't seem to be helping.
Unconventional oil and gas have been game changers for the US energy sector and with increasing export capacity that moniker will increasingly be true for the global market.
Together with the fact that US tight oil supply is also of the sweet light variety makes it an attractive option for refiners, particularly since a great deal of the additional supply coming from Saudi Arabia is of the heavier variety.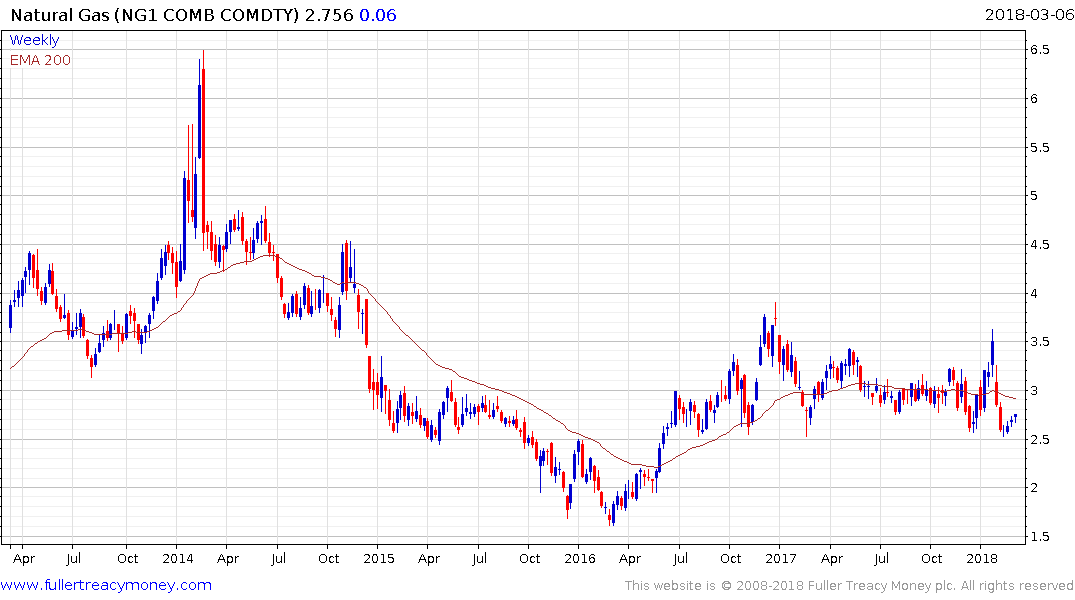 Natural gas has, until the last few years, been a wholly North American market. That has contributed to it being one of the only commodities that is trading at levels that prevailed before the commodity bull market. $2 is a floor below which production is uneconomic while a great deal of additional supply comes to market above $4.
Those kinds of 100% trough to peak swings are de rigeur in long-term base formations but a clear change and new demand driver would be required to change the fundamentals of the market. Who knows, Toyota might yet be correct in betting that the future of the automotive sector is in hydrogen fuel cells? However, it is going to require a change of that magnitude to alter the fundamentals of the market.
Back to top