Musings From the Oil Patch July 26th 2016
Thanks to a subscriber for this edition of Allen Brooks' ever interesting report for PPHB which contains an interesting discussion on the longevity of products but here is a section on the liquefied natural gas market:
In recent months, two LNG cargoes from Cheniere Energy's (LNG-NYSE) Sabine Pass export terminal in Louisiana have been delivered to Kuwait and Dubai. So far, since it began shipping LNG in February, Cheniere has sent cargos to seven countries, including Argentina, Chile, Brazil, India, Portugal, Dubai and Kuwait. The shipments to the Middle East reflect the soaring demand for energy in these countries. (As a testament to the nation's energy demand issue, Saudi Arabia recently disclosed it has been drawing on its domestic oil inventories to meet the summer energy demand surge and to avoid having to further boost oil production above the country's current 10.5 million barrels a day rate.) As all he countries in the Middle East have rapidly growing populations, their domestic demand is growing and tends to soar during the hot summer months. Most of these countries have large natural gas resources, but other than Qatar, which is currently the world's largest LNG exporter, they are less developed. We expect the rest of the countries in the region will step up the pace of their natural gas resource development.

In order to appreciate the market potential for cheap U.S. natural gas, Kuwait's LNG imports exploded from one million tons in 2012 to 3.04 million tons last year, according to the Middle East Economic Survey. We know that Saudi Arabia has been ramping up its drilling for natural gas in order to power more of the country's water desalination plants and electricity generators. By using more domestic natural gas, Saudi Arabia will be able to reduce the volume of crude oil burned to power these facilitates. That will enable Saudi Arabia to have more of its crude oil output available for export and to generate income for the government, rather than burning it under utility boilers. For the meantime, we expect more U.S. LNG cargos will find their way to the Middle East. Those LNG exports will help to tighten the domestic gas market and send natural gas prices higher as we move into 2017, but we are not sure that the Middle East will become a long-term U.S. LNG export market. But the industry will take whatever demand it can find it now.
Here is a link to the full report.

For much of the last century natural gas was in such abundance that it had no economic value and was burned off as a by-product of oil drilling. With increasing demand for less polluting, but energy dense resources, to provide heating, cooling and cooking natural gas has experienced a renaissance.
One of the primary obstacles to a globally fungible market for natural gas has been the lack of a global transportation network. However the evolution of LNG liquefactions terminals, shipping and also end transportation routes such as pipelines are beginning to change that.
Resource nationalisation has also been a contributing factor in the development of the global natural gas market. Faced with the prospect of being squeezed out of major oil geographies by national oil companies, major energy companies have relied more on natural gas. The result is it is now more appropriate to refer to Exxon Mobil and Royal Dutch Shell as gas companies than oil companies.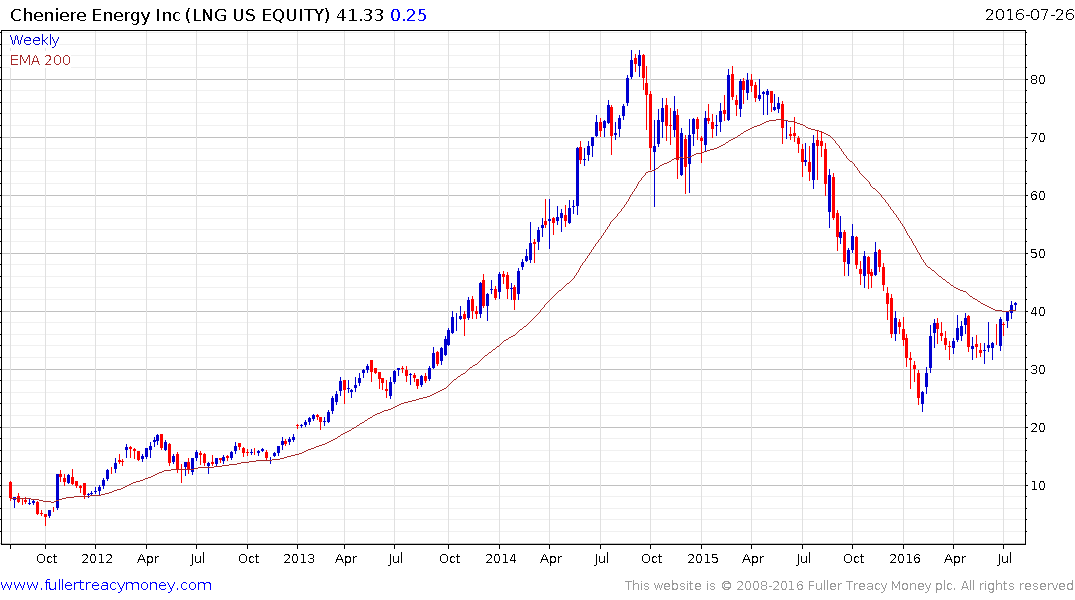 The USA's recent decision to export both oil and gas increases the potential that any arbitrage across global markets will eventually be closed. Cheniere Energy collapsed in the latter half of 2015 but has since bounced and broke back above the trend mean last week. A sustained move below $30 would be required to question medium-term scope for continued higher to lateral ranging.
Energy related shares are unlikely to escape unscathed from continued weakness in oil prices and the risk of a pullback grows the lower oil prices sink within what is a predictable right hand extension phase following a Type-2 massive reaction against the prevailing downtrend.
Back to top