Musings From the Oil Patch December 5th 2017
Thanks to a subscriber for this edition of Allen Brooks' ever interesting report for PPHB which may be of interest. Here is a section:
The electric truck landscape is about to become more crowded. About a month ago, German automaker Daimler AG (DDAIFNasdaq) introduced its long-haul electric truck prototype, signaling that it will be available in a few years, but more importantly delivering a message that Daimler will be a fierce competitor. Daimler is the world's leading truck builder operating under the Daimler and Mercedes-Benz names, and in the U.S. owning the Freightliner, Western Star and Thomas Built Buses lines. Last year, Daimler sold 415,108 heavy duty trucks worldwide, earning revenues of $39 billion. Marc Llistosella, CEO of Daimler Trucks Asia, commented, "We know this business. Why should we hand it over to Tesla, which has no experience in trucks?"

China's BYD Co. Ltd. (BYDDF-Nasdaq), with a manufacturing plant in the United States, has already delivered its first semi-tractor for pulling containers around ports in Southern California, but with only about 100 miles of battery range. Toyota Motors (TM-NYSE) has a fuel-cell heavy duty truck working in the Port of Los Angeles hauling containers. Cummins, Inc. (CMI-NYSE), the diesel engine maker, debuted a prototype electric-drive semi, recently. The vice president for BYD Motors North America commented, "Basically every manufacturer is developing battery, fuel cell electric or hybrids. Peterbilt, Kenworth, Volvo." In addition, there are number of new companies planning to introduce electric semis, including Wrightspeed, Proterra, Chanje, and Nikola One. Mitsubishi Motors (MSBHY-Nasdaq) is delivering medium-duty electric trucks to United Parcel Service, Inc. (UPS-NYSE).

With all this competition, one wonders how well Tesla will do given everything already on its plate. According to Antti Lindstrom, truck industry specialist at IHS Markit, the penetration of the long-haul track market by electric trucks "isn't going to be very significant until after 2025 or 2030. And even then, it will be very limited compared to the total number of trucks being sold."
Here is a link to the full report.

Tesla's high profile makes it a target for just about every other automotive company regardless of the fact it does not make a profit on its vehicles. The fact General Motors loses as much as $9000 per electric vehicle is also a testament to the fact that battery technology and manufacturing capacity is still an evolving theme.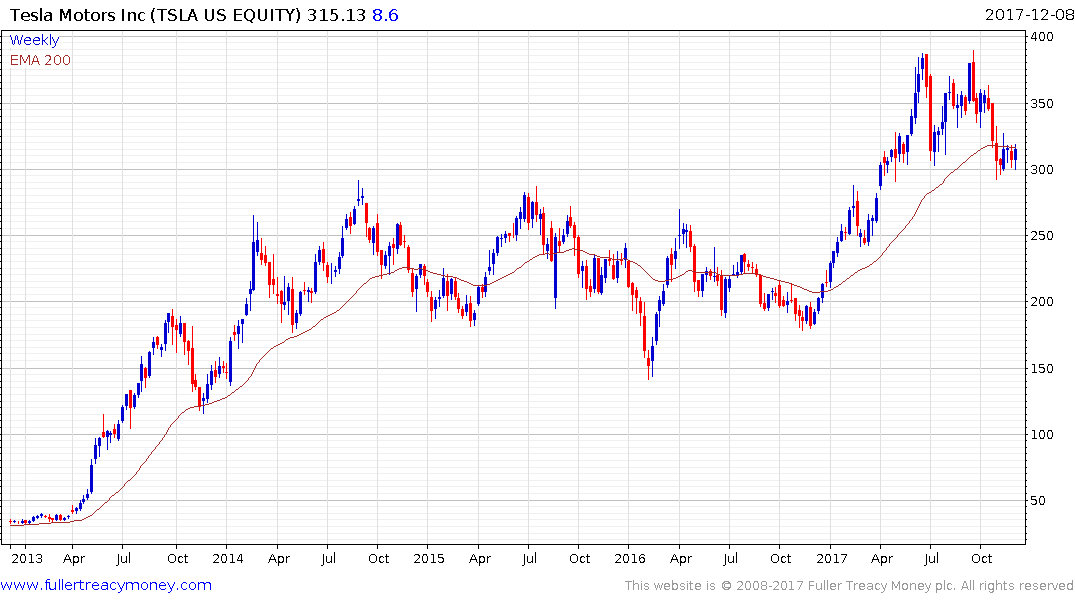 Many of the large battery factories in Asia will not be completed for at least a couple of years so while there is obvious potential in the development of battery technology it is worth remembering that it takes time to fully commercialise; particularly for a capital-intensive industry like automotive.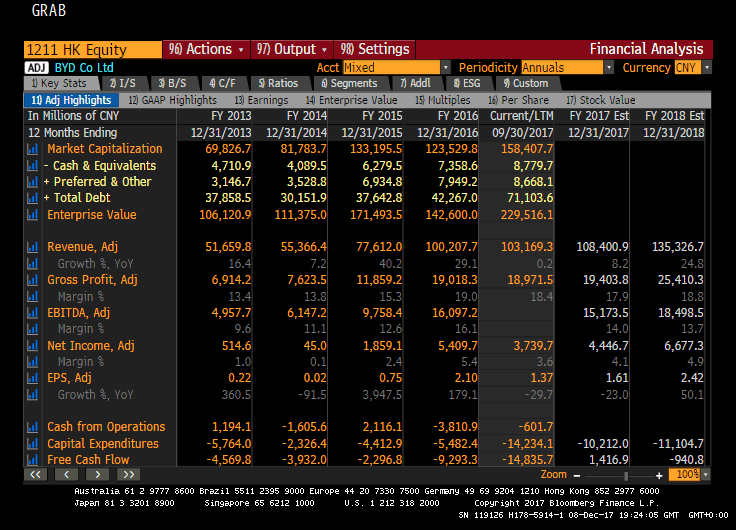 BYD doesn't get nearly as much attention as Tesla but is expected to be cashflow positive this year. The share broke out of an almost four-year range in September on the announcement of increasing Chinese support for the electric car sector. It has now pulled back to test the region of the trend mean and the upper side of the underlying congestion area. A sustained move below HK$60 would be required to question medium-term scope for additional upside.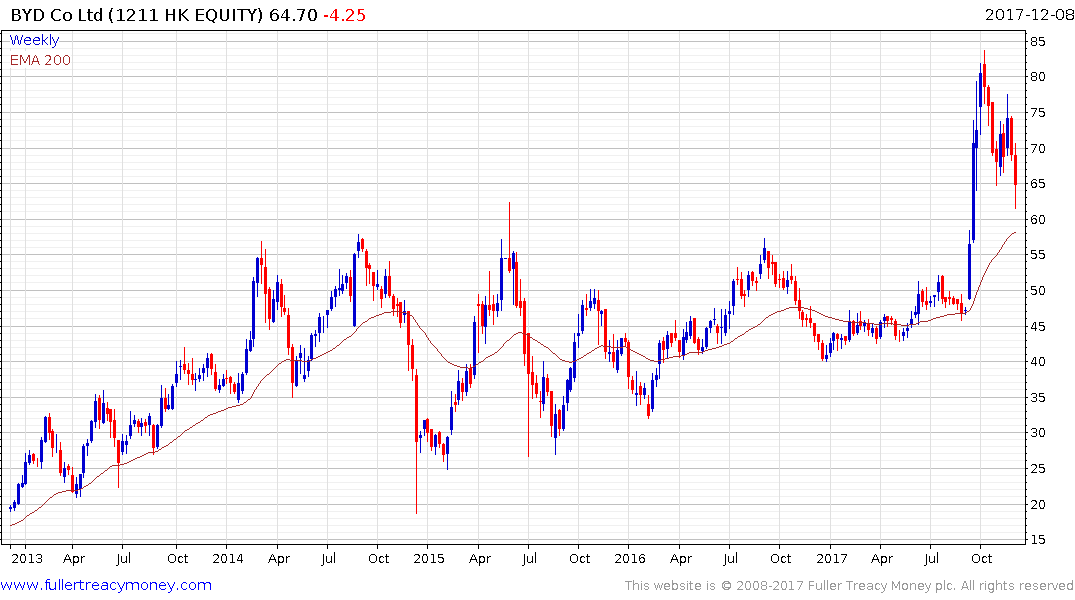 Back to top