Mr Grey, Mr Blond and Mr Brexit: battle of the big guns
This article from The Sunday Times over the weekend may be of interest to subscribers. Here is a section:
It is a measure of the prime minister's weakness that the Davis-Johnson rivalry is not even the most serious row tearing the government apart. Last Tuesday's cabinet meeting — and a second "political cabinet" that followed it — were the most fractious gathering of May's top team since she took power a year ago last week.

In both meetings ministers became enraged by the behaviour of Philip Hammond, the chancellor, and what his colleagues regard as his "tin-eared" approach to the election result.

Since June 8 cabinet ministers have been lobbying for the government to end the 1% cap on increases in public sector pay to placate voters sick of austerity who flocked to Jeremy Corbyn's Labour Party. His insistence on financial discipline despite a fresh onslaught on Tuesday drew a "collective intake of breath" from other cabinet ministers. He singled out train drivers as "ludicrously overpaid".

The chancellor, who has a reputation for condescending to his colleagues, got into hot water when he sought to suggest that newly automated trains would help stamp out strikes because the overpaid men could be replaced by women.
In calling an election Theresa May was perceived by the UK's astute voters to be attempting a power grab rather than serving the country's best interests. What does not appear to have gotten much air time is that the results of the election closely mirror the results of the Brexit referendum; with the government securing a narrow majority but not a conclusive landslide victory.

That sense of uncertainty continues to pervade the Cabinet as well as the attitude to the negotiations with the EU. It further highlights the precarious position of the Prime Minister as she attempts to hold on through the jockeying of large egos within the Party.

Considering the uncertainty represented by the outcome of the Brexit negotiations, the UK needs to display a sense that it can keep its fiscal house in order if it is to receive the foreign direct investment it will require to prosper in future. Philip Hammond being forced to resign would question commitment to that objective.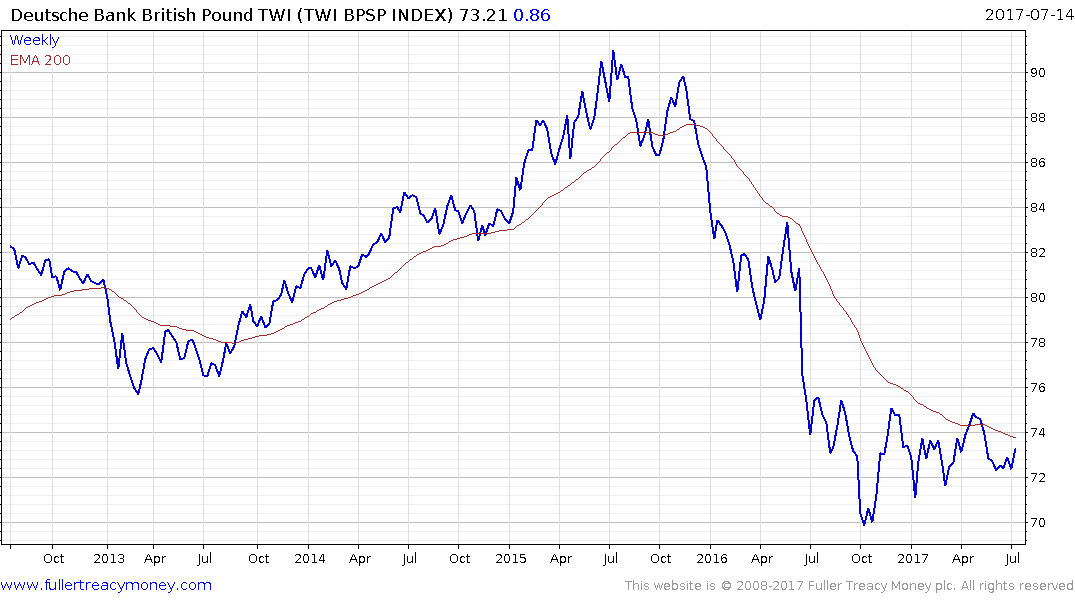 The Deutsche Bank Trade Weighted Pound Index hit a medium-term low in October 2016 and has held a progression of higher reaction lows since. It bounced last week from above the 72 level, to hold the sequence, and a sustained move below it would be required to question medium-term scope for additional upside.
Back to top