Morgan Stanley's Shalett Says Market Shows Signs of "Fragility"
This note by Steve Dickson and Jonathan Ferro for Bloomberg may be of interest to subscribers. Here it is in full:
The Federal Reserve's policy of keeping its "foot on the accelerator" to boost the economy has left the market showing signs of "fragility," according to Lisa Shalett, Morgan Stanley's chief investment officer for the wealth unit.

Speaking in a Bloomberg Television interview, Shalett also says:

Fallout from the implosion of Archegos Capital Management doesn't threaten the financial system. "This, unlike some other issues, is not of an order of magnitude where there's systemic risk," Shalett says

Fed policy makers are making a bet that the liquidity being pumped into the financial system is more important for the economy than the "financial accidents or bubbles" that have popped up as a result, she says

​"It's time for investors to retool portfolios," she says, arguing that the shift should be in favor of active management and shorter duration. Economic growth will be "much stronger" than it's been, and that's good for cyclicals and good for the labor market, but creates headwinds for the bond market and for stock multiples, she says
The only real question is what will need to happen for the Federal Reserve and other central banks to arrest the decline in bond prices. Until that happens there will be increasing stress on leveraged trades and companies.
My hunch remains that a reaction of 20% in stocks will be required to spur central bank action. Contagion from Archegos is another potential catalyst, although there is little sign of it right now.

The Archegos affair is one example of how the exaggerated moves in 2020 resulted in outsized positioning in stocks that benefitted from temporary surges in earnings, zero cost of funding and retail trading on a scale not seen since the late 1990s. The unwinding of those conditions has caught some traders by surprise. That has in turn challenged the mantra that momentum strategies always win.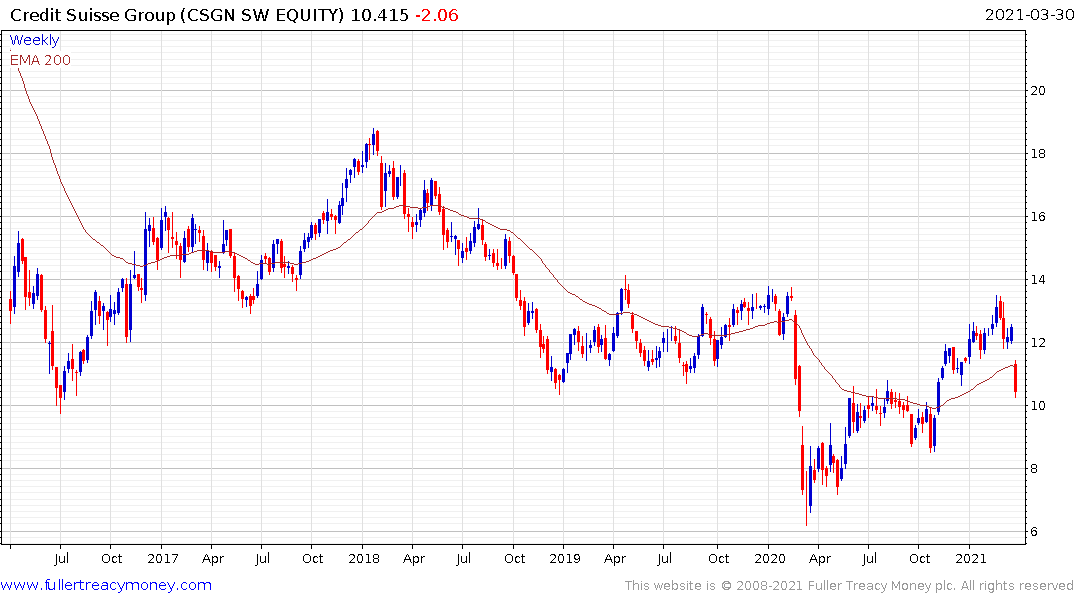 This report from Citigroup may also be of interest. They highlight that Credit Suisse trades at a significant discount to UBS and many of the risks it currently faces are down to bad luck. The question for investors is whether there is systemic weakness in the firm's risk management. There is no getting around the fact that Goldman Sachs and Morgan Stanley were much nimbler in this case than either Credit Suisse or Nomura.
Back to top