More U.S. LNG Heads to Brazil, Nearing Ranks of Top Asian Buyers
This article from Bloomberg may be of interest to subscribers. Here is a section:
More U.S. liquefied natural gas headed to Brazil last week, as the South American nation joins the ranks
of South Korea, China, and Japan as America's top importers in 2021.

With 80 total cargoes in transit, at least ten tankers are currently destined for China, while six each are headed to Brazil and South Korea, according to vessel data analyzed by Bloomberg News. Year-to-date, Brazil is now just seven shipments behind Japan for third place in importing U.S. LNG.

Many of the cargoes to China have already been weeks in transit, but at least one left in September as the nation tries to curb demand amid higher prices. At least two September departures are headed to Brazil, which continues to battle drought impacting the nation's hydroelectric power.

U.S. export supply has been unabated recently as the five-day moving average for net flows was measured at 11.0 billion cubic feet on Sept. 8, 4.9% higher than the year-to-date average.

Exporters have loaded 19 tankers thus far in September, a 4.4% cargo-per-day decrease from August, when 88 cargoes were exported.
Brazil's drought has resulted in a significant demand shift in the liquefied natural gas markets. The country normally relies on hydro to provide electricity but those plants have been running below capacity for two years. The below chart of rainfall at hydro plants suggests the nearest relief tends to arrive in the early part of the year in line with seasonal factors.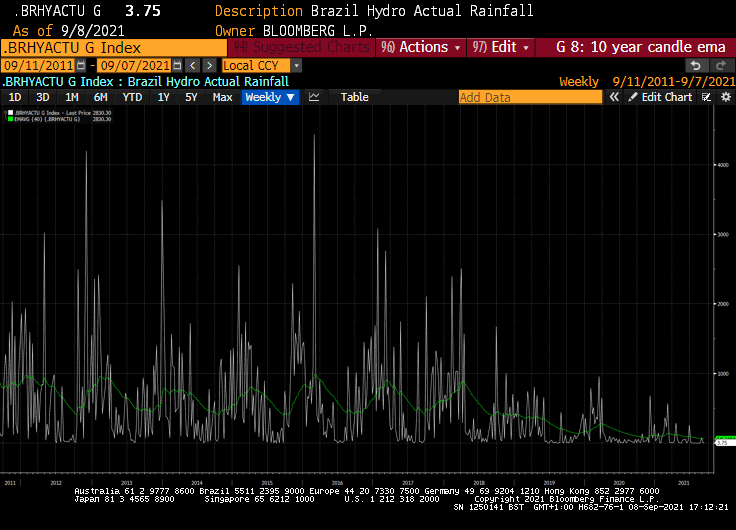 That suggests continued demand for LNG cargoes for at least the next few months. The added expense of burning imported gas rather than domestic hydro is a significant cause of the perception rising inflation. Additional demand drivers for LNG have also been a significant cause of energy cost inflation in the UK and Europe as natural gas prices have surged higher this year.
Click HERE to subscribe to Fuller Treacy Money
Back to top