More early data revealed from landmark CRISPR gene editing human trial
This article by Rich Haridy for NewAtlas may be of interest to subscribers. Here is a section:
The very first patient treated with CTX001 is now at a 15-month follow-up point, and the data suggests the therapy is still efficacious with no long-term complications detected. Nine months on from treatment the first sickle cell disease patient is also displaying promising results, free of any sickle cell-related adverse events.

"In my 25 years of caring for children and young adults facing both sickle cell disease and beta thalassemia, I have seen how these diseases can adversely affect patients' lives in very significant ways," says Haydar Frangoul, from the Sarah Cannon Research Institute. "I am encouraged by the preliminary results, which demonstrate, in essence, a functional cure for patients with beta thalassemia and sickle cell disease."
Genetic diseases shorten lives and represent significant drains of finances for many families. The promise of a cure has long been too much to hope for but we are likely to see sickle cell anaemia, thalassemia, cystic fibrosis and muscular dystrophy eradicated in our lifetimes.
These trials represent proof of concept results for genetic editing. The response to the coronavirus has pioneered a much faster process of drug discovery which has origins in genetic mapping and target identification. The blue-sky potential for the sector lies in the prospect of the human trials process being streamlined. That is probably too much to hope for right now but the application of genetic solutions to chronic conditions like diabetes, arthritis and maybe even Alzheimer's represents game changing potential for the healthcare sector.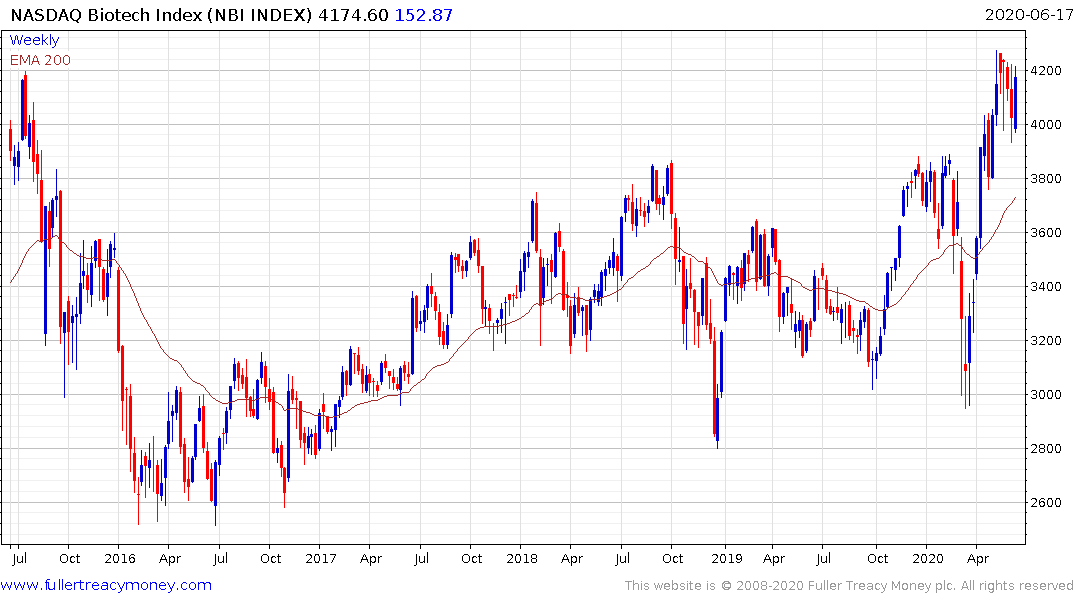 The Nasdaq Biotech Index has paused in the region of the 2015 peak over the last month. It rebounded impressively this week to test the highs and will need to sustain a move above 4300 to confirm a return to medium-term demand dominance.
Back to top