Monsanto Trading Below Bayer Bid Shows Regulatory Risk Concerns
This article by Lydia Mulvany and Simon Casey for Bloomberg may be of interest to subscribers. Here is a section:
While the combination of Bayer and Monsanto makes sense operationally, it's not clear yet how regulators will view this or other deals in the industry, said James Govan, a fund manager at Baring Investment Services Ltd. in London, who manages about 60 million pounds ($87 million) of agricultural and food-related stocks, including Monsanto shares. If they focus on the size of overall market share, as opposed to individual product categories, it may be harder for the deals to go through, he said in an interview Monday.

St. Louis-based Monsanto has yet to respond to Bayer's offer. It's not unprecedented for a target company to trade at less than an offer before the deal is later completed successfully. The current premium of Bayer's offer to Monsanto's share price is the 21st-biggest among 143 live deals tracked by Bloomberg.

Bayer's offer is probably less than Monsanto's valuation of itself, as the U.S. company expects significant growth between 2020 and 2025, said Jonas Oxgaard, an analyst with Sanford C.Bernstein & Co. in New York. Oxgaard said he expects an offer of $135 to be more palatable. Even then, he said, Monsanto would be reluctant to agree on a deal.

"Monsanto doesn't want to be bought," Oxgaard said by phone. "They have a history of being a standalone company, very focused long term, and they consider themselves the best company in the industry. It rankles a bit to be the best and then be acquired."
Bayer and Monsanto represent two of the world's largest seed producers and due to regulatory headwinds offer two very different ways of achieving more productive and bug or drought resistant plant strains. Monsanto is the world leader in genetically modified products while Bayer relies on bombarding seeds with radiation to induce mutation. A tie-up between the European and US leaders in seed technology represents a powerful proposition but it is unlikely to come cheap and regulators will undoubtedly have caveats.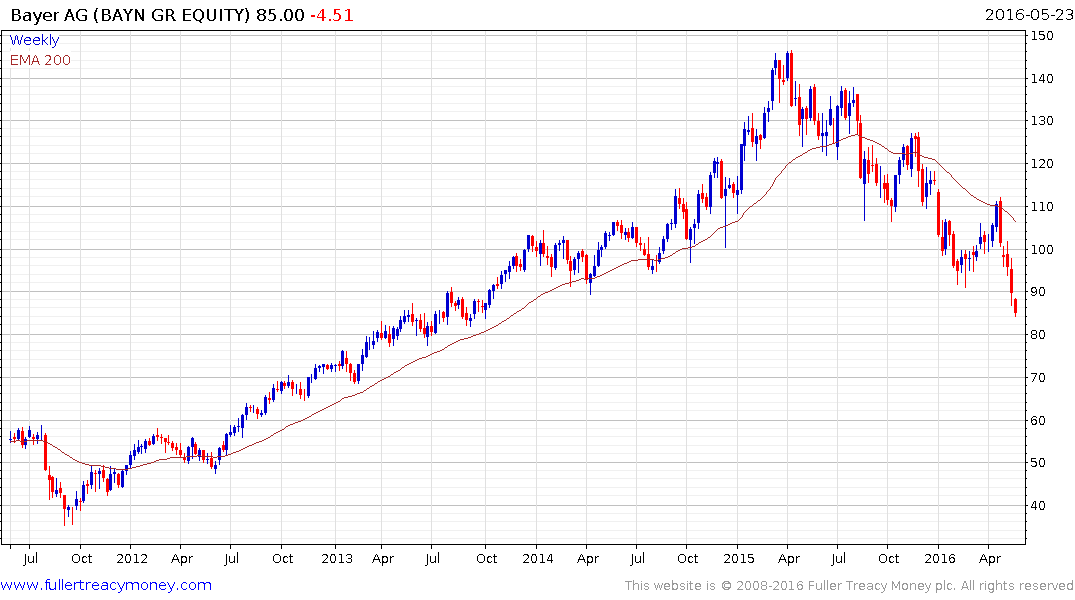 Bayer (Est P/E 11/69, DY 2.94%) has been trending lower for a year and the pace of the decline picked up following the bid. An increasingly oversold condition is developing and the first clear upward dynamic is likely to signal a low of at least near-term significance.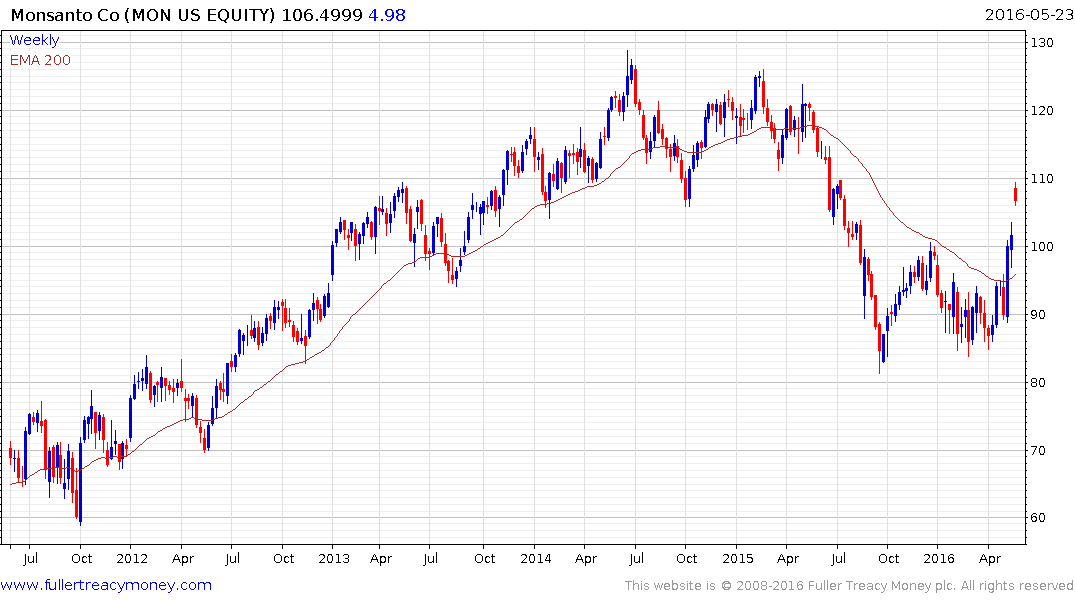 Monsanto (Est P/E 22.85, DY 2.04%) broke successfully out of a six-month range following the bid and a sustained move below $95 would be required to question medium-term scope for continued upside.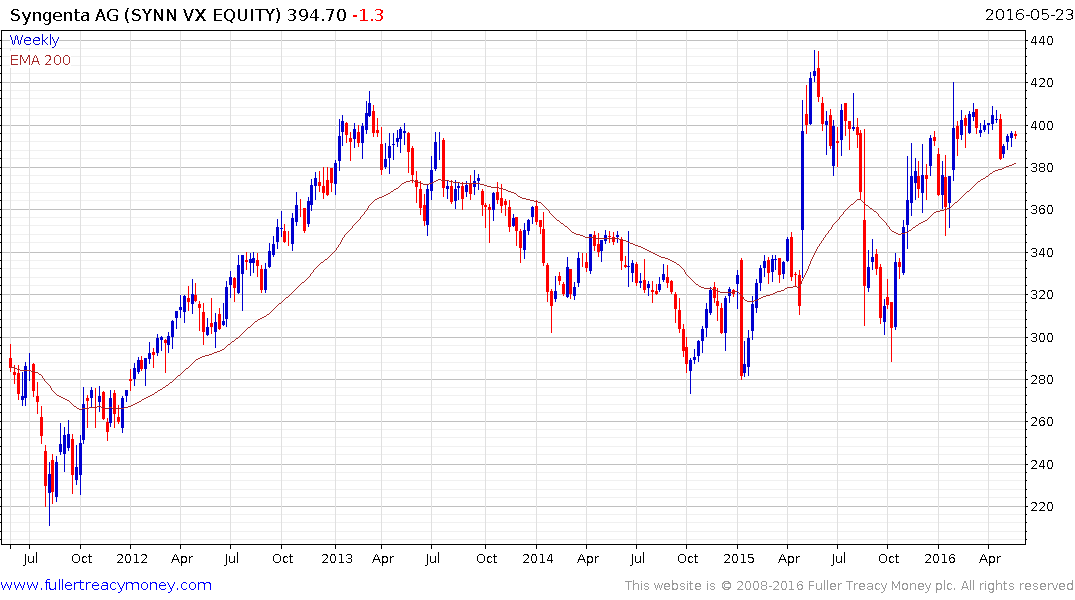 Elsewhere Swiss listed Syngenta (Est P/E 22.28, DY 2.79%) is the subject of a takeover offer from China National Chemical Corp. The share has experienced some acute volatility over the last year but is now trading in the region of its peaks and a sustained move below CHF380 would be required to signal a return to supply dominance.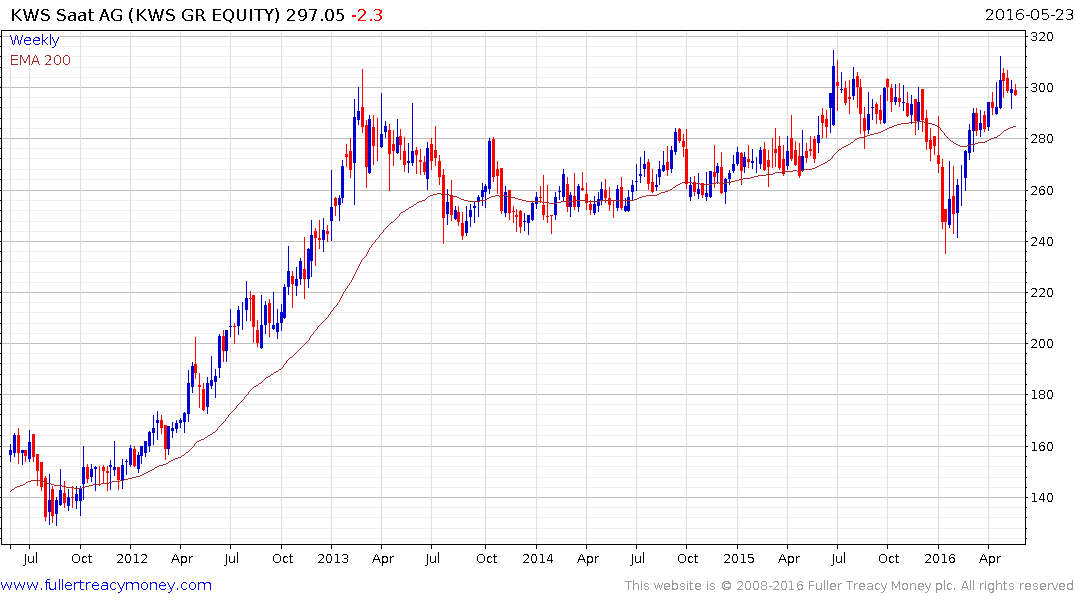 German listed KWS Saat (Est P/E 23.11, DY 1.01%) bounced back impressively from its January lows and is now trading in the region of the 2013 through 2015 peaks. A sustained move below the trend mean, currently near $285, would be required to question potential for additional upside.
Back to top