Mondelez, Kellogg, et al -- Let the Deal Frenzy Begin
This article by Brooke Sutherland and Gillian Tan for Bloomberg may be of interest to subscribers. Here is a section:
The buyout firm's typical playbook has been to target companies with weak margins and then slash costs like crazy to boost profitability. But even a cost-cutter extraordinaire like 3G needs to eventually find revenue growth. Sale gains at Unilever's personal-care business slowed in the most recent quarter, but that industry is certainly growing faster than the staid cereal and sandwich-spreads markets.

The bid may fail. Unilever has rejected Kraft Heinz's offer and at least one analyst is bashing the idea, calling it a "sloppy" combination with questionable logic. There may also be antitrust pushback. But it's hard to see 3G going back to hunting for slow-growth food brands after this. It clearly has its eyes on a different sort of prize. That should be a wake-up call for packaged-food investors who may have been hoping for salvation via 3G and Warren Buffett, the firm's dealmaking billionaire sidekick.

Would-be 3G targets Kellogg, Mondelez, Campbell Soup and General Mills have all implemented some form of zero-based budgeting -- one of the buyout firm's favorite tools whereby every expense has to be justified each year -- as well as other productivity self-help efforts such as shedding lower-margin and non-core assets. Kellogg is targeting an operating margin of nearly 18 percent by 2018, while Mondelez is aiming to cut $3 billion in costs. Campbell on Friday upsized its cost-savings target to $450 million by fiscal 2020, while General Mills says its on track to drive down expenses by $880 million with its margin-management and efficiency plans.
Interest rates are low, but rising, so the window for attractive borrowing costs with which to fund takeovers is closing. On the flip side the prospect of synchronised global fiscal stimulus is improving so there is ample scope for the market for global demand for consumer staples to continue to increase. Therefore the rationale for takeovers now, despite the relatively high price tag is still attractive.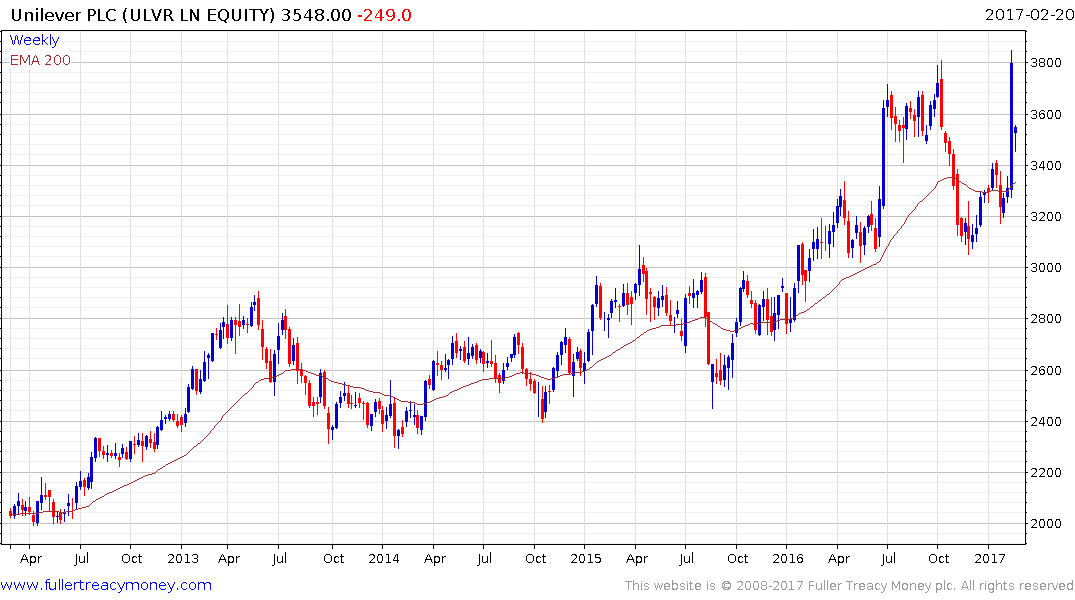 Nevertheless, Unilever is a big target, even for Kraft Heinz, 3G and Warren Buffett. The lack of direct synergies might in fact be designed to defray regulatory opposition to the deal but that is unlikely to deter Unilever's opposition to being taken over.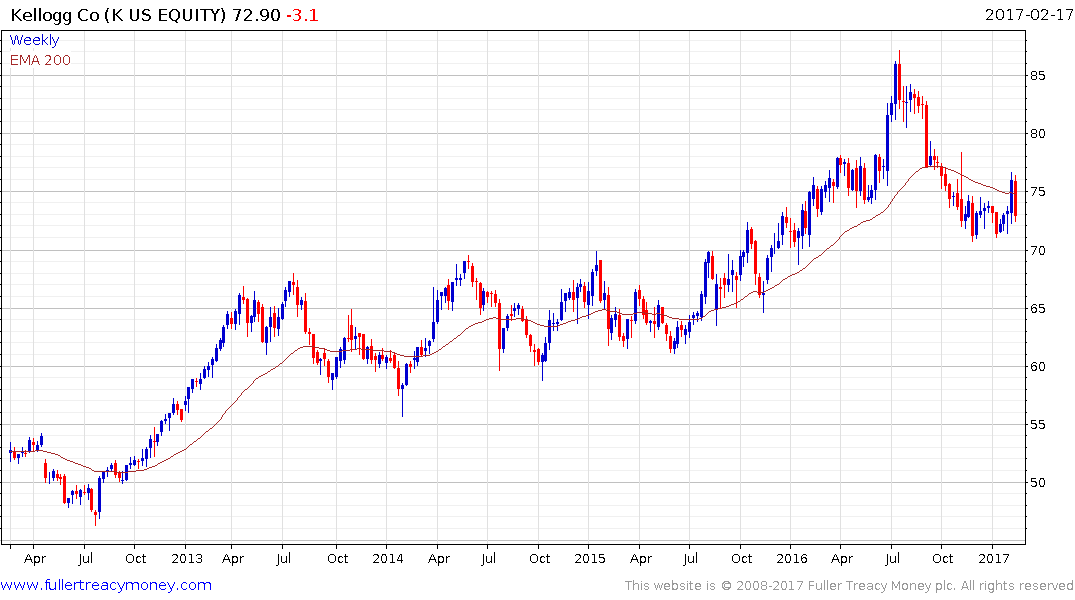 Among food companies Kellogg, Campbell Soups and General Mills are all now trading below their respective trend means.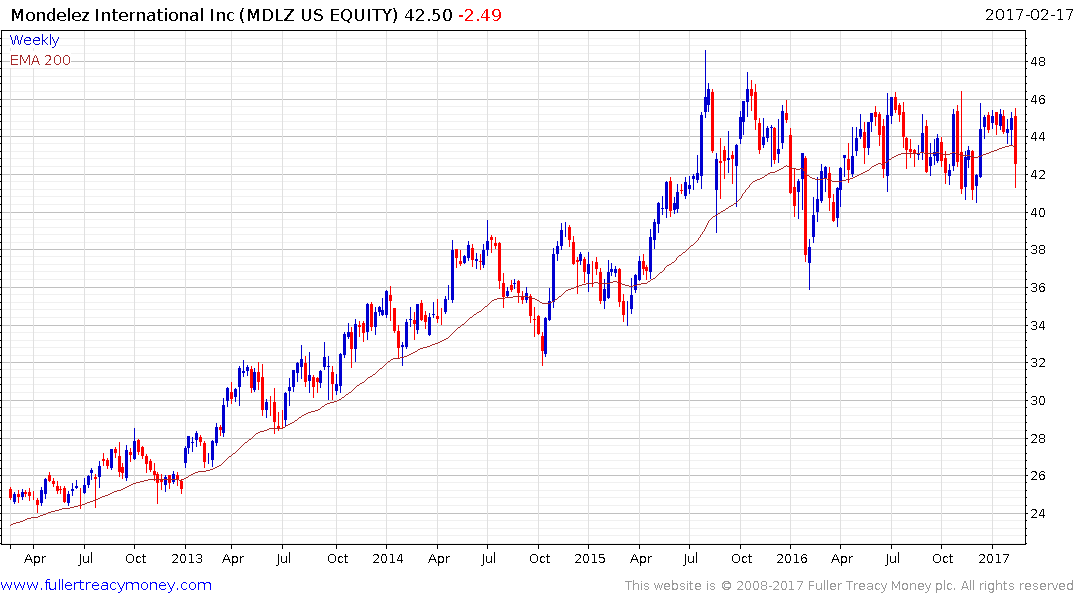 Meanwhile Mondelez International closed well off its low on Friday.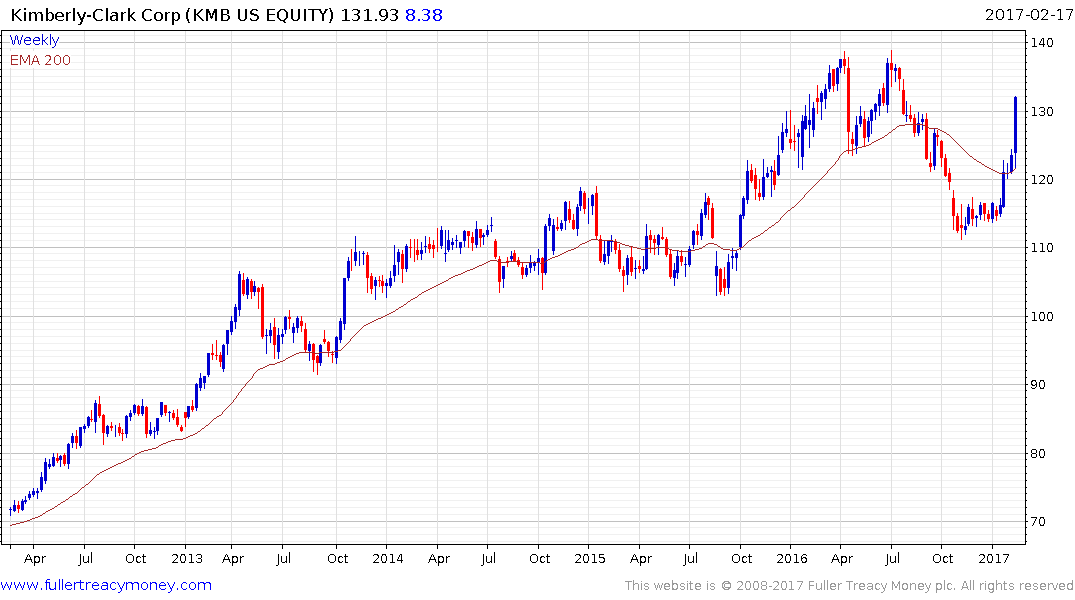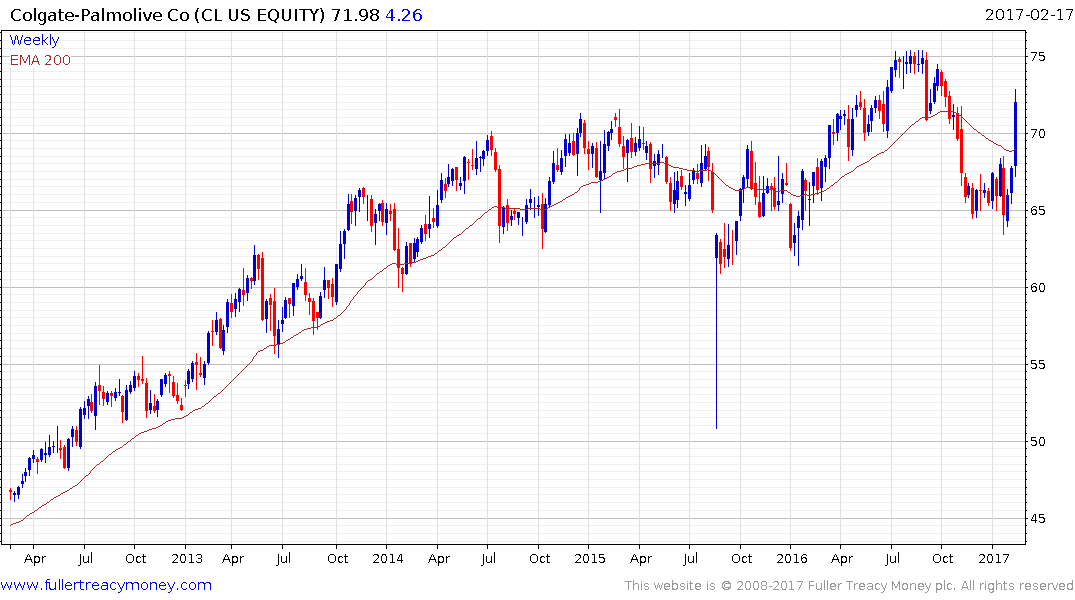 On the other hand, household goods companies like Kimberly Clark, Clorox, Colgate-Palmolive and Church & Dwight have all bounced impressively from the region of their respective trend means.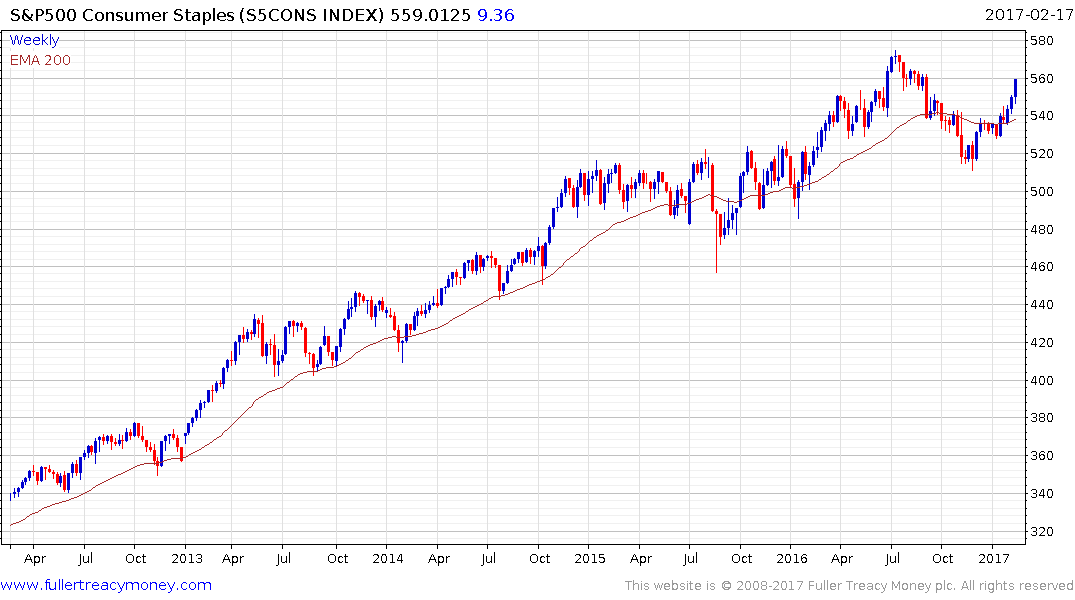 The S&P500 Consumer Staples Index shares a similar pattern with the latter group.
Back to top