Modi Says India Can't Afford to Go Slow on New Infrastructure
This article from Bloomberg may be of interest to subscribers. Here is a section:
"Every department makes its own plans and typically the left hand doesn't know what the right is doing," Modi said, citing the example of how new roads were laid only to be dug up later by the water pipes or the telecom department. "These silos result in wastage of budgetary resources and India can no longer afford these bottlenecks," he said.

The initiative comes as India targets spending $1.5 trillion in roads, railways, ports and gas pipelines, which are key for attracting investments and creating jobs in Asia's third-largest economy as it recovers from a pandemic-induced downturn.

The master plan aims to nearly double the network of highways to over 200,000 kilometers and the number of airports to 220 by March 2025, and double the length of gas pipelines to 34,500 km, among others, during that period.

The International Monetary Fund sees India's gross domestic product expanding 9.5% in the year to March after contracting 7.3% last year. While the forecast is for the economy to grow 8.5% next year, the outlook depends on the nation's ability to create jobs and boost consumption, which accounts for some 60% of GDP. For that, India needs investments and infrastructure to attract businesses.
More than any other factor, investors have been demanding India build more infrastructure. That was true twenty years ago and it is still true today. The difference now is that the administration has a demographic imperative pushing for reform. The only way India will grow in a cohesive manner is to deliver better standards of living for its hundreds of millions of young people.
Building new roads, airports, pipelines and ports is capital and resource intensive and India is coming to the market at a time of record high prices. As China's property sector rackets down from its peak growth rate, India's building ambitions are an important potential counterbalance to China's fading demand growth.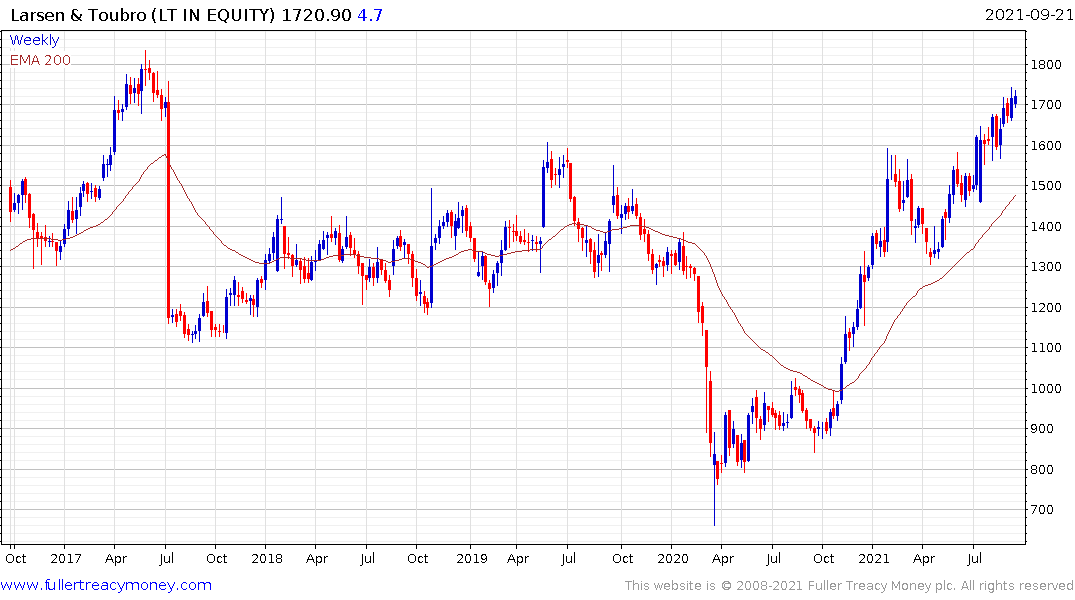 Larsen & Toubro broke out to new highs over the last month. The share has a reasonably liquid UK (LTOD LI) listed GDR.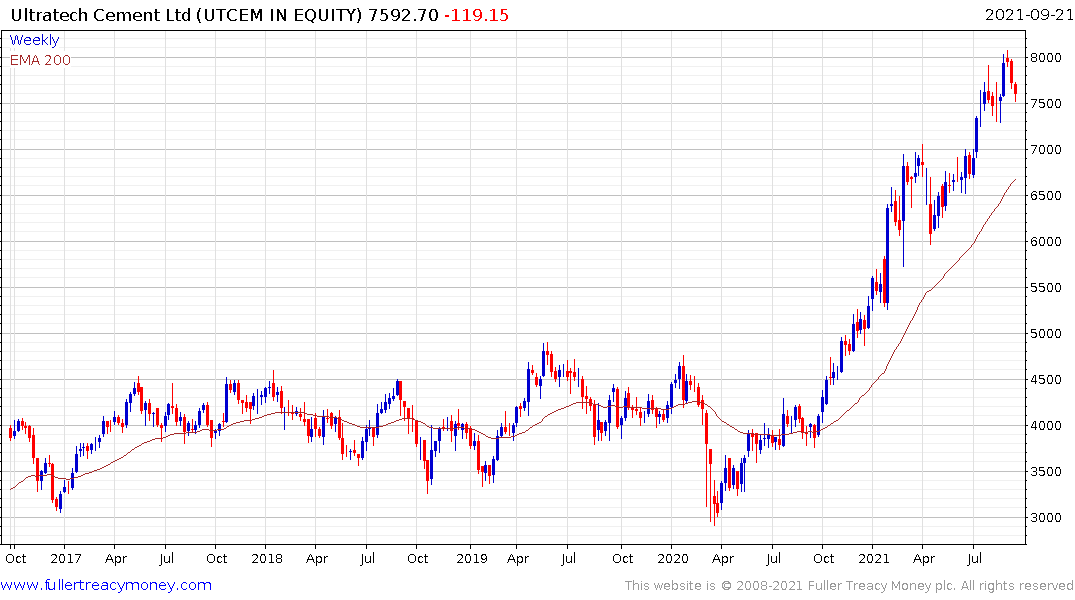 UltraTech Cement also remains in a consistent uptrend and is currently firming from the region of the trend mean. (UTCEM LX in Luxembourg).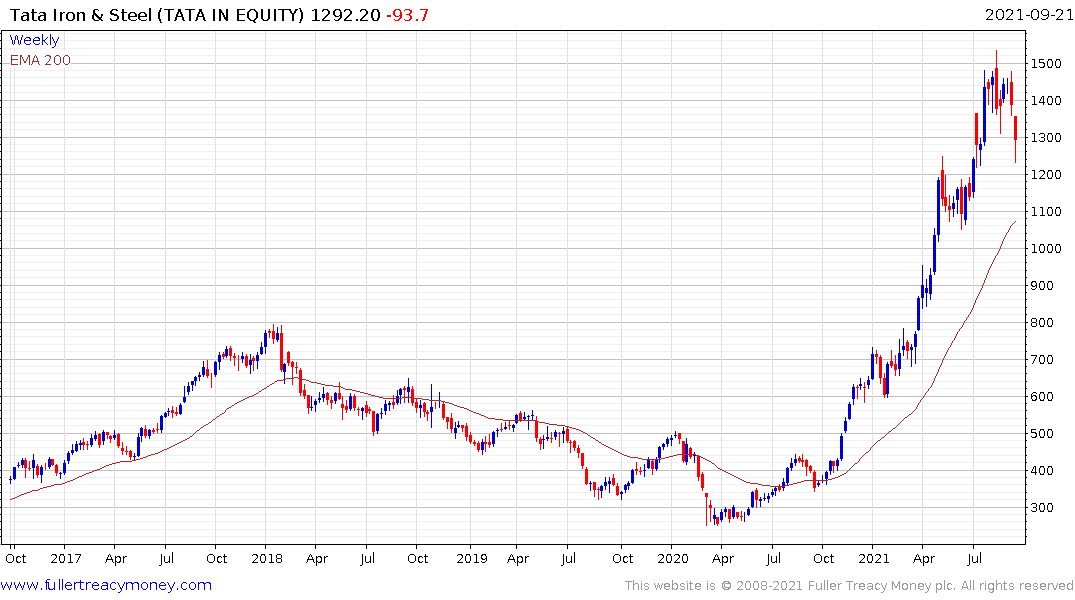 Tata Steel has a similar pattern. (TTST LI in the UK).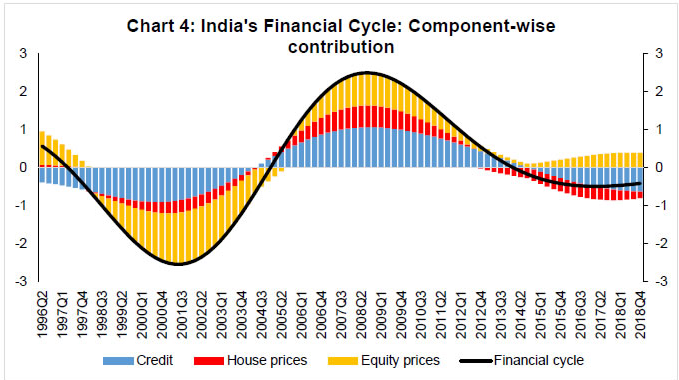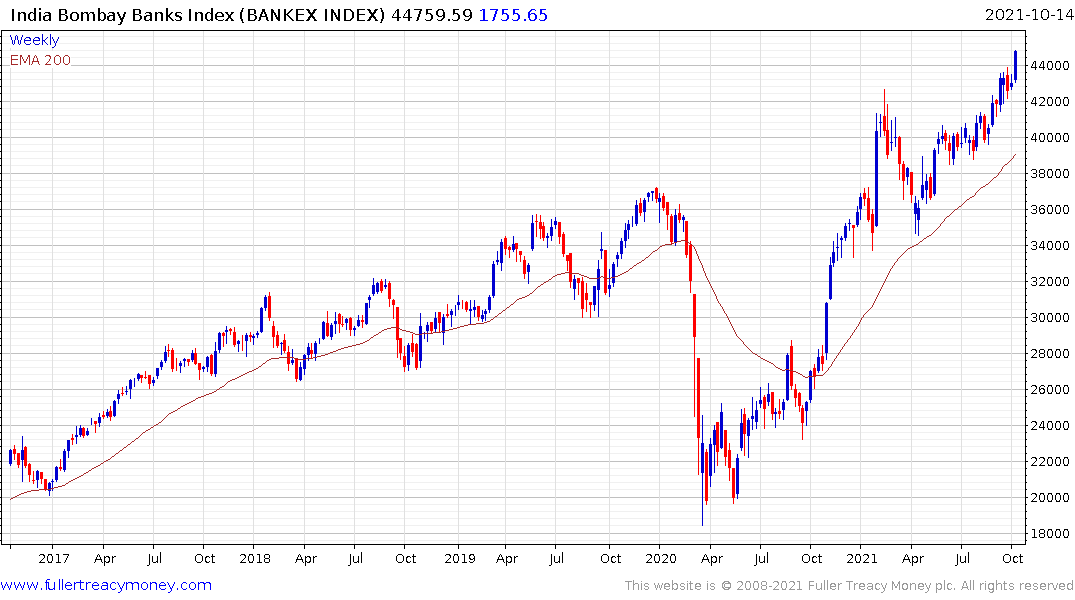 This report from the RBI discussing the existence of India's credit cycle may also be of interest. The financial sector went through a significant deleveraging following the demise of housing finance companies and is now expanding once more. That's helping to support speculative activity in the building and the banking sectors.
Back to top