Modi Makes Biggest Privatization Push in Decade to Spur Economy
This article by Anirban Nag and Vrishti Beniwal for Bloomberg may be of interest to subscribers. Here is a section:


On Wednesday, Indian authorities went into overdrive. The government decided to sell its entire stake in the country's second-largest state refiner, and its biggest shipping company. It also approved a proposal to pare stakes below 51% in some companies and pushed for an introduction of a new industrial code bill. Meanwhile India's central bank seized a troubled shadow lender to try and contain defaults from spreading in Asia's third-largest economy.

"This is Modi's renewed attempt to instill confidence in India's economic potential," said Priyanka Kishore, head of India and Southeast Asia Economics at Oxford Economics, Singapore.

She added it was imperative for the Modi government to announce these measures as it attempts to bridge a widening fiscal deficit following the dismal tax collections and cuts to corporate tax rates worth $20 billion. Earlier this month Moody's Investors Service cut the country's sovereign debt outlook to negative amid concerns over slowing growth and revenues.
Cutting corporate taxes, privatising non-essential industries, finally intervening to stop the slide in nonbank lenders setting up a strategy so the country's potential to become a manufacturing hub is not squandered are all very positive for the medium-term future of India. In fact, one might think of them as necessary components if the country is to continue to progress economically.
India is well placed to be among the fastest growing economies in the world. The demographic dividend is very supportive of growth but reducing bureaucracy, improving ease of doing business metrics and promoting making growth as a priority are all also necessary. The announcements over the last few days greatly enhance the potential India is now doing what is necessary.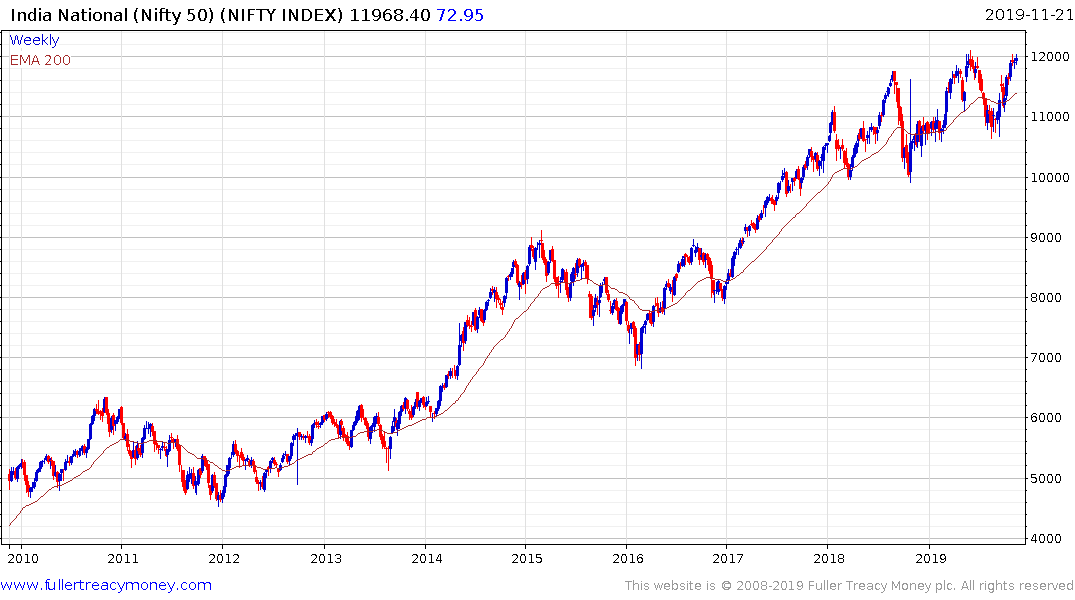 The Nifty Index continues to paused in the region of its peak and a sustained move below the trend mean would be required to question the consistency of the overall advance.
Back to top