Modi and B.J.P. Make History in India. Gandhi Concedes.
This article from the New York Times may be of interest to subscribers. Here is a section:
"If someone is victorious, it is India," he said. "If someone is victorious, it is democracy. If someone is victorious, it is the electorate."

Striking a populist tone and evoking mythical Hindu figures engaged in war, Mr. Modi framed the elections as a victory by and for ordinary Indians, over those who write off the poor and downtrodden. At the end of the battle, he said, was "the guarantee of a bright future for India."

"Some are saying, 'Modi, Modi, Modi.'" he said. "This is not Modi's victory. This is the victory of the expectations of the honest citizen of this country."

"This is the victory of the mother who was longing for a toilet," he continued. "This victory is of the farmers who sweat to fill the stomachs of others. This is the victory of the 400 million unorganized laborers."

Exceeding all predictions, Modi's party is winning a majority of seats.

Mr. Modi, one of the most powerful and divisive leaders India has produced in decades, appeared easily headed for another five-year term, according to election returns.

With most votes counted, the Election Commission reported that Mr. Modi's Bharatiya Janata Party, or B.J.P., was ahead in about 299 parliamentary districts, far beyond the 272 seats it would need for a majority in the 543-seat Parliament. At this pace, the party would actually expand on its current majority — a development no one was predicting in recent months. And its actual majority will be larger, as its established coalition partners have won at least a few dozen more seats.
Narendra Modi declated victory today which is going to maintain his party's dominant position in the recent elections. That ensures the business-friendly environment which has prevailed for the last five years will persist and further strengthens his hand in pushing through reforms, assuming of course that is what he intends. There is also the matter of building a temple to Ram on the site of a mosque, which is likely to inflame religious tensions over coming months. How that is handled will give us a clear clue as to just how populist the administration has become.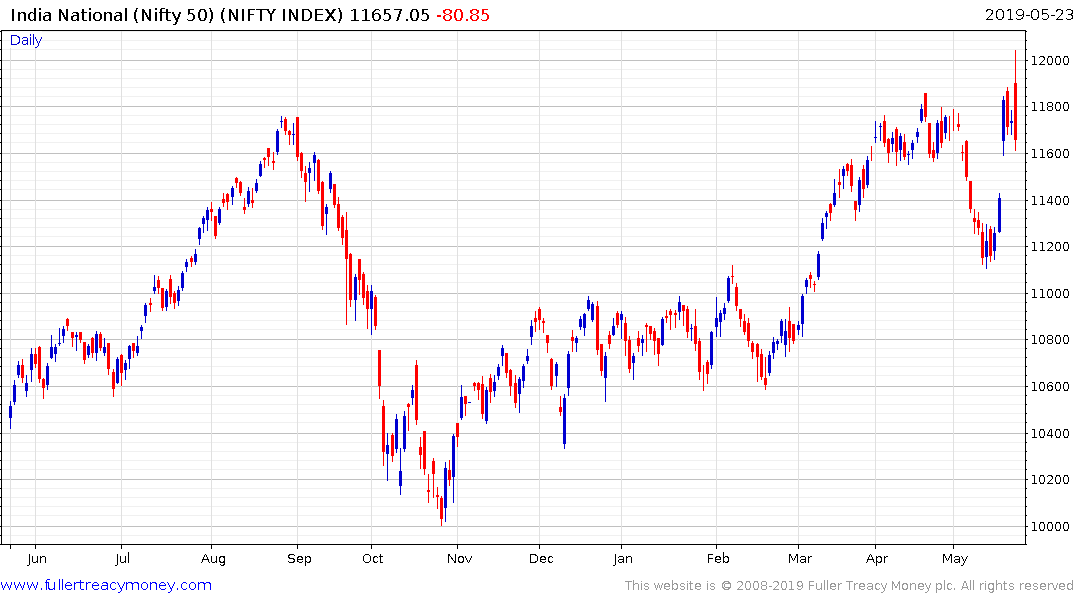 The Nifty formed a downside key reversal today suggesting a peak of near-term significance and some additional consolidation.
Back to top