Moderna's Next Act Is Using mRNA vs. Flu, Zika, HIV and Cancer
This article from Bloomberg may be of interest to subscribers. Here is a section:
The speed with which Moderna and its primary mRNA competitor, a partnership between Pfizer Inc. and BioNTech SE, devised their shots has made a major contribution to the fight to end the pandemic. With strong efficacy, steady supply, and no show-stopping safety scares (officials are carefully monitoring rare heart inflammation cases in teenagers and young adults), mRNA shots have become the vaccines of choice, at least in countries that can get them.

But for Moderna Chief Executive Officer Stéphane Bancel, the Covid vaccine is just the beginning. He's long promised that if mRNA works, it will lead to a giant new industry capable of treating most everything from heart disease to cancer to rare genetic conditions. Moderna has drugs in trials for all three of these categories, and Bancel says his company can also become a dominant vaccine maker, developing shots for emerging viruses such as Nipah and Zika, as well as better-known, hard-to-target pathogens such as HIV.
The speed with which MNRA vaccines were developed is a major development. The capacity to analyse the genetic structure of a virus and devise a potential solution in a matter of days is a technological innovation the market is only beginning to grasp the full implications of.
The challenge for Moderna and other companies is the COVID-19 vaccines were given every opportunity to succeed with permissioning for large scale human trials expedited because of the urgency of the evolving situation.
The big question for the sector is how well they can use the efficacy of the new technology to press for quicker trials in getting drugs to market. Has the pandemic been a gamechanger for the drug permitting process? It could be because the basic ingredients for MRNA solutions are all quite similar.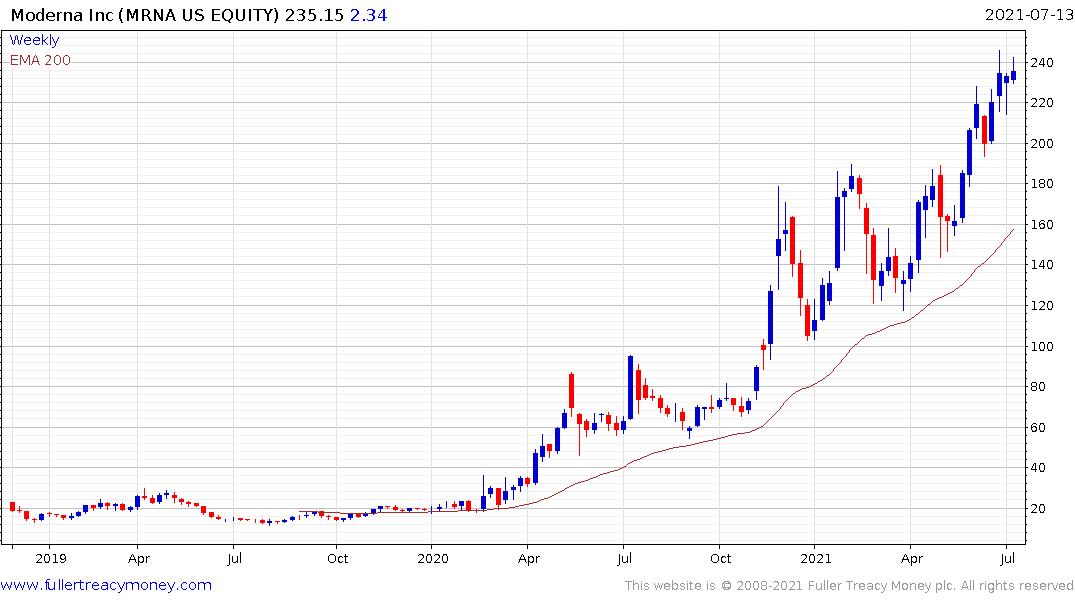 Moderna continues to trend higher in a reasonably consistent manner.
Back to top