Mobius to Beijing: Quit Fighting the Market and Let Stocks Fall
This article by Kyoungwha Kim, Cindy Wang and Kana Nishizawa for Bloomberg may be of interest to subscribers. Here is a section:
"I'd expect the government to be reducing intervention," Mobius, the Franklin Resources Inc. money manager who's been investing in emerging markets for more than four decades, said in an interview in Hong Kong on Friday. "They realize it's not working."

Authorities may be more receptive to declining share prices now that the country's World War II victory parade -- seen as a platform for President Xi Jinping to project China's strength on the world stage -- has passed without incident. Mainland exchanges, shut since Sept. 2 for national holidays to celebrate the war anniversary, reopened today facing a range of indicators that suggest investors see more declines.
An important question that needs to be discussed is how much of the advance in Chinese stocks from November 2014 was predicated on bluster and hype and how much was based on fundamental value. There is no doubt that a great deal of the hype has been squeezed out of the market but there is incessant discussion about where prices for individual shares will find support.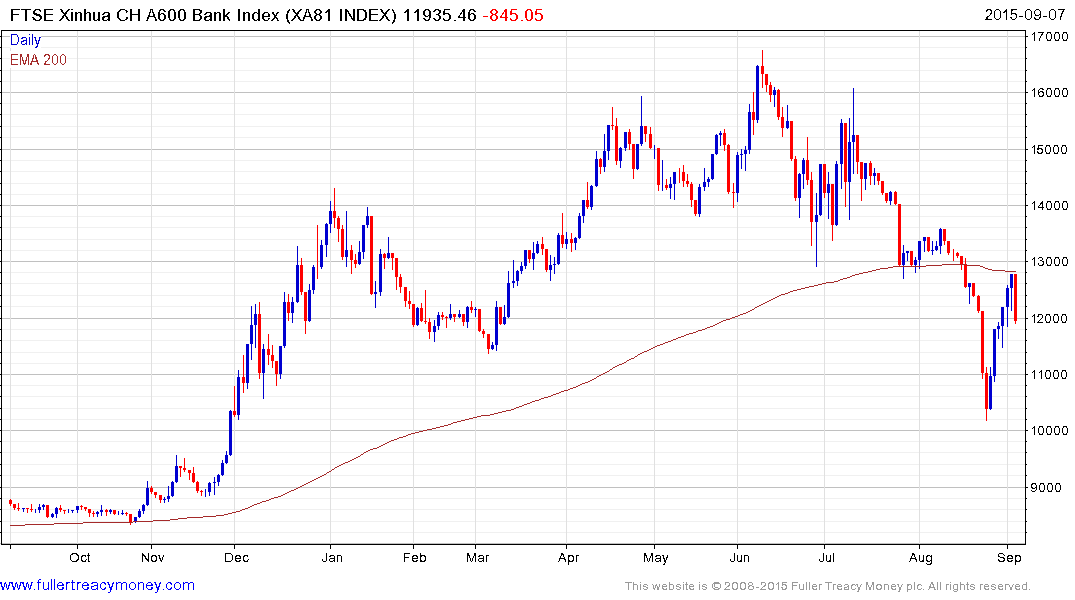 The FTSE/Xinhua A600 Banks Index rallied impressively in the six sessions prior to the military parade holiday and fell today. Banks are the primary avenue for government support because they are among the largest weightings on the major indices and they own major stakes already. The ability of the Banks Index to find support above the August low on this pullback will be a barometer for how much bargain hunting is going on in the wider market.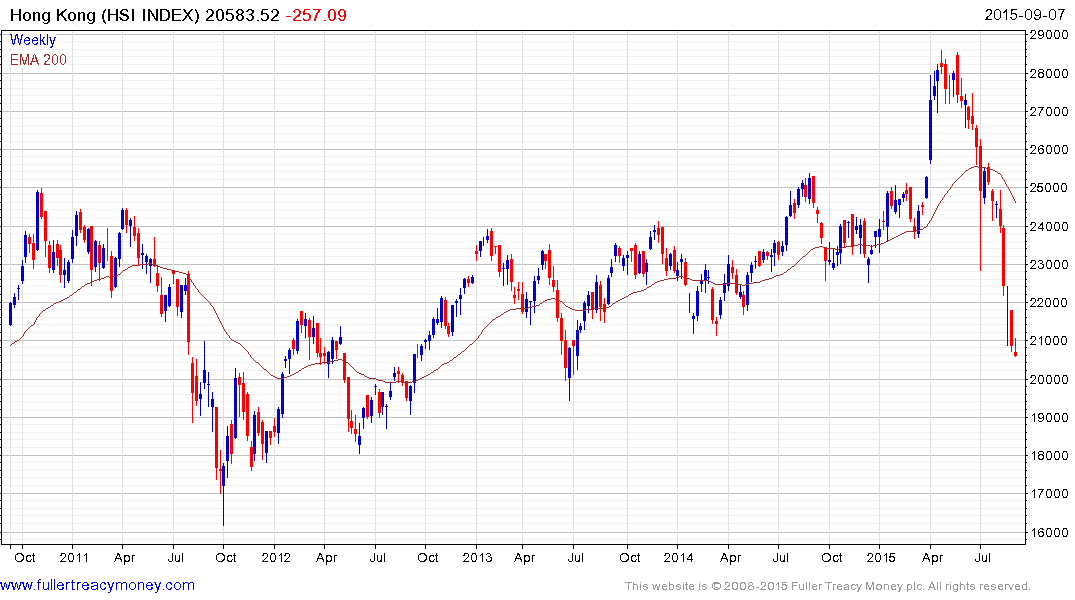 In addition to concerns focused on the mainland, the Hang Seng is responding to the threat of a US interest rate hike to which the Hong Kong Dollar is pegged. The Index has accelerated lower and is now well below where the medium-term progression of higher reaction lows could have been expected to reinstate demand. The 20,000 level is a potential area of support but a clear upward dynamic, held for more than a session or two, will be required to signal short covering and a return to demand dominance.
Back to top