Miner Sees Silver Price Surging Ninefold as Global Gadgets Boom
This article by Natalie Obiko Pearson for Bloomberg may be of interest to subscribers. Here is a section:
While long coveted for use in jewelry, coins and utensils, silver is increasingly in demand for its industrial applications. Last year, about half of global silver consumption came from such use, including mobile phones, flat-panel TVs, solar panels and alloys and solders, according to data compiled by GFMS for the Washington-based Silver Institute.

"Silver is not a precious metal, it's a strategic metal," Neumeyer said in an interview in Vancouver, where the company is based. "Silver is the most electrically conductive material on the planet other than gold, and gold is too expensive to use in circuit boards, solar panels, electric cars. As we electrify the planet, we require more and more silver. There's no substitute for it."

Industrial demand is set to increase, driven by rising incomes and growing penetration of technology in populous, developing nations, as well as thanks to new uses being found for silver's anti-bacterial and reflective properties in everything from hospital paints to Band-Aids to windows.
"Over the next 10 or 20 years, more and more people are going to be using these devices, and silver is a very limited commodity," Neumeyer said. "There's just not a lot of it around."

Use of silver, including investment demand, coin sales and what goes into inventories to settle trades, has outstripped annual supply of the metal in every year since 2000, according to data from GFMS, a research unit of Thomson Reuters Corp.

Still, not everyone agrees that the world is headed for a shortage of the metal.

"I would tend to disagree that silver is rarer than thought," David Lennox, a resource analyst at Fat Prophets in Sydney. "Silver cannot be easily substituted but there's been no need as it's in abundance. I'd expect the search for silver would intensify and the search for substitutions would happen long before silver got to" $140 an ounce.
The uses for silver in the high technology sector are likely to increase over time but the quantity of silver used in each item is likely to decrease. Production efficiencies and the evolving nanotechnology sector where silver will have a great deal of utility help to explain that view.

Therefore to postulate prices are going to $140 any time soon would appear wildly ambitious.
A more relevant question is whether pries are more likely to reach $20 or $10 first? Silver exceeded the 1980 bubble peak in 2011 and held a progression of lower major rally highs until early April. It has unwound most of the short-term overbought condition relative to the trend mean and a sustained move below $15 would be required to question additional recovery potential.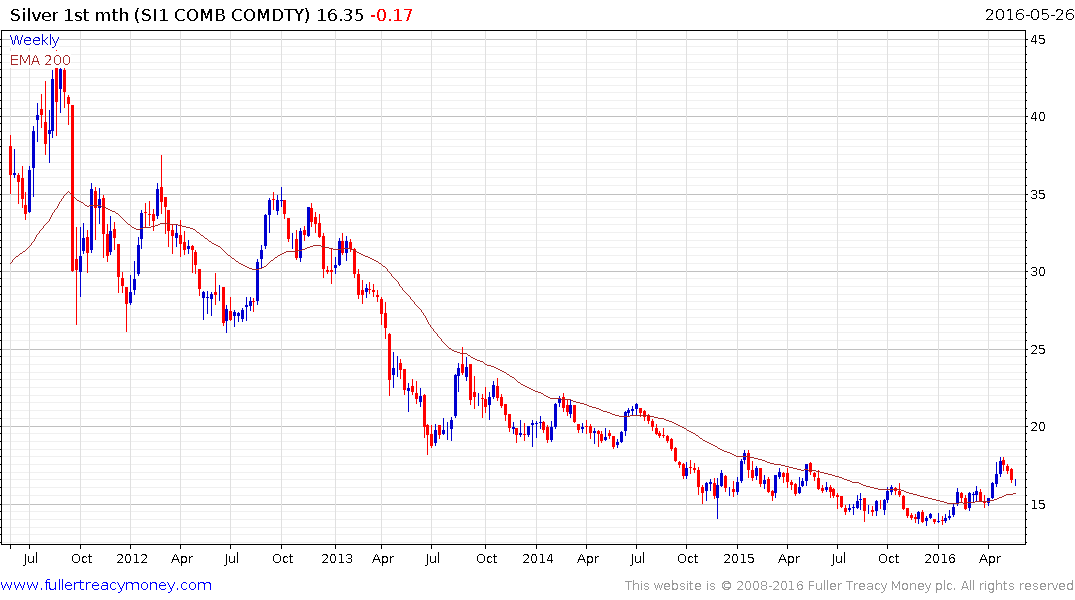 The rebound in the US Dollar and waning worries about global growth have acted as a headwind to precious metals so they will need to continue to demonstrate support coming back in at progressively higher levels to lend credence to the recovery hypothesis.


The Global X Silver Miners ETF has held up considerably better than the silver price which has allowed the MA to play catch up with the ranging consolidation. While the overextension hasn't quite been unwound just yet, a sustained move below the trend mean would be required to question potential for additional upside.
Back to top