Microsoft, Slack, Zoom, and the SaaS Opportunity
This article by Ben Thompson for his Stratechery blog may be of interest. Here is a section:
The challenge for incumbents, including Microsoft and also other competitors like Citrix, Cisco, etc., is that years of building their business on leveraging their existing relationships with enterprises left them vulnerable to a company like Zoom singularly focused on delivering a superior product, at least once a SaaS architecture made distribution so much easier. Make no mistake, enterprise software still requires a sales force, but it is far easier to start with customers that have already discovered and tried the product on their own than it is to sell something without any sort of pre-existing relationship.

Slack and New Use Cases
​There remains, though, one final implication of a new paradigm, and this one is the most profound: completely new use cases. This was something Slack sought to highlight in their S-1, which was made public last week.

First, the company argued that Slack transforms internal communications:

The most helpful explanation of Slack is often that it replaces the use of email inside the organization. Like email (or the Internet or electricity), Slack has very general and broad applicability. It is not aimed at any one specific purpose, but nearly anything that people do together at work.

Unlike email, however, most of this activity happens in team-based channels, rather than in individual inboxes. Channels offer a persistent record of the conversations, data, documents, and application workflows relevant to a project or a topic. Membership of a channel can change over time as people join or leave a project or organization, and users benefit from the accumulated historical information in a way an employee never could when starting with an empty email inbox. Depending on the size of the organization, this might provide tens, hundreds or even thousands of times more access to information than is available to individuals working in environments where email is the primary means of communication.
The number of IPOs of companies many people would have been eager to buy a few years ago but were given no opportunity to participate in is accelerating. The primary reason they are all coming to market at the same time is because the private equity backers that ploughed billions into these companies want to get their money out before the next recession.
Those adopting a subscription or software as a service (SaaS) business model at least lowers the barrier to entry to acquiring new customers. It also has the potential to hold onto them for longer since billing by usage is considered a fair practice.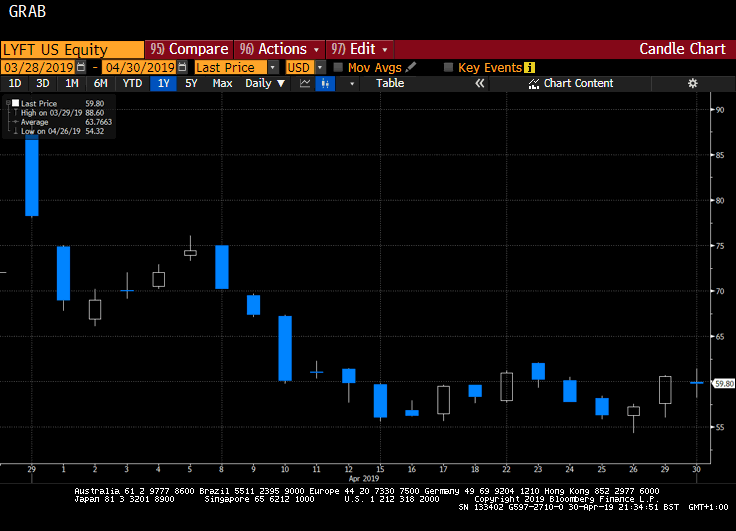 Among the biggest IPOs of the last couple of weeks Lyft has found at least near-term support.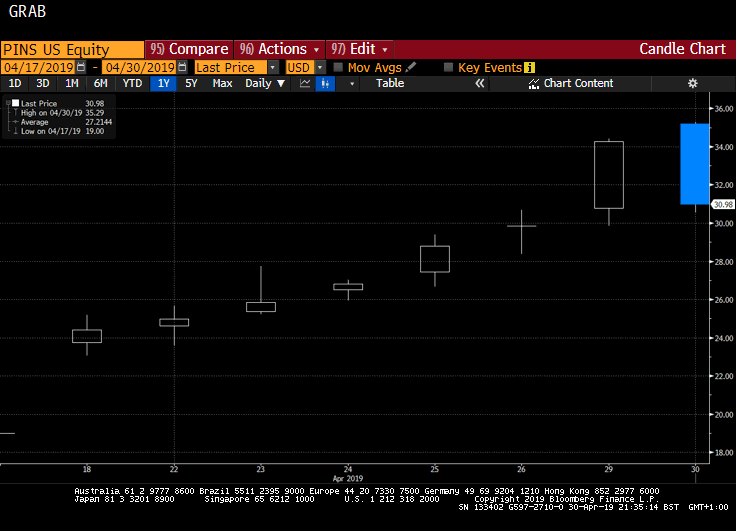 Pinterest rallied for seven consecutive sessions but at least paused today with a 10% pullback.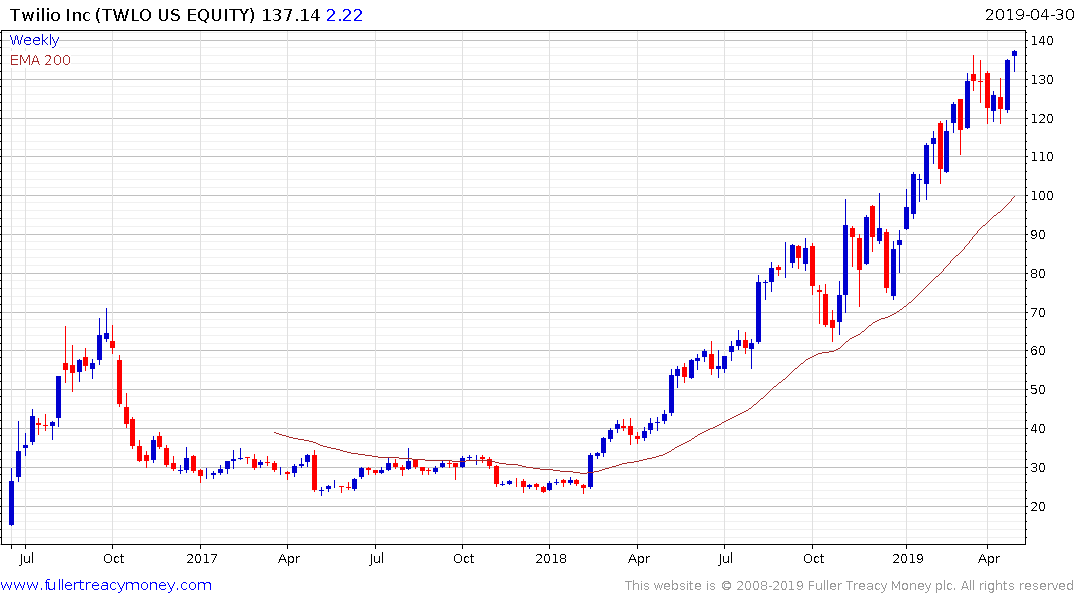 Twilio is one of the best performing IPOs of the last few years, with is cloud communications network growing steadily. The estimated P/E of 1375 is aggressive by any measure but the trend is still consistent.
Beyond Meat, Slack and Uber are all pending but will be watched closely for how well demand kicks in and what valuations are achieved ahead of the sale. The aggressive effort to short Lyft after its IPO could have been a strategy to try and damage sentiment so Uber's valuation would come in at the lower boundary. We'll see in the next week or two how well the IPO goes but I expect it to be positive for at least the first few weeks.
Back to top