Amgen's Just-Approved Migraine Drug Will Cost $6,900 a Year
This article by Rebecca Spalding for Bloomberg may be of interest to subscribers. Here is a section:
"The payers recognize that there is a clear and longstanding unmet need in migraine," said Tony Hooper, executive vice president of global commercial operations at Amgen, on a call with analysts Friday. Hooper said the company is in talks with pharmacy-benefit managers and insurers and "by and large, they are supportive of our price."

Amgen and partner Novartis AG said that they will launch the drug within one week in the U.S. Hooper said that the company expects patients will take the drug if they have tried and failed on other migraine treatments.

The drug's lower-than-expected price was met positively by analysts who said they expect it will win broad reimbursement from insurers.

"Overall, we think their pricing strategy fits well into the current reimbursement environment," said Michael Yee, an analyst with Jefferies wrote in a note. Yee, who has a "buy"

rating on Amgen shares, said the lower price "sends a good message."

But Baird analyst Brian Skorney said once rival treatments come to market, insurers and drug middlemen may pit drugs against each other to get the lowest possible price.

"If anything it just makes the eventual lowest net price that much lower once there are several on the market," wrote Skorney, who rates Amgen shares "neutral."
Drug pricing is now as much a political calculation as it is a business decision. Historically drug companies opened with a high price to try and recoup as much of the cost of development as possible in as short a period of time as possible. This was viable because they believed unmet need represented a potent source of capital that could be unlocked before competition resulted in price drops.
However, the reality today is that regardless of the solution provided, there is political pressure to reduce prices on new drugs from the outset. This is likely to lengthen the time to recoup costs but the lower cost has the potential to increase the potential market size. In short, it represents a meaningful change for major drug companies.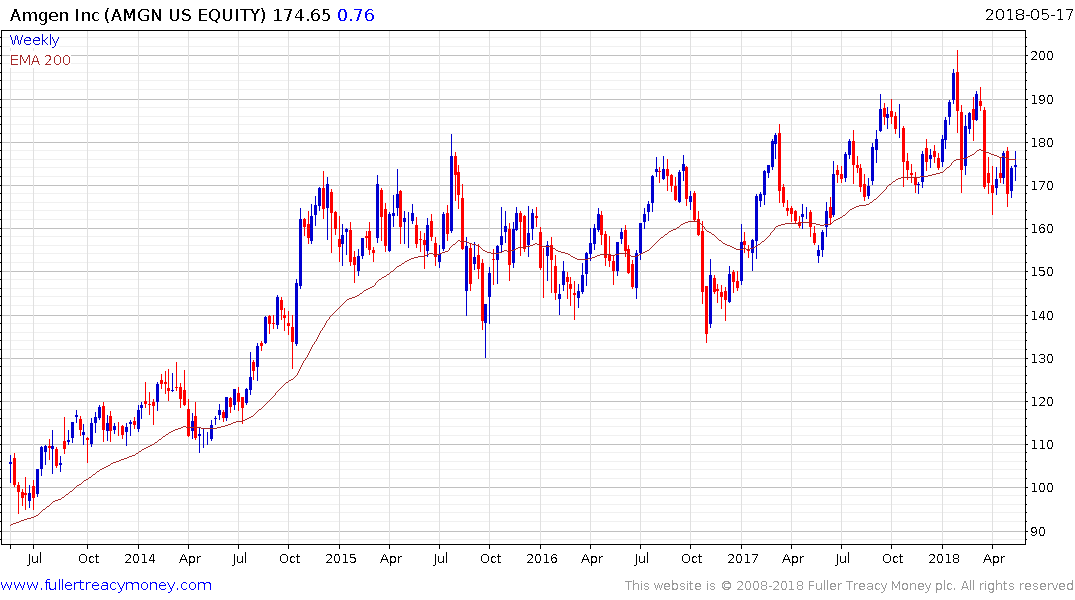 Amgen has been ranging in a volatile manner, albeit with an upward bias, since early 2015. The share had a positive response to the migraine drug announcement but it was not the kind of upward dynamic that would make investors sit up and pay attention.
There is another consideration that is worthy of consideration. Many people self-prescribe for migraines and there is growing movement toward using cannabis to treat migraine. Considering the cost of cannabis is rather accessible, no longer needs a prescription in an increasing number of states and anecdotal evidence suggests it works and does not require an injection.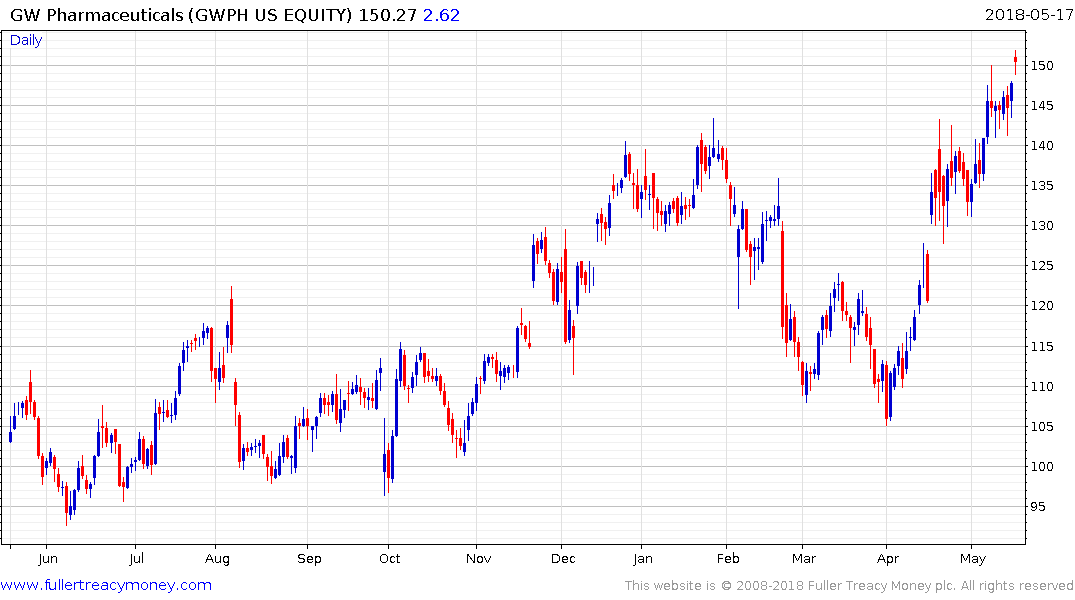 GW Pharmaceuticals is breaking out of an almost three-year range and a sustained move below $140 would be required to question medium-term scope for additional upside.
Back to top