Metals Seen Rallying With Crops After Record Tumble
This article by Maria Kolesnikova, Nicholas Larkin and Luzi Ann Javier for Bloomberg may be of interest to subscribers. Here is a section:
It's a good time to come into commodities,?¡À said James Paulsen, the Minneapolis-based chief investment strategist at Wells Capital Management, which oversees about $340 billion of assets. "This is the first time in the recovery that we've had simultaneous positive and accelerating growth in the U.S., Europe, Japan and the emerging world all at the same time. That's a pretty big demand change. But until people kind of pick up on the fact that commodities can come back, you'll still see some people sticking a little more to stocks."
A great deal of new supply has come on line in the commodity sector over the last few years which has contributed to weakness in pricing across the complex. However, a number of base formations are evident in the industrial metals sector and soft commodities such as sugar and coffee have at least paused in their declines. This type of action suggests supply and demand have returned to equilibrium for at least part of the sector.
"Synchronised global economic expansion" is a term which has fallen out of common parlance over the last few years for obvious reasons. However, as recovery becomes a more realistic possibility, potential for demand growth to return as a bullish consideration in the commodity sector needs to be considered.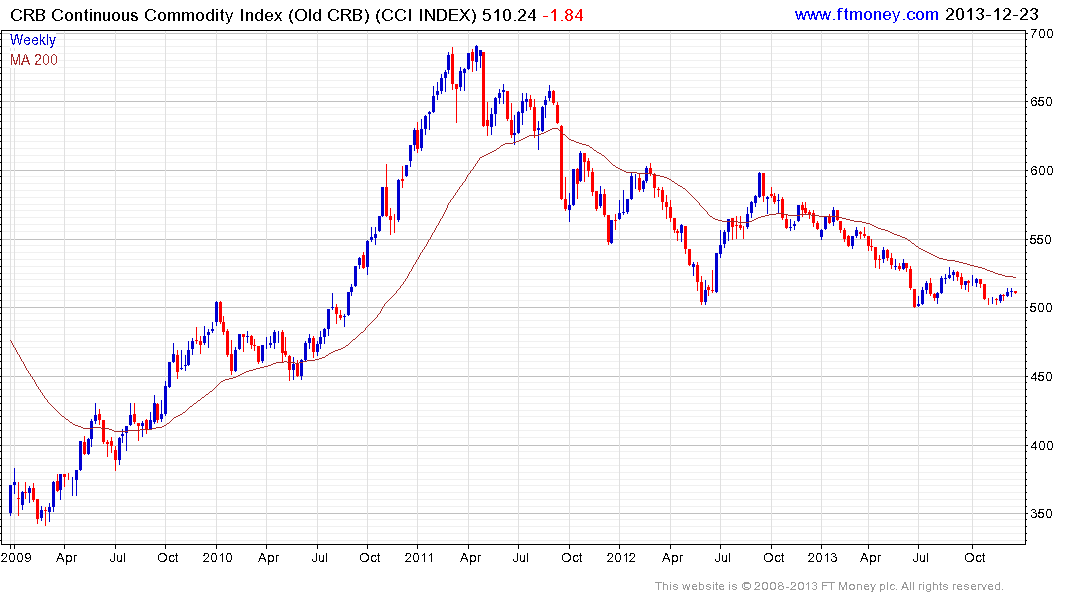 The CRB Continuous Commodity Index has lost downward momentum as it ranges above 500. A sustained move above 520 would break the medium-term progression of lower rally highs and being to suggest a return to demand dominance beyond the short term.
An additional consideration is that as we approach the fifth year of the stock market?¡¥s recovery, the number of sectors which might be considered cheap or undervalued is comparatively small. The mining sector has been forced to write down billions in investments but if some visibility as to when this process might end appears it could act as a bullish catalyst.
Back to top