Meta Faces Historic Stock Rout After Facebook Growth Stalled
This quarter's sales forecast also disappointed Wall Street and Chief Executive Officer Mark Zuckerberg, who saw his personal wealth potentially plummet about $24 billion, acknowledged that Meta is facing serious competition for user time and attention, particularly from viral video-sharing app TikTok.

The dour outlook and stalled user momentum mark a dramatic turnaround for a company that has posted share gains in every year but one since its 2012 IPO, stoking concern that Meta Platforms flagship product and core advertising moneymaker has plateaued after years of consistent gains.
​
"These cuts run deep," wrote Michael Nathanson, an analyst at brokerage Moffett Nathanson, who titled his note "Facebook: The Beginning of the End?" The results were "a headline grabber
and not in a good way." Zuckerberg said Meta's rival to TikTok, Reels, is growing quickly, but monetization has been slow. He asked investors for patience as the product ramps up.

"Over time we think that there is potential for a tremendous amount of overall engagement growth" with Reels, he said on a conference call Wednesday. "We think it's definitely the right thing to lean into this and push as hard to grow Reels as quickly as possible and not hold on the brakes at all, even though it may create some near-term slower growth than we would have wanted."
Does anyone remember Vine? It was the big short form video app of the early social media age and folded because it could not think of a way to make money. Musical.ly and later TikTok slid into that niche and effectively captured the generation Z demographic.
Facebook is playing catchup with its copycat Reels functionality. The growth of the user base will be heavily dependent on tailoring the app to ensure it is transparent for creators to boost likes/engagement.
One of the biggest bugbears my youngest daughter has with TikTok is trying to figure out how her videos surge in popularity and subsequently get "shadow banned". Some of her videos had several hundred thousand views in the space of a month and subsequently disappeared from being searchable. After that experience she no longer posts on social media.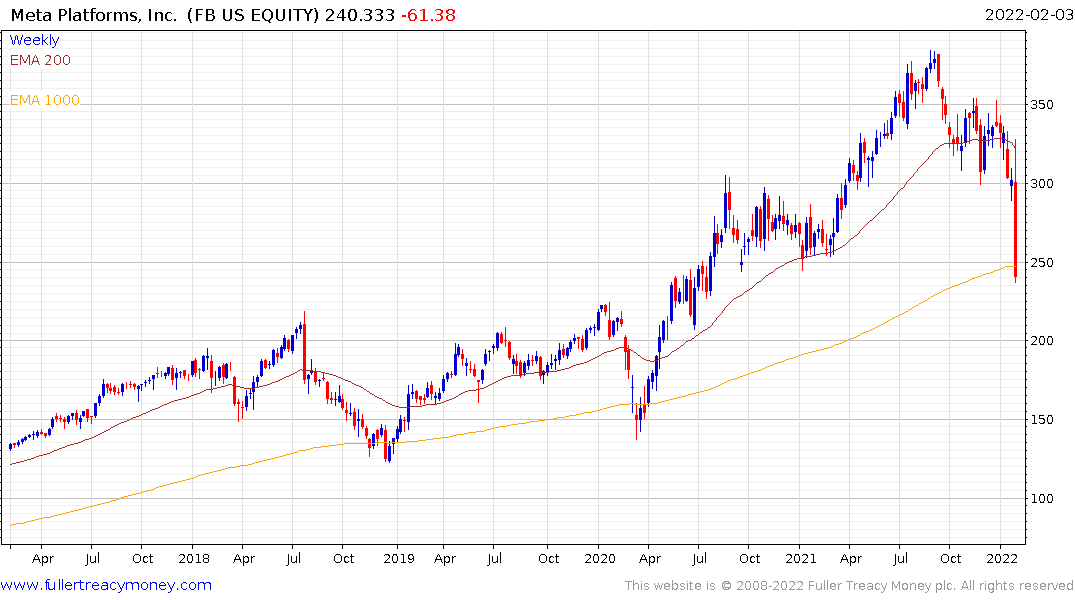 The cost of acquiring new users is rising. That's why the company is retroactively pursing video and prospectively championing VR/metaverse. The share has almost fully unwound the pandemic-fueled surge and is now deeply oversold. There is scope for a Netflix-like post earnings bounce even if the consistency of the medium-term trend has been totally compromised.
The big conclusion is breadth within the 8 mega-caps continues to deteriorate. The group is relying on Apple, Alphabet, Microsoft, Tesla and NVidia to hold their respective uptrends for outperformance.
Back to top