Message Received, Loud & Clear
This report from CIBC may be of interest to subscribers. Here is a section:
The Bank of Canada is seeing enough progress in the economy that it feels it can begin reducing outdated programs, as well as slowly begin to remove some of the considerable stimulus in the system. There should not be too much impact from the cessation of select market functioning facilities directly. The bigger news today is the strongest signal yet that the Bank is ready to conduct a taper, and begin 'right sizing' the QE program. This is also the first time we have been shown what the future sequencing looks like, which is: i) taper to a net-zero purchase profile; ii) enter a reinvestment phase, and; iii) normalize rates. The best trades to take advantage of this are micro in nature, though also put 'bigger' macro trades like receiving 2yr-to-4yr forwards versus the U.S. at risk.
As we exit the pandemic the approach being adopted by central banks to the respective challenges in their countries will help to inform us on what to expect from the late starters. Since Canada is about to begin tapering in April how the bond, currency and stock markets perform may offer a foretaste of what a taper will eventually look like in the USA and elsewhere.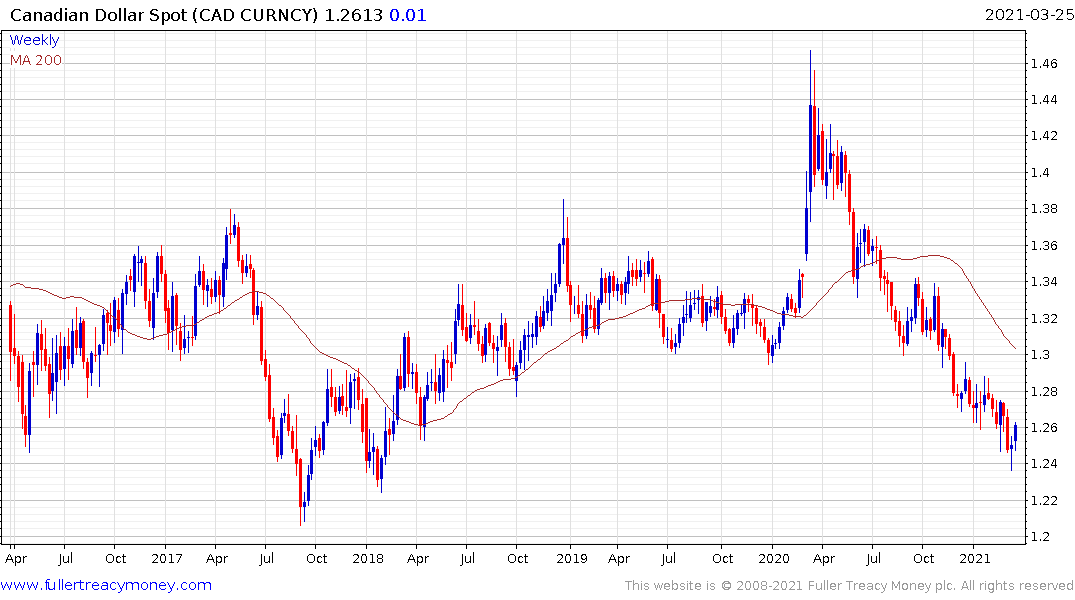 The US Dollar has been trending lower against the Loonie since March and is now testing its sequence of lower rally highs. A clear break of that trend will be required to question the consistency of the move.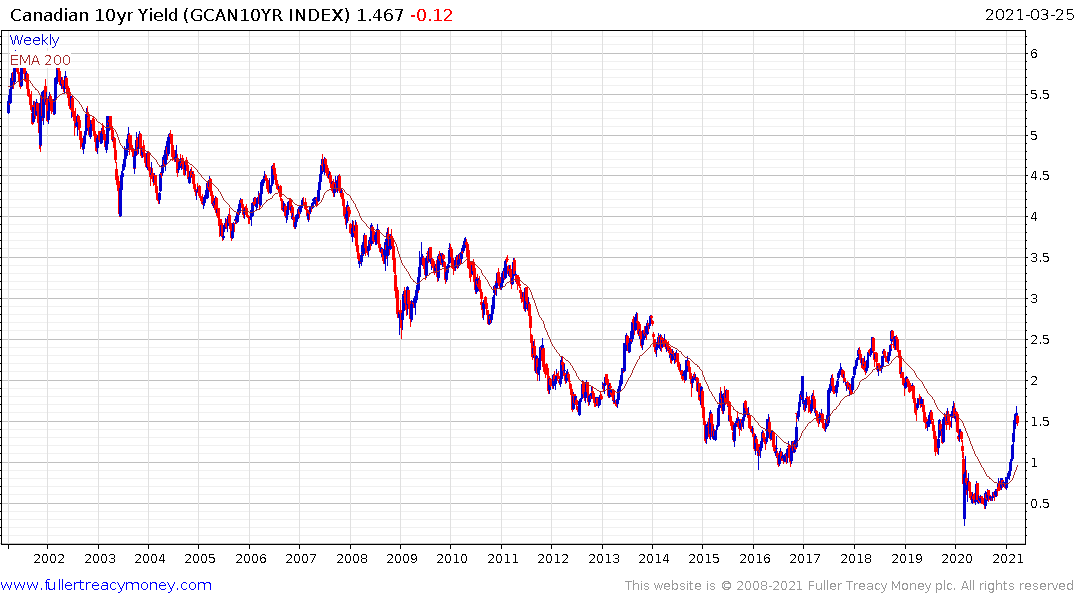 Canadian 10-year yields have marched higher in line with Treasuries. However, the news of tapering resulted in a larger bounce than Treasuries received this week. As Canada moves back to a more conventional monetary policy stance, that should help to re-instil confidence in the bond markets.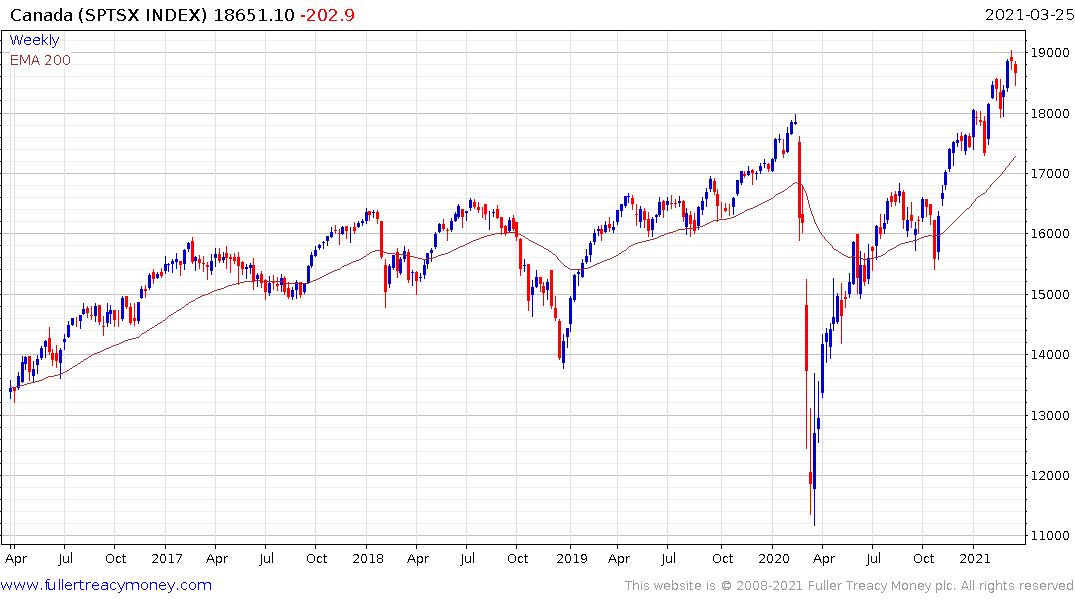 The S&P/TSX Index continues to trend higher and a break in the sequence of higher reaction lows would be required to signal mean reversion.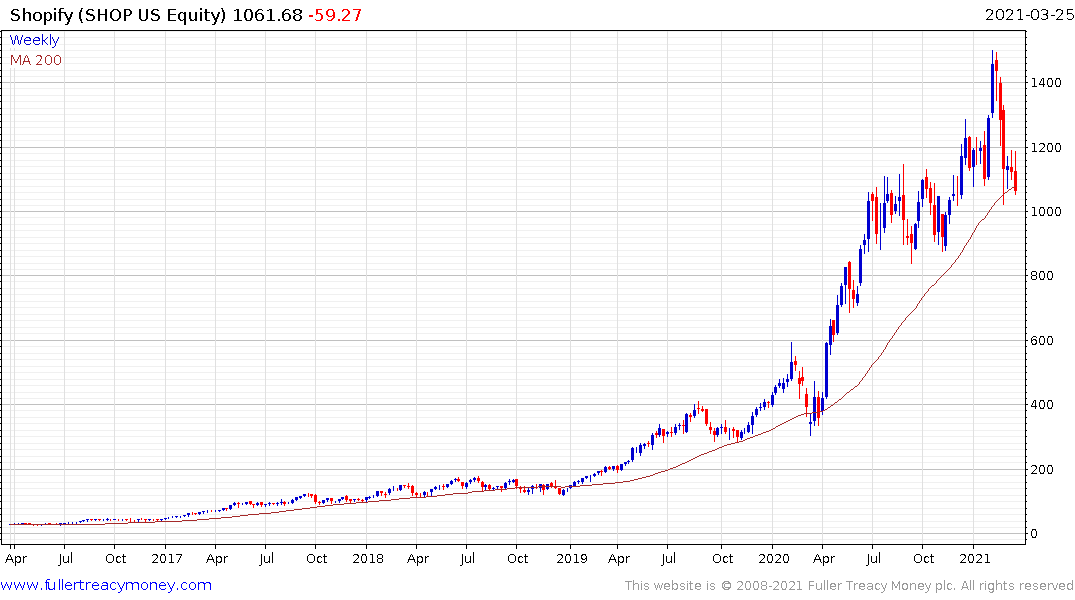 Shopify is no longer the largest company in the Index. It was among the most dependent on access to cheap liquidity. The share failed to hold its breakout in February and dropped below the trend mean today.
Back to top