Merkel Under Fire as Virus Strategy Sparks Anger From All Sides
This article by Arne Delfs and Raymond Colitt for Bloomberg may be of interest to subscribers. Here is a section:
Berlin police used water cannons to break up a large demonstration near Brandenburg Gate on Wednesday. Participants - - which totaled 14,000 people, according to police -- refused to
abide by distancing and hygiene rules, while some threw bottles and other objects.

Pressure has been growing on German authorities, which are facing a crunch meeting next week to lay out a long-term plan to fight the pandemic. With restrictions likely to be extended and intensified, public anger and political tensions are rising.

The demonstration was organized to oppose a law being debated by the Bundestag that would expand the government's powers to place restrictions on the public. Critics say the measures go too far. The far-right Alternative for Germany likened the legislation to policies under authoritarian regimes.

While the freedom of assembly must be guaranteed, social distancing and other rules to contain the spread of the virus must also be respected, government spokeswoman Ulrike Demmer said during a regular news conference.
Facing down a water cannon is not something protestors will soon forget. It may yet prove to further fortify the resolve of the populist right wing movement to challenge the status quo.
The challenge for all governments as they measure their response to the pandemic is what freedoms to infringe. Everyone knows that temporary taxes have a tendency to become permanent. The legitimate fear is that if the government can close businesses by writ what is to stop them doing it again in future? With a clear precedent, the range of potential reasons for closing businesses can easily increase.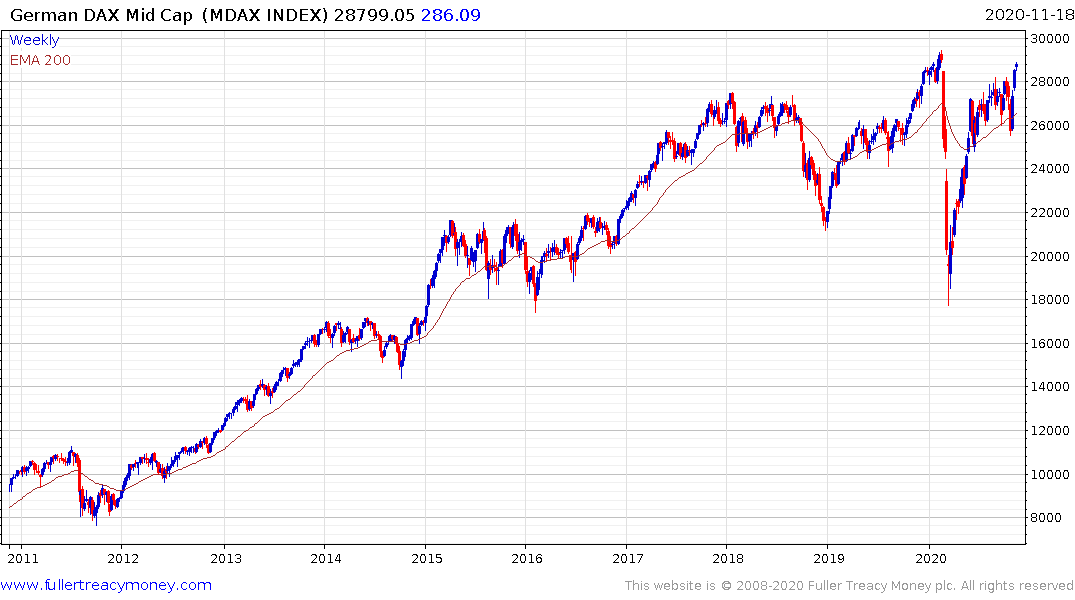 The MDAX Index of mid-caps has been insulated from these considerations by the significant assistance provided by the German government. While domestic restaurant/tourist business has been sacrificed, every effort has been taken to ensure the Mittelstand will survive this trial.
The Index has been ranging for three years but it is now approaching the upper boundary. With the outlook for a vaccine improving investors are beginning to price in scope for a return to synchronised global economic expansion. Midcap sectors are firming all over the world.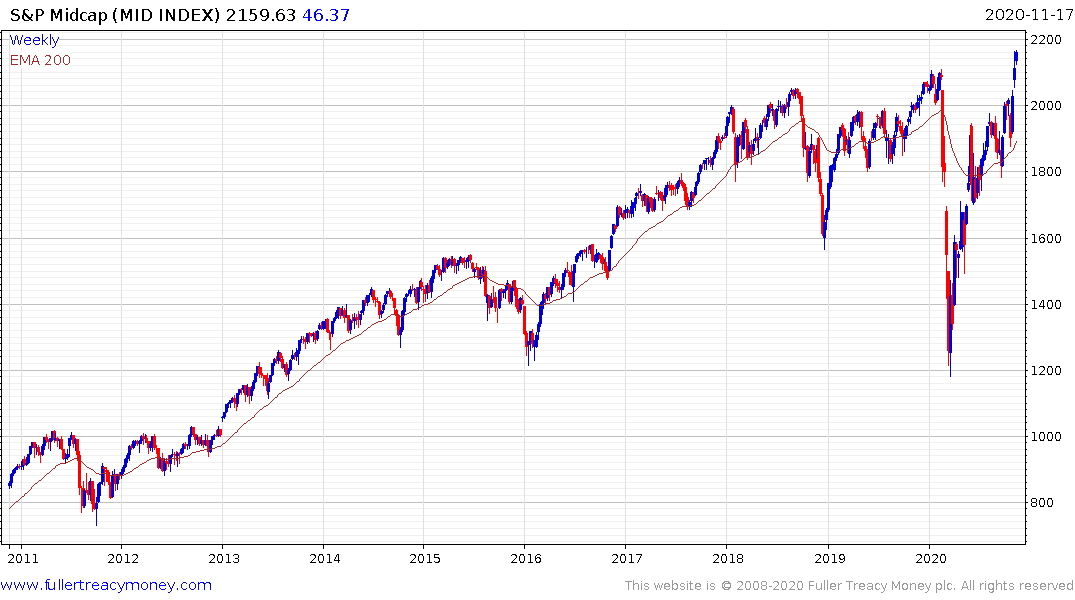 The S&P Midcap 400 Index in extending its breakout from a three-year range too.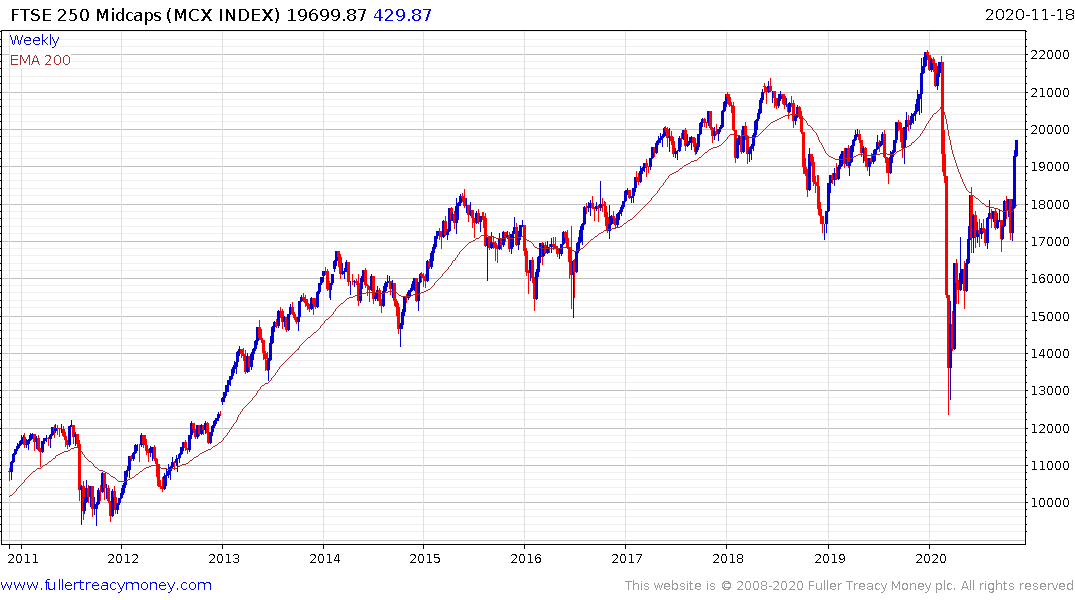 The UK's FTSE-250 continues to extend the breakout from its four-month range and looks likely to at least retest the peaks.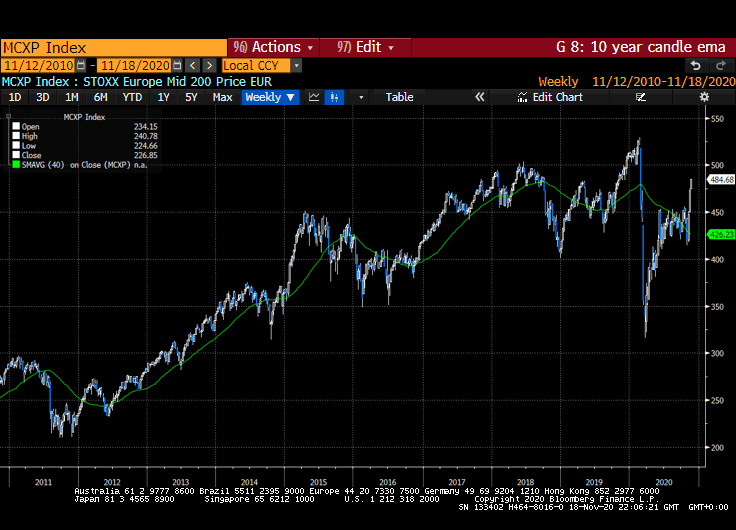 The STOXX Europe Mid 200 Index pulled back extraordinarily violently in March but otherwise shares a similar pattern.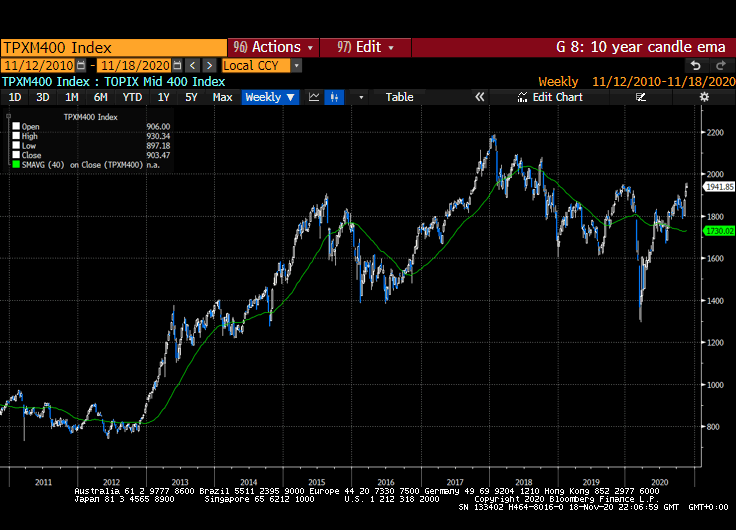 The Topix Mid 400 Index was looking like it was going to break its downtrend before the lockdowns and is now on the cusp of hitting a new recovery high.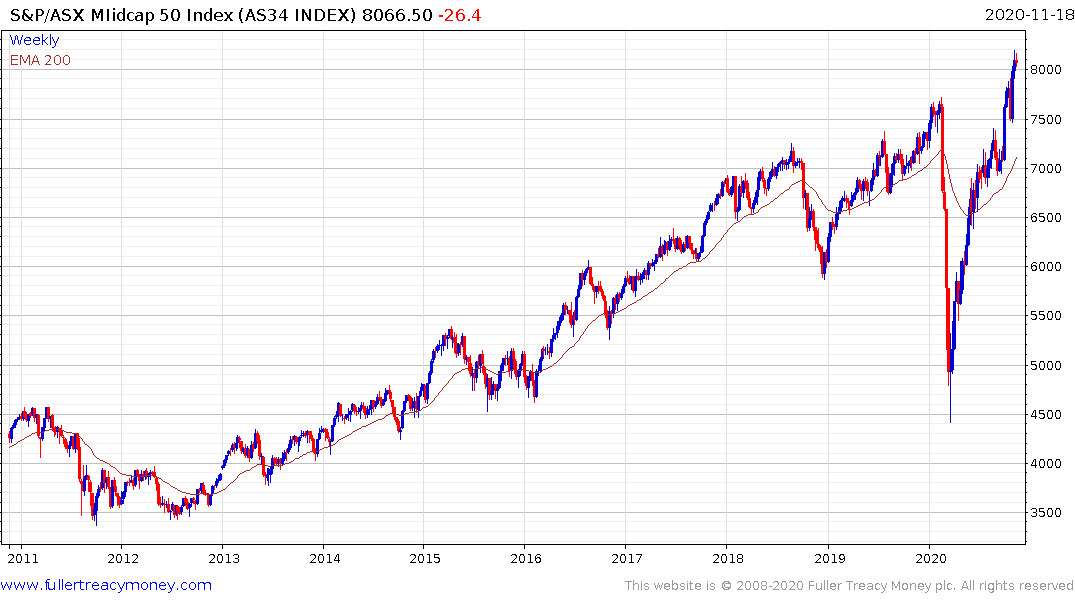 The S&P/ASX Midcap50 Index continues to extend its breakout to new all-time highs.
Back to top